The Best Running Headtorches
Don't let the long nights limit your routes, light the way with one of these headlights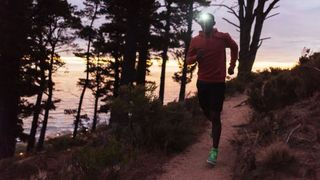 (Image credit: Unknown)
It takes a hardy person to not only head out for a run at night, but to do so in a place without street lights. If you are one of those runners, we salute you. Your bravery and commitment to the sport know no bounds.
We also heartily encourage you to get a good headtorch, because running in pitch-black conditions is a recipe for disaster even if you stick to the flattest asphalt. And if you are heading off-road then only the very brightest of headlights will do, if only because tripping over a root in the woods while running in the dark sounds like the start of a horror film.
Avoid unexpected pitfalls on your night runs with one of these hyper-bright headlights.
---
BioLite HeadLamp 200
Best For City Runners
If you're not in need of a massive lumen count and just want a comfortable headlamp, then check out the BioLite HeadLamp 200. The highest lumen output is just 200, but that's fine for city running and just about bright enough to show the way when you have no other sources of light, providing 50m of visibility. You can also hold the button down to set the exact amount of light you want from the headtorch.
It's easy to adjust the wide strap to get a comfortable fit and the BioLite is rechargeable, which is more convenient and makes the torch more lightweight than ones where you have to slot batteries in. The downside of the design – the torch weighs just 50g – is that the battery life is only three hours on the highest brightness setting, though there are dimmer modes and a red light setting to extend its life.
Buy from BioLite | £49.99
---
Kalenji ONNIGHT 710
Best Budget Option
While it's not as bright and long-lasting as some of our other picks, the ONNIGHT 710 is an excellent cheap option that will more than suffice for runners who aren't looking to log all-nighters on the trails. The rechargeable battery lasts three hours at the highest 300-lumen light setting, which is bright enough provide around 75m of visibility, and there are two lower lumen settings (120 and 30) when you're looking to conserve juice.
Buy from Decathlon | £29.99
---
Petzl Iko
Best Lightweight Headtorch
The distinctive Petzl Iko with its AIRFIT headband has a barely-there feel that makes it particularly suitable for hot conditions. Its versatile design means the torch can also be worn around your neck or held like a lantern using its storage pouch. The lamp will last for two hours on its max setting of 250 lumens, while there are two lower settings (six and 100 lumens) that you can use to preserve power. You can run the Iko off three AAA batteries or buy Petzl's rechargeable CORE battery, which also fits in the power pack that sits on the back of the headband.
Buy on Amazon | £43.26
---
See related
Petzl Nao+
Best For Ultramarathon Runners
An altogether more extreme option for those who frequently run through the night on technically demanding terrain. The Nao+ has a 750-lumen front light which reacts to ambient light and automatically adjusts its beam to suit the conditions, although you can override the automatic setting. It also has a rear light, something that's often a requirement for through-the-night ultramarathons. The rechargeable battery will last 6½ hours on the highest setting, and you can move the battery pack from the headband to a belt accessory to make the Nao+ more comfortable to wear for long periods.
Buy on Amazon | £132.56
---
Black Diamond Icon
Best For Battery Life
By opting for four AA batteries rather than a rechargeable unit, the Icon offers a monster 70 hours of juice on its highest 500-lumen setting. You might be thinking that strapping four AA batteries to your noggin will make the Icon uncomfortable and you'd be right, but fortunately the pack can be moved to waist pack or pocket easily.
Buy on Amazon | £65.86
Sign up for workout ideas, training advice, reviews of the latest gear and more.