2-4-1 Tickets to the Kirk Douglas Season at the BFI
Enjoy the Hollywood legend's finest works at the Southbank for less with this exclusive offer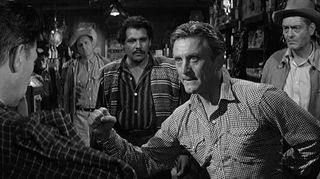 (Image credit: Unknown)
Has there ever been a more rousing, life-affirming, emotive scene in cinematic history than "I'm Spartacus" from Stanley Kubrick's action-packed 1960 historical epic? You'd be hard-pressed to beat it in a friendly pub debate, that's for certain.
But this universal cultural touchpoint isn't the only reason Kirk Douglas – who'll be blowing 100 candles out on his birthday cake later this year – is one of Hollywood's most respected icons. He's responsible for a huge body of classic work such as Lonely Are The Brave, The Heroes of Telemark and The Bad and The Beautiful, and Douglas battled his way out of an impoverished childhood in New York to become one of cinema's most popular and versatile leading men.
No surprise, then, that as he fast approaches triple figures, the BFI is paying tribute with a season of his finest pieces until October 4th. Even better news? Coach readers can enjoy an exclusive 2-4-1 ticket offer at any of the movies. Just quote COACH241 when booking online, in person or over the phone (020 7928 3232). That bit's easy, the next bit isn't – choosing which cinematic gem to see with your lucky chum.
Of course, you'll never go wrong with the claret-tinged, rebellious Roman tale of Spartacus (28th September). But maybe the masterful WW2 espionage action of The Heroes of Telemark (27th September, 3rd October) is more up your alley, or the offbeat Western offerings found in Posse (2nd, 3rd October)? The list goes on and on, so check out the upcoming screenings and catch a good 'un.
For more info and to buy your 2-4-1 tickets, visit BFI.org.uk
Coach is a promotional partner of the BFI's Kirk Douglas season
Sign up for workout ideas, training advice, reviews of the latest gear and more.
Craft beer drinker, Devonian, fisherman and former content director of Coach online, Chris contributed style coverage and features between 2016 and 2019.