Boost Your Halloween Health with Thorpe Park Fright Nights
Sort out your immune system and burn those calories by giving yourself a nice, big scare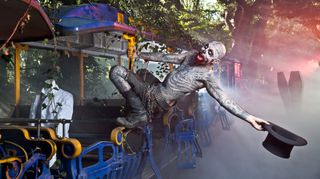 (Image credit: Unknown)
It turns out that being scared is good for you. Yes, good. Of course, a large chunk of you may need convincing on that point, as watching a horror movie is many people's idea of (and cause of) a nightmare. Researchers at Coventry University carried out some creepy research, by taking blood samples from volunteers before, during and after either sitting on their own in silence, or after watching a horror film.
The lot that watched the fright flick had a higher level of white blood cells afterwards which normally happens when the body responds to an infection, but it's all linked to survival – the body fears death and takes measures to ensure it stays alive. Natalie Riddell, an immunologist at University College London, says it's all about the "fight-or-flight" response, which releases adrenaline in the scaredy-cats.
You also might lose some weight, too. A study at the University Of Westminster discovered that watching horror movies burns 113 calories on average per viewing. Who needs the gym?
RECOMMENDED: New Halloween Horror Movies to Scare the Bejeezus Out of You This Weekend
A horror movie is all well and good, but what if you really want to shake off the excess weight? Thorpe Park Fright Nights have the perfect Halloween workout for you – they've introduced a new live-action maze called Platform 15, a terrifying experience aboard the Sleeper Express train, which never made it to its final destination. It joins other mazes like The Cabin In The Woods, The Blair Witch Project, Saw Alive, Big Top and Containment and will just about scare your skin into the sun.
This year, they've got Zombie Boy on board to up the ante – you'll recognise him from Lady Gaga's Born This Way music video or Keanu Reeves' 47 Ronin. He's coated head-to-toe in tattoos to make him seem like a living skeleton. He told Coach that: "It's going to be fantastic working with the Thorpe Park team to make Fright Nights 2016 the most terrifying event series to date. We have got some surprises in store for guests which will make your skin crawl." You may be used to seeing zombies on your commuter train every day, but not quite like this...
Each maze includes an wholly unpleasant selection of frights and jump-scares, so not only are you going to brown your pants through utter fear, you'll also be running for your life, which everyone knows is a tried and tested way of torching the calories. And if you're unlucky, there's always the chance of losing a chunk of weight rather quickly through another embarrassing method, but let's hope that doesn't happen.
Fright Nights 2016 runs 10am–10pm through 31st October and is rated PG 13. From £30. Buy tickets on thorpepark.com.
Sign up for workout ideas, training advice, reviews of the latest gear and more.
Gary Ogden wrote for the print edition of Coach between 2015 and 2016, writing features, interviewing celebrities and covering entertainment. He has also written for ShortList.