MF rounds up home rehabilitation equipment
Here are some simple products that can help you recover from injury at home.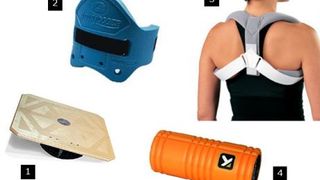 (Image credit: Unknown)
1. Fitter First Professional 50cm Rocker Board
£62.14
If you've suffered a knee or ankle injury, it's advisable to slowly introduce the damaged joint to activities in which the stress you place on it can be safely controlled. Balance boards allow you to easily do this at home. The Fitter First board uses one plane of instability – forwards and backwards or side to side – and is adjustable to three different angles, making it possible to tailor the movement range specifically to your injury.
Available from physioroom.com (opens in new tab)
2. Mobilis AquaJogger 100 Floatation Belt
£53.99
Regularly used by physiotherapists at professional sports teams, floatation belts help you to recover from injury without suffering a decline in your general fitness level. It allows you to 'run' in the pool, giving you the benefit of cardiovascular exercise – which also improves circulation, thereby aiding the healing process – without the load-bearing element that could cause your injury to recur. It's perfect for knee ligament injuries, sprained ankles and swollen ankles, and can be safely used after knee or ankle surgery once the wounds are sufficiently healed.
Available from physioroom.com (opens in new tab)
3. ProCare Universal Clavicle
£23.99
Most broken collarbone and shoulder separation injuries do a good job of healing by themselves, but they can affect posture. To prevent long-term problems arising, it's important the injury heals in the best position possible. This figure-of-eight support from ProCare does just that while still allowing complete freedom of movement. It's also lightweight and discreet enough to be worn 24 hours a day, with no discomfort or funny looks from passers-by.
Available from physioroom.com (opens in new tab)
4. Trigger Point Therapy Grid Roller
£34.99
Foam rollers can aid recovery after leg muscle tears and hamstring injuries by emulating massage techniques to work out troublesome knots. This particular roller has different parts that mimic palms, fingers and fingertips for targeting knots of different sizes and densities. Made from durable EVA foam, it's a cheap, effective alternative to sports massage that can be used from the comfort of a sofa.
Available from triathlon-superstore
Sign up for workout ideas, training advice, reviews of the latest gear and more.
Max was the head of digital content for Men's Fitness which worked alongside Coach between 2015 and 2019.