The best new skate shoes
Here are four of the coolest new skate shoes available in the UK.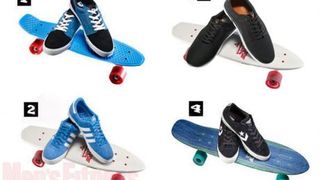 (Image credit: Unknown)
1) DC Tonik
£39.99
hardcloud.com
A halfway house between the Adidas skate and the Converse Star Player in terms of bulk and protection, the Tonik is perfect for technical skaters who prefer blocks and mini-ramps to massive gaps and rails. That said, it's got a ready wrap cup sole that helps reduce heel bruising and the outer is made of multiple layers of DC Supersuede so it takes a long time to render the shoe unskateable. The only letdown is the rather bland design - it's a shoe for those more concerned with function than form.
2) Adidas skate
£49.99
sportsdirect.com
The skate has enough cushioning to take the bite out of big drops but has a pared down outer and plimsole-like fit so you can really feel what your board is doing while you twiddle it beneath your foot. If you skate more than a couple of times a week it won't last you longer than three or four months, but while it does your skateboard will never have felt so responsive. And the outer is rigid enough that it'll keep the same shape and feel even when your griptape has torn through the suede.
3) Vans LXVI The Graph
£79.99
impericon.com
Rammed with tech and a futuristic look, at first glance the only thing distinctly Vans about this shoe is the logo. But once you've rolled in it, you quickly realise it's got all the features (and then some) that make the brand one of the premium skate shoe manufacturers. The responsive waffle sole now allows even better board feel thanks to cross torsional flex, it's super light, stichless Rapidweld construction means the outer doesn't breakdown after a bit of scuffing and extra cushioning and a raised heel offer protection when you're going big.
4) Converse Star Player LS OX
£37
slamcity.com
Chunky and packed with features, the Converse Star Player LS OX has a sole so cushioned it feels as if you're landing on pillows, a wide, unrestrictive frame, metal eyelets that stop your laces from getting shredded and a rubber toe piece to keep your griptape from biting into flesh. It also has a cool retro look, which means you might be inclined to save it for chilling rather than scuffing up while skating. The only downside to it is that it starts to lose its shape quite quickly.

For more sports kit reviews, subscribe to Men's Fitness. We'll give you five issues for £5.
Sign up for workout ideas, training advice, reviews of the latest gear and more.
Nick Hutchings worked for Men's Fitness UK, which predated, and then shared a website with, Coach. Nick worked as digital editor from 2008 to 2011, head of content until 2014, and finally editor-in-chief until 2015.