MF's best tough gadgets
Here are three innovative bits of rugged kit for those who need gear that can take a few licks.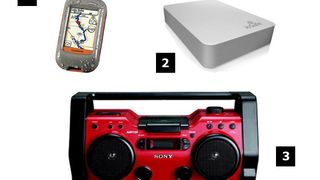 (Image credit: PR)
£152.40
Finding yourself lost on a hiking or bike trail can be a testing experience, so save yourself from making hours of wrong turns by getting your hands on the Dakota. Along with being light, waterproof and easy to mount on a bike, it provides super-accurate, fast-loading satellite navigation, a barometric altimeter and a three-axis electronic compass to help you get back to familiar surroundings with minimum hassle.
---
2) The ioSafe Rugged Portable Hard Drive
£227.49
Even if you wanted to, damaging this device would be nigh on impossible - it can withstand fires of up to 1,550F and 30 days underwater at a depth of 30ft (9m). So if you're looking to keep your files safe, in even the most ridiculously extreme circumstances, this rugged portable hard-drive will do the job.
---
3) Sony ZS-H10CP Heavy Duty CD Radio
£83.62
Want a boombox that'll survive some serious knocks? Then you need Sony's ZS-H10CP. As well as a tough as a nails speaker guard, it's water- and dust-resistant, and has a protective safeguard bar to stop falling debris putting paid to any mountainside breakdance battles.
For more techonlogy reviews, get Men's Fitness. Subscribe now and we'll give you five issues for £5, or download the digital version here.
Sign up for workout ideas, training advice, reviews of the latest gear and more.