Best winter sports wear
Here are three of the best pieces of winter sports wear available this season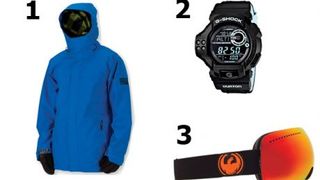 (Image credit: Unknown)
1. Bonfire Mt Hood Jacket
£237, dogfunk.com
Unless you're absolutely rolling in it, you're going to need a jacket that performs well in all conditions. The MT Hood does so marvellously thanks to all the clever tech packed into it. 20K waterproofing means you'll stay dry even if it's puking down or, as you get further down the hill, snow turns to rain. The fully-taped 3L shadow weave shell fabric has brilliant rip resistance to save it from getting shredded if things go wrong when you're speeding down a spikey tree run, and the long cut means you're at the cutting edge of riding fashion, while reducing the chance of getting freezing cold snow down your pants when you take a tumble. It also has a hand pocket with key hook, powder skirt pass pocket and the generous freedom of movement you'd expect from a top-end jacket.

2. Burton X Casio G-SHOCK GDF100BTN-1
£150, casioonline.co.uk
You won't find many watches tougher than G-SHOCKs, but they've always felt a bit basic to be anything other than reliable time-keeping aids when you're on the hill. Not any more. Having teamed up with top snowboard brand Burton, Casio have added functions that make the GDF100BTN-1 collab the must-have mountainside timepiece. As well as a barometer and altimeter, which tell you if the weather's about to turn and how high you are, it's also got a temperature gauge, world time for 48 international cities and an LED backlight so bright no blizzard is going to stop you knowing if it's lunchtime. On top of all of this, the watch has a tough Cordura strap that you'd have to put a chainsaw to before it started to tear, and it's beautiful in a chunky, industrial kind of way.
3. Dragon Advanced Projects X Snow Google 2.0
£154.95, thesnowboardshop.co.uk
The lack of frame might make you think these goggles can't take much of a pounding but that's simply not the case. The super durable polarised lens is scratch-resistant and offers such extensive peripheral vision you can almost see your arse wobbling as you go off a kicker. The lens can also be changed ridiculously easily (with most goggles it feels as if you're trying to ram a Landrover into a mouse's ear) and has a tight locking system that won't come undone when you're mid-way through a massive jump. Armour-plated venting stops these goggles fogging up on even the warmest days and the pimped-out, bug-eyed design means you look like a pro until you start riding and the illusion is shattered. It was nice while it lasted though, right?
For more fitness equipment recommendations, subscribe to MF - we'll give you five issues for £5.
Download a digital version of the latest issue from iTunes.
Sign up for workout ideas, training advice, reviews of the latest gear and more.
Nick Hutchings worked for Men's Fitness UK, which predated, and then shared a website with, Coach. Nick worked as digital editor from 2008 to 2011, head of content until 2014, and finally editor-in-chief until 2015.