Protein truffle recipe
Go beyond the conventional protein shake with this delicious snack that's perfect for muscle-building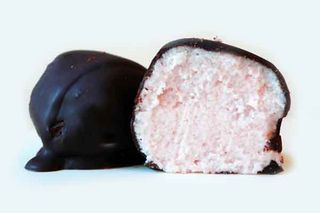 (Image credit: Unknown)
Ingredients
170g Greek yogurt
30g of Kinetica Whey protein (strawberry)
18g cup of coconut flour
36g cup of coconut milk or almond milk
60g of 90% dark chocolate
How to make
Mix all of the above ingredients together in a bowl to form a soft batter, then sprinkle the coconut flour on the baking tray. Shape the batter into eight truffles, rolling them on the coconut flour so they're easier to shape. Meanwhile, melt your dark chocolate in a bain marie (a glass bowl on top of a pot of boiling water). Once rolled into truffles, dip them into the melted chocolate and place them on a tray and leave them to set in the freezer for approximately 30 minutes.
Nutritional value
Per truffle (out of the six you get from the mix above): 103.45kcals, 3.65g carbohydrates (1.46g sugars), 8.1g protein, 5.68g fat (3.6g saturated), and 1.2g fiber


Find out more at Kinetica's recipe corner: Kineticasports.com

For more healthy recipes, subscribe to MF - we'll give you five issues for £5.
Download our brilliant new interactive iPad magazine
Why it's good for you
As well as whey protein, which helps your muscles grow and repair, here's how the other ingredients in these truffles boost your fitness:
Dark chocolate
As well as being full of antioxidants, recent studies have found that dark chocolate may also be good for your heart. In short-term clinical trials, dark chocolate has been found to reduce blood pressure and improve blood flow. It even demonstrated mild anti-clotting effects and may help prevent plaque formation in arteries.
Greek yoghurt
Packed with calcium and healthy bacteria that aids digestion, greek yoghurt is also a great source of protein and will help you feel full for longer.
Sign up for workout ideas, training advice, reviews of the latest gear and more.