Protein brownie recipe
Eat one of these tasty, protein-packed brownies after a workout to help grow and repair muscle.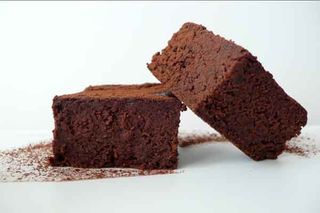 (Image credit: Unknown)
Ingredients
100ml of liquid egg whites
50g of Kinetica Whey Protein (chocolate)
2 small cooked beetroot
40g of coconut flour
30g of cocoa powder
1 tsp of bicarbonate of soda
1 tbsp of baking splenda or stevia (optional)
1 tbsp of honey
How to make
Blend all ingredients together and bake the batter in a small brownie tin at 170˚C for approximately 35 minutes. Once cooked, cut the brownies into six squares. Double the amount if using a medium size brownie tin.

Nutritional values
Per brownie (out of the six you get from the mix above): 163.4kcals, 17.45g carbohydrates (4.8g sugars), 14.9g protein, 2.75g fat (1.1g saturated), 7.2g fibre.

Find out more at Kinetica's recipe corner: Kineticasports.com

For more healthy recipes, subscribe to MF - we'll give you five issues for £5.
Download our brilliant new interactive iPad magazine
Why it's good for you
As well as muscle-building whey protein, these tasty treats contain other health-boosting ingredients:
Beetroot
Research has shown that beetroot's high content of nitrates produce a gas called nitric oxide in the blood, which widens blood vessels and lowers blood pressure.
Honey
A great natural source of carbohydrates, honey can boost performance while in the gym and even reduce muscle fatigue. Plus, unlike refined carbohydrates, the sugar in honey is quickly absorbed into the blood for fast effect.
Sign up for workout ideas, training advice, reviews of the latest gear and more.