Why You Want to Try an Acai Bowl
It's tasty, healthy and looks good on Instagram – and now you can buy açai berries in Tesco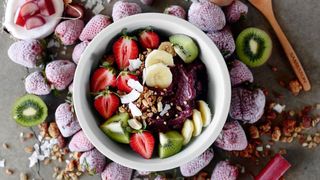 (Image credit: Unknown)
Açai bowls have become quite the fave among the foodie/health set on Instagram, and we presume it's mostly because they look lush. Just look at these beautiful posts:
But, to be fair, they're also packed full of healthy goodies
What is an açai bowl?
It's a thick and chunky smoothie you eat with a spoon, like a dessert for breakfast. It typically contains açai berries blended with frozen berries and topped with various bits, such as fresh berries, peanut butter, nuts, granola… you're limited by only your imagination.
What are açai berries?
Açai berries are a small purple fruit from a South American palm tree that grows in the Amazon rain forests. In the past few years they've been touted by some experts for their antioxidant properties.
If eaten fresh the berries need to be consumed within 24 hours of being picked, so over here they're found in frozen or powdered form. The berries contain amino acids, fibre, essential fatty acids, vitamins and minerals in quite high concentrations.
There's a lot of hype around açai berries, with wild claims around its magical weight-loss powers and ability to cure arthritis. Be sceptical of such things – there isn't any evidence to back it up – but the berry does taste great, makes pretty-looking smoothie bowls and has got some useful stuff in there.
How to make açai bowls
Don't live or work near an eaterie with açai bowls on the menu? Us neither. Happily, making your own isn't particularly difficult: you just need a decent blender, some açai powder and some frozen berries, fruit and toppings of your choice. Adding things like chia seeds, nuts or protein powder will up the recovery powers of the bowl if you're snacking after a heavy workout.
You used to only be able to buy açai powder online or from specialist health shops, but you can now pick a pack up from Tesco. Sambazon Açai has just launched a range of frozen sachets that can be bought from the supermarket chain, and it's also suggested an açai bowl recipe.
Hydrating Açai Berry Bowl Recipe
2 Sambazon Original Blend Superfruit Packs
60ml coconut water
1 banana
A handful of frozen mixed berries
A handful of frozen watermelon chunks
Toppings: granola, fresh strawberries, fresh kiwi, coconut shred
Blend the Sambazon packs, coconut water, banana, frozen berries and watermelon chunks together, pour into a bowl and add toppings. Instagram. Eat. Easy.
RECOMMENDED: The World's Easiest Peanut Butter Bar Recipe
Sign up for workout ideas, training advice, reviews of the latest gear and more.
Pennie is the founder of fitness magazine Oh My Quad and has a decade's experience working as a freelance journalist for various magazines on- and offline. She is also a personal trainer based in North London and the GoodGym Barnet trainer, so spends a lot of time running around and picking things up.