How to Make Iron-Rich Chocolate and Sweet Potato Muffins
Up your internal defence systems with these calorie-slashing sweet treats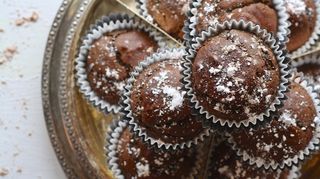 (Image credit: Unknown)
Has The Great British Bake Off got you reaching for the mixing bowl? But does that mean you're in two minds about excessive consumption of baked goods undoing all the hard gym graft you've been putting in recently? Yeah, you don't need to be Paul Hollywood to know that the butter-rich, sugar-heavy baked goods these contestants cook up are a shortcut to grabbing rolls of fat around your hips.
Unless, that is, you're cooking up this health-hacked chocolate muffins recipe from DW Fitness's nutritional expert Carly Tierney.
RECOMMENDED: The World's Easiest Peanut Butter Bar Recipe
Not only are these baked bombs of sweetness full of iron thanks to the addition of vitamin A-filled superfood sweet potato, but you'll be indulging in the antioxidant-crammed cocoa knowing that it's doing wonders for your cell's defence mechanisms and, in the long term, protecting you from age-related illnesses and diseases.
So tighten those apron strings on this weekend and do your body a big flavoursome favour.
Ingredients (makes 12 muffins)
40g unsweetened cocoa powder
1tsp baking powder
200ml water (add more to loosen the batter if necessary)
150g sweet potato
175g self-raising flour
2tbsp honey
2 eggs
150g sweetener
60ml olive oil
½tsp salt
To make
Peel and chop the sweet potato into even cubes and place in a pan of water. Boil them until they soften (around ten minutes).
Drain the potato, add the cocoa powder and stir together.
In a separate bowl, mix the oil, sweetener, eggs, honey, water and baking powder together. If your mix is more rigid than smooth, add in some extra water and continue to stir.
Add in the chocolatey potatoes and mix.
Pour the mixture into a muffin tin, ensuring that each section is no more than three-thirds full.
Bake for 20 minutes at 170°C (160°C for fan-assisted ovens)/gas mark 3. To check they're ready to come out of the oven, delicately poke a skewer into the centre of one of your cakes. If it comes out clean, you're good to go!
Sign up for workout ideas, training advice, reviews of the latest gear and more.
Craft beer drinker, Devonian, fisherman and former content director of Coach online, Chris contributed style coverage and features between 2016 and 2019.