The Best Healthy Recipe Books To Give At Christmas
Tasty tomes for your loved ones to unwrap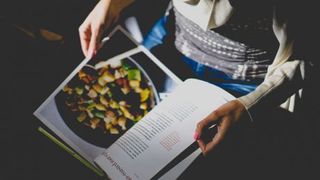 (Image credit: Unknown)
Is there a better time to receive a top-drawer healthy recipe book than Christmas Day?
After 25 days of fisting Quality Streets into your gob, gorging on bone-dry turkey and lumpy bread sauce, and undergoing a pregnancy scare that just turned out to be that extra portion of figgy pudding you drunkenly forgot about eating, quality food inspiration will never be more welcome.
Lucky, then, that we've pieced together a handful of big, brilliant and beautiful recipe books that deserve a place under your tree, and that your nearest and dearest (and healthiest) will absolutely love. We've got books that'll work wonders on both waistlines and mental wellbeing, hardbacks full of the freshest fitness foodstuffs, and a tome dedicated to the world's finest guilty pleasures for when a rewarding blow-out is the order of the day.
Take a look and give the gift of great food this Christmas.
LIMA The Cookbook
The fear of fish is very real: the bones, the terror of overcooking, the smell that lingers in your kitchen. Exorcise those demons with some high-grade Peruvian expertise. Highly respected super-chef Virgilio Martínez – as featured on World's Best Restaurants list – has dropped more than 100 recipes into a book that'll not only push any reader to befriend their local fishmonger, but help them to look at meat, veggies and certain superfoods in a totally new way too. RRP £25, check price and buy on amazon.co.uk
Leon: Fast Vegetarian
We all know that we should probably be eating more veg and here's the little nudge we all need to do just that. The high-street heroes of Leon have compiled 150 fast and meat-free recipes that'll inspire us to spend more time in the fruit-and-veg aisle and less time in the chiller section. Breakfasts, brunches, pastas, pulses and curries are all covered, as well as smaller dishes and sides, like dressings and chutneys. RRP £25, check price and buy on amazon.co.uk
Tom Kerridge's Dopamine Diet
This is our sort of diet – gobbling up good feels and chowing down on glee. Salisbury's favourite Michelin-starred son dishes out low-carb meals that release the happiness hormone and which helped Kerridge drop a whopping 70kg over three years. The promise of soy-glazed chilli cod, braised beef with horseradish and Chinese pork hot pot has our dopamine levels rocketing already. RRP £20, check price and buy on amazon.co.uk
Made At Home
The chances of best-selling chef and The Big Family Cooking Showdown judge Giorgio Locatelli inviting you over for dinner and classifying you one of his "loved ones" are slim. Very slim. But if it were to happen, this is what you'd be eating – any one of the 150 meals inside this tome dedicated to the food he cooks for his nearest and dearest. Expect Italian winners such as fresh seasonal stews, veggie salads and ingenious fish dishes. RRP £26, check price and buy on amazon.co.uk
F*ck That's Delicious
Hip-hop foodie extraordinaire Action Bronson presents this annotated devotional to the world's tastiest foods and "guide to eating well". This is what your super-fit friend or family member should be reaching for when they're in need of a treat, as it's stuffed to the gills with the world's biggest blow-out eats like Dominican chimis, Jamaican jerk and towering American hamburgers. RRP £20.99, check price and buy on amazon.co.uk
The Roasting Tin
One pan, 75 quick and nutritious recipes ranging from chicken tray bakes to supergrains and almost zero washing-up required. That's one less excuse your loved one can make for not going on their evening run. RRP £16.99, check price and buy on amazon.co.uk
Los Angeles Cult Recipes
Since Los Angeles is the birthplace of many a fitness trend, it makes total sense for this LA-loving hardback to be filled with the likes of kale pizza, acai bowls and granola. And cheeseburgers and lobster rolls and tacos, because God bless America. RRP £20, check price and buy on amazon.co.uk
Sign up for workout ideas, training advice, reviews of the latest gear and more.
Craft beer drinker, Devonian, fisherman and former content director of Coach online, Chris contributed style coverage and features between 2016 and 2019.