These Vegetarian Traybakes Are Tasty, Healthy And Unbelievably Easy To Make
Not sure how to make veg into interesting, flavourful meals? Just turn to the roasting tin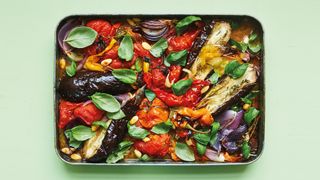 (Image credit: Unknown)
I was brought up in a vegetarian household – often vegan, as southern Indian food tends to be. Other than on pizza night, my mother rarely failed to put at least three different types of dish on the table – whether it was rice, spiced potatoes and aubergines, sambhar (a lentil and tamarind stew), carrots and beans in mustard seeds and a peppery tomato rasam, or home-made mushroom quiche, roasted vegetables and a Caprese salad. Given that she worked full-time as a GP, I have no idea how she managed, unless I'm blocking out the memory of a lot of potato waffles and buttery macaroni with grated Cheddar (still up there on my list of favourite dinners).
Food for dinner parties or birthdays was even better: home-made paneer cheese, blitzed with spices, then formed into koftas, deep-fried and cooked in a rich Mughal tomato and cream sauce, tiny stuffed aubergines, cauliflower cooked with ginger and chilli, and my favourite, pulao rice with cashews and saffron.
Weeknight cooking rarely affords the time for so many dishes, so I've taken the principles of vegetarian cooking learned from home, and applied them to the traybakes in my book The Green Roasting Tin, from which these two recipes are taken. The dishes are packed with flavour, through spices or fresh herbs and almost always lemon or lime juice (I am considering shares in a citrus farm) and there's a variety of colours and textures in each dish.
Crisp Cauliflower Steaks With Harissa And Goat's Cheese
Prep time 10 minutes Cook time 25-30 minutes
This is one of the most visually beautiful dishes in the book, and it tastes as good as it looks. Serve with Greek yogurt and some couscous on the side.
Ingredients (serves four)
1 very large cauliflower
1 red onion, quartered
1tbsp olive oil
1tsp sea salt
4tsp harissa
125g soft goat's cheese, crumbled
30g pine nuts, roughly chopped
20g panko breadcrumbs
2 tablespoons fresh flat-leaf parsley, chopped
To make
Preheat the oven to 200°C/gas 6. Remove the greens from the cauliflower and pop them into the roasting tin along with the red onion. Drizzle with the olive oil and season with salt.
Slice the cauliflower from top to bottom into four thick steaks and lay these in the tin along with the greens and red onion. Rub each steak on both sides with ½tsp harissa. Season with sea salt, then press goat's cheese on to each steak.
Mix the pine nuts, breadcrumbs and parsley with a pinch of sea salt, then scatter a quarter of this over each cauliflower steak, pressing down lightly.
Drizzle with olive oil, then transfer to the oven to roast for 25-30 minutes, until the tops are golden brown and the cauliflower is just cooked through.
Serve the steaks with couscous and Greek yogurt, with the crispy leaves and onions alongside.
See related
Slow Roasted Peppers, Aubergines And Tomatoes With A Basil And Almond Dressing
Prep time 10 minutes Cook time 60 minutes
This dish, known as escalivada in Spanish, can make even the dullest supermarket produce sing. The quantities given are to serve two generously, since that's what'll fit comfortably into a standard roasting tin, but you can easily double this up for a veggie feast – and even bring the vegetables to the table whole before "carving" and dressing them.
Ingredients (serves two to three)
2 whole aubergines, pricked all over with a fork
3 red pointy peppers
6 large vine tomatoes
1 red onion, quartered
Handful of fresh thyme sprigs
4 large cloves of garlic, unpeeled
1tbsp olive oil
2tsp sea salt
50g whole almonds
1tbsp lemon juice
1tbsp extra virgin olive oil
25g fresh basil, roughly torn or chopped
To make
Preheat the oven to 200°C/ gas 6.
Tip the whole aubergines, red peppers, vine tomatoes, onion, thyme, garlic, olive oil and 1tsp salt into a large roasting tin, then use your hands to mix and coat everything in the oil and salt.
Transfer to the oven and roast for an hour, chucking the almonds in for the final ten minutes to toast.
Remove the tin from the oven – the veg should be charred all over and very soft when prodded. Retrieve the garlic, and leave the rest of the veg to sit while you whisk the lemon juice, extra virgin olive oil and another 1tsp sea salt with the squeezed-out and mashed roasted garlic. Using a knife and fork, remove the inedible tops and stems, then roughly tear the softened vegetables apart.
Scatter over the basil and the dressing, then mix everything thoroughly. Serve warm, with good crusty bread.
The Green Roasting Tin: Vegan And Vegetarian One Dish Dinners by Rukmini Iyer (£16.99, Square Peg) is out now
Buy from Amazon | £11.89
Sign up for workout ideas, training advice, reviews of the latest gear and more.