The Best Healthy Cookbooks To Help You Eat Well In 2023
Whip up some tasty fare that's good for you too with the aid of these new cookbooks for 2023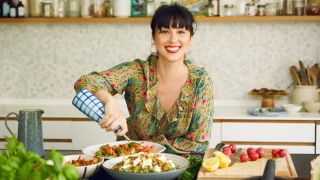 (Image credit: Ebury Digital)
Eating healthily should be enjoyable and don't let anyone tell you otherwise. I certainly enjoyed making and eating meals from the latest crop of cookbooks that present themselves as "healthy". To meet our criteria for being healthy, a cookbook needs to include recipes that feature plenty of veg, are easy to make and taste great – and all these do just that.
Aprons on – let's get cooking!
The Best Healthy Cookbooks
1. Fresh MOB by Ben Lebus & MOB Kitchen
This is, hands down, my favourite book of the bunch. The food photography is beautiful, the flavours are fresh and exciting, and the recipes are easy to follow.
It's packed with over 100 recipes that are described as "healthy-ish". You won't find any calorie counts in these pages, but you will find an array of vibrant veg and clever tweaks to classic dishes to dial down the fat, salt and carbs. A skew toward healthier cooking methods (think baking, not frying) adds to the nutritional credentials too.
A helpful introduction sets out the general approach of the book: basically, eating plenty of the good stuff without compromising on flavour. So far, so good. Tags help to identify at a glance which recipes are veggie, vegan, gluten-free, dairy-free or ready in under 30 minutes. The chapter names are somewhat chaotically named, yet irresistible to explore – you'll find Brunch, Speedy, Hearty, Freshest, Weekend, Summery, Sharing and finally, Puddings.
I tried the Chicken Meatballs with Sesame Greens, which was easy and filling and looked great on the plate, giving an impression that I'd spent far longer in the kitchen than I actually had. A big thumbs-up from me.
---
(opens in new tab)
Feel Good by Melissa Hemsley
Feel-good food isn't just about nutrition or sheer indulgence, and that's something that comes through in Hemsley's relaxed approach to cooking. These recipes make whole foods and vegetables the star of the show, and there are options to suit every mood.
Gluten-free options are included for all recipes, and vegetarian and dairy-free swaps are suggested to accommodate free-from diets. The recipes are very flexible, with alternative ingredients offered so you don't have to fill up your shopping basket with specialist ingredients which then languish at the back of the cupboard. Hemsley also makes suggestions for sprucing up leftovers and avoiding food waste where possible.
Chapters include Breakfast and Brunch, Comforting Bowl Food, Lunchbox Heroes and Satisfying Salads, Pasta, Pulses, Noodles and Quinoa, Veg Powered and Plant Based, Meat and Fish, Stress-Free Sharing With Friends, Easy Puddings and Simple Snacks.
I tried the Baked Feta and Ras El Hanout Broccoli Salad, which was a revelation: roasted, spiced broccoli florets blend beautifully into a lemony quinoa base, topped with melty, salty cheese. Now that's my kind of salad.
---
(opens in new tab)
Bored Of Lunch: The Healthy Slow Cooker Book
Every year I make the same resolution to use my slow cooker more, but by February, it's relegated to the back of the cupboard again. Enter the Bored Of Lunch cookbook. Nathan Anthony started his lockdown food blog on Instagram during the pandemic and has now collected his easy slow cooker recipes into this healthy cookbook, out on 5th January 2023.
A quick flick through reveals an array of hearty, appetising options from Indian, Thai and Vietnamese-inspired "Fakeaways" to slow cooker classics such as chilli con carne and Irish stew. You'll also find weekday dinners, comfort food dishes and ideas for entertaining.
A note: not all the items pictured and listed as serving suggestions are included in the ingredients list or the final calorie count – so add these to your nutritional totals, if you're interested in tallying up the numbers. At the very least, do remember to add them to your shopping list to avoid a last-minute dash for potatoes.
I tried the Thai Basil Beef, which was delicious and super-easy to make. I just dumped all the ingredients in, stirred, and let the slow cooker work its magic over several hours. I served it over half a packet of pre-cooked brown rice zapped in the microwave. So simple, yet so satisfying.
---
If you're holding out for a more science-y nutrition cookbook, hold on a little longer – you'll have to wait until March 2023 to get your hands on it. In The Kitchen Prescription, MasterChef winner and gastroenterologist Dr Saliha Mahmood Ahmed lays out her three-pillar prescription for good gut health, while eschewing nutritional breakdowns, calorie counts or sensationalist language such as "superfoods". The introduction is fascinating but not for the faint-hearted, though gut-health enthusiasts will love to geek out on the facts.
On to the recipes – all 101 of them. The approachable, everyday dishes pack plenty of flavour, and there are some healthier sweet treats, too. Each page includes key facts explaining why particular ingredients are good for you, which adds to the overall feel-good mood of the book.
I tried the Chilli Salmon and Greens, which packed a real flavour punch into each foil parcel and made an ideal easy midweek meal.
---
(opens in new tab)
Nourishing Vegan Every Day
This is the debut cookbook from Amy Lanza, better known from her food blog Nourishing Amy. Whether you follow a vegan diet or you just want to add more plant-based dishes to your weekly repertoire, it's packed with vibrant vegan dishes you'll want to try. You'll also find tips for replacing animal products in recipes and some brand suggestions for specific vegan products to try.
As you'd expect with recipes made for a special diet, some of the ingredient lists are on the long side, and they do rely on certain vegan staples such as nutritional yeast, chia seeds and coconut cream. That said, there are plenty of dishes that don't use anything out of the ordinary, and most ingredients will easily be found in a supermarket.
The book is split by meal type: Breakfast, Brunch, Lunch, Dinner, Snacks, Sweets and Celebrations. There are no calorie counts, but most of the savoury dishes are conspicuously wholesome, packing in hefty portions of veg. On the flip side, some of the desserts are seriously indulgent – Chocolate Chip Cookie Layer Cake, anyone? – but if you're of the "everything in moderation" mindset and want to embrace a plant-based diet, these will fit the bill for special occasions nicely.
I tried the Smoky Sweet Potato Mixed Bean Chilli, which was nourishing, filling and delicious. Next on my list to try: Almond Satay Tofu Summer Rolls and Sweet Potato Gnocchi with Tomatoes and Kale.
Sign up for workout ideas, training advice, reviews of the latest gear and more.
Sarah is an experienced health, fitness, nutrition and beauty writer, and was previously health editor at BBC Good Food. She has contributed reviews, interviews and features to Coach since 2019, covering exercise bikes, fitness trackers and apps, among other topics. In her free time, she can be found hiking, swimming, cycling or trying (and failing) to do a headstand on a yoga mat.