The best portable speakers
MF picks the best portable speakers for outdoor use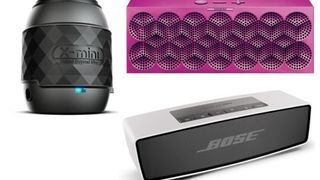 (Image credit: Unknown)
One of the lovely things about summer (when it isn't raining) is the chance it gives you to indulge in more outdoor training. A great way to work on your strength, get out of that stuffy gym, and work on your tan all at the same time. We all like to have a soundtrack to our workouts, especially when the sun is shining, but a common issue when listening to an iPod or MP3 player often occurs when the cables start getting tangled together and the earphones get ripped out of your ears mid-burpee. The solution is simple; invest in a set of portable speakers. Here are a few of the best portable speakers for blasting motivational music and showing off your impeccable playlist selection while working out in the great outdoors.
Words: Rob Keil
---
Spaced360 Bluetooth Portable Speaker
Best for: Surround Sound Quality
The Spaced360 is aptly named; given that it's one of the most futuristic looking speakers on the market. Boasting 3 speakers, each facing different directions that deliver exceptional quality for total, 360 degree, surround sound. It is the heaviest of our picks, weighing in at just over a kilogram, so it isn't one to take on a jog, but set it down and it will more than liven up your 5-a-side kick about. The design is what really captures the imagination with these speakers. Doing away with the fiddly buttons and controls of its competitors, the Spaced360 can be entirely controlled via your phone, meaning that you can set it down in one place and not ever have to go back over to it until you're ready to take it home.
Price
£250.00
---
Bose SoundLink Mini Bluetooth Speaker
Best for: Sound Volume
As you'd expect from a set of Bose speakers the SoundLink Mini is perfect for playing loud music without ever compromising on sound quality, ideally suited for a big group outing that requires a soundtrack to be heard by many. You do need to watch out for the weather with these speakers however, as their lack of any waterproofing could result in an unfortunate mishap. They're also incredibly easy to connect to and use, so when your mate decides he wants a change of genre, it won't take him any longer than your 60 second rest time between sets. They're a top quality set of speakers that offer convenience, sound quality and size without being too overpriced.
Price
£169.95
---
Jawbone Mini Jambox Speaker
Best for: Style
The Jawbone Mini Jambox oozes style as soon as it is out of the box. Small, neat and colourful, it is near impossible not to love these speakers. They come in a colour to suit every taste, each with a slightly different front grill design. Although the volume level won't fill a football pitch, it will still certainly get you through those last few push-ups. The Jambox comes with an auxiliary cable included if your music player doesn't have Bluetooth, and will keep running for an impressive 10 hours after a full charge. It doesn't matter what you're doing, these speakers will add some colour to even the most boring workout.
Price
£99.95
---
Best for: Price and Portability
The X-mini We is the definition of ultra-portable; it is less than the length of your thumb in size and weighs next to nothing. Despite the fact you might lose it amongst the grass because of this, you certainly won't fail to hear it, especially when you can pair it to your mate's X-mini We for double the volume. The level of volume that these tiny speakers produce is surprising, making them the perfect companion for a spontaneous outdoor workout. This speaker has everything you need, and doesn't come with a hefty price tag. It's a speaker that punches well above its weight, combining style, value for money and sound quality all in one handy little package.
Price
£29.99
---
Best for: Gadgets
This speaker is a gadget-lover's dream. In addition to the expected ability to play music with good sound quality, it also has a number of extra handy functions. The splash-resistant casing means you don't have to worry if you get caught in a little spitting rain mid-set, and the built-in microphone allows you to take calls hands-free when your phone is connected to the Bluetooth speakers. However, perhaps the most useful feature of the MobiOut is the fact it can recharge your phone, with iLuv's 'jump-start' technology. Although you can't play audio while your phone is charging, if your phone was out of battery it wouldn't be possible to listen to your music either way. This reasonably priced speaker is the perfect addition to any outdoor-enthusiast's gym bag.
Price
£69.99
---
Braven BRV-X Portable Wireless Speaker
Best for: Durability
Designed for the extreme outdoors, this Braven is all but bulletproof. The BRV-X has a shockproof exterior, so it wont break if a stray football goes flying into it, and is extremely waterproof so if the heavens open, you can carry on without a worry. All this extra protection doesn't add to the weight, with it only being marginally heavier than the Bose speakers, and it can be easily tied it to the outside of your bag if a group run is on the agenda. All this protection doesn't detract from the audio performance either, with above average sounds quality and strong speakers, this durable and lasting device is the music equivalent of a Swiss-army knife.
Price
£199.99
---
Pioneer XW-BTSP1 Speakers
Best for: Simplicity
It takes under a minute to get these speakers connected to your phone and playing music via Bluetooth, so you can get started on your workout without wasting any time fiddling about. There are only three buttons (for Bluetooth connectivity and volume) and the rest is controlled from your phone, meaning you don't have to interrupt your reps to change the soundtrack of your training. It doesn't look particularly sexy, but the impressive volume range compensates – your motivation playlist will reach you no matter how far away your walking lunges take you. This lightweight speaker is perfect for slipping in your gym bag and heading out without any fuss, while the 10-hour battery life means they'll keep going far longer than even the most masochistic of workouts.
Price
£79.99
Sign up for workout ideas, training advice, reviews of the latest gear and more.
Coach is a health and fitness title. This byline is used for posting sponsored content, book extracts and the like. It is also used as a placeholder for articles published a long time ago when the original author is unclear. You can find out more about this publication and find the contact details of the editorial team on the About Us page.