Healthy packed lunches
Batch cook meals at home to save money and build a supply of delicious, healthy packed lunches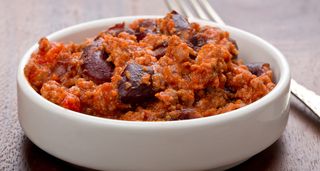 (Image credit: Unknown)
Save money and give your tastebuds a treat by making packed lunches at home to eat at work. Not soggy sandwiches or sad-looking salads. Proper home-cooked food that's easy to make, tastes amazing and won't declare war on your waistline. All you need is some Tupperware, a microwave at work and a spare Sunday afternoon and you've got lunch sorted for weeks.
The fat burner: Chicken curry
Though you might not usually associate curry with healthy eating, if you use lean chicken breast, minimal oil and add plenty of chilli you can turn this British staple into a quick and simple metabolism booster.
Servings: 4
Ingredients
2 tbsp olive oil (or vegetable oil) / 2 large onion, chopped / 4 garlic cloves, chopped finely / 2 large tomato, chopped / 2 tbsp tomato purée / 2 medium chilli, chopped / Half tsp chilli powder / Half tsp coriander powder / Half tsp cumin powder / Half tsp turmeric powder / 3 chicken breasts / 2 tbsp yoghurt / 260g basmati rice / cauliflower / ginger / coriander
Fry the onions with garlic, tomato, tomato purée, chopped chilli and spices. Cook for a few minutes and then add 4tbps water.
Add chicken and cook for 10 to 15 minutes on a medium heat, then add the yoghurt and stir. Add pepper.
Meanwhile, cook some rice following the packet instructions and boil or steam the cauliflower.
Add ginger and coriander to the curry to your preferred taste.
Serve with the rice and steamed cauliflower.
The protein punch: Meatloaf
Popularised in America during the Great Depression as a way to stretch family's small food budgets, this hearty dish is packed full of protein and far tastier than its humble origins make it sound.
Servings: 8
Ingredients
250g dried mushrooms / 250g bulgur / 2 tbsp extra-virgin olive oil / 1 small onion, chopped / 1 stalk celery, chopped / 2 cloves garlic, minced / 1 tbsp Worcestershire sauce / 425g can of diced tomatoes, drained / 125ml low-fat evaporated milk / 125ml tomato purée / 1 large egg / 2 large egg whites / 250g lean beef mince / 125g dry breadcrumbs / 60g chopped fresh parsley / 2tsp dried thyme / Half tsp salt
To make
Soak the mushrooms for 30 minutes and soak the bulgur in 250ml boiling water for 30 minutes.
Preheat your oven to 175 ºC.
Fry the onion, celery and garlic. Cook for five to seven minutes. Add the Worcestershire sauce and cook for a further three minutes. Add the tomatoes, evaporated milk and purée, stirring to combine. Continue cooking for about three minutes. Remove from the heat and let the mixture cool.
Whisk the egg and egg whites, then add the beef, breadcrumbs, soaked bulgur, mushrooms and finally the tomato mixture. Stir in the parsley, thyme and salt, and mix with your hands.
Shape the mixture into a loaf and bake for one hour.
The energy booster: Quinoa casserole
Used by the Incas to increase the stamina of their warriors, Quinoa contains Lysine which is crucial to tissue growth and repair.
Servings: 10
Ingredients
375g quinoa, uncooked / 2 heads of broccoli, cut into small florets / 3 tbsp butter / 3 tbsp white flour / 1 small onion, diced / 500ml semi-skimmed milk / 1 clove garlic, crushed / 1 tbsp French mustard / Quarter tsp cayenne pepper / Salt and pepper, to taste / 220g cheddar cheese, grated / 375g shredded chicken
To make
Cook the quinoa according to the packet's instructions.
Boil the broccoli and add to the quinoa.
Make the sauce by melting the butter and whisking in the flour, onion, garlic, mustard, cayenne, salt and black pepper.
Cook for two minutes then stir in the milk.
Remove the sauce from the heat and add the cheddar.
Mix the sauce with the broccoli-quinoa mixture.
Bake in a casserole dish for 35 minutes.
The lean muscle builder: Chilli con carne
The official state dish of Texas, this recipe is low in fat and sodium, plus has metabolism-boosting chilli to help you get that summer six-pack without starving yourself.

Servings: 4
Ingredients
1 tbsp oil / 200g lean beef mince / 2 onions, finely chopped / 2 garlic clove, crushed / 800g tin of chopped tomatoes / 2 tbsp tomato purée / 1 tsp chilli powder / Half tsp cumin / Half tsp coriander / 1 red pepper, chopped / 200g mushrooms, sliced / 2 small tins of kidney beans / Black pepper, freshly ground / 300g basmati rice
To make
Cook the mince until it's brown.
Add the onion and garlic and cook for three minutes.
Add the chopped tomatoes, tomato purée and spices and simmer for 15 minutes.
Cook the rice according to the instructions on the packet
Add the chopped pepper, sliced mushrooms and kidney beans and cook for two more minutes.
Once you've cooked each of the dishes leave the food to cool down completely before putting individual servings in the freezer.
That's a total of 26 lunches. All tasty, all healthy and all cheap as chips (cheaper if we're talking Nando's!) – now the only problem is where you're going to get all the Tupperware to put it in.
Tip: Don't buy takeaways for the next month in a bid to accrue enough containers. It'll be expensive, gluttonous and fattening.
Sign up for workout ideas, training advice, the latest gear and more.