World WBA lightweight contender Anthony Crolla: interview
Professional boxer Anthony Crolla has made a full recovery from injury and is ready to fight for the world WBA lightweight title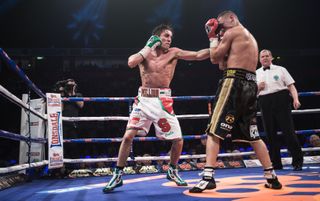 (Image credit: Unknown)
Professional boxer Anthony Crolla has made a full and swift recovery after chasing away burglars from a neighbour's home in December leaving him with a fractured skull and broken ankle. Now he's ready for the world title fight on Saturday 18th July against Darleys Perez for the world WBA lightweight cChampionship at the Manchester Arena.
What's your daily routine?
I wake up at 4.45am and do swimming drills. They're usually in intervals sustained for three-minute rounds but it varies from how the coach is feeling. Then after my swim I go back home and have breakfast. I make sure I have some protein for recovery. Breakfast depends on what training I'm doing next, so if it's a big sparring day or I'm doing boxing then some carbs will be involved. The carbs I would get from porridge oats and maybe a little fruit. I add more protein from meat, fish or a whey protein drink. If I have a large cardio session that day I'll cut down the carbohydrates and plan on getting them from the greens and vegetables.
What exercises do you do to stay in your weight limit?
Staying in the lightweight class is not a problem for me. I use every sort of squat. I don't work with machines because I think it's unrealistic for the sport, unless I'm strengthening the muscles around the knee because I've had problems in the past. Other than that one machine, everything else is free weights. I try gaining strength using them without building massive muscle by doing maybe two or three repetitions of a weight. I also do a lot of core workouts and strength and elastic workouts.
How have you been training to prepare for the fight on 18th July?
The big thing was working with weights. I started using leg weights to build muscle there and trying to build strength around my ankle. I lost a lot of weight on my legs after the attack so it was important that I build up muscle by doing squats, lunges and high lunges. The main issue was having a broken ankle and being in crutches. I couldn't run for quite a while, which a lot of boxers do every morning. Pounding the road isn't always specific to our sport but you fight at a steady pace for an hour. I worked on a Wattbike and I've been using that to get the cardio in as well. I've also been swimming because it's low impact – I just have to be careful pushing off because it could hurt my ankle.
Did you notice any changes in your workouts after your recovery?
Yes I did. I had time away from the sport and it made me evaluate things and look at parts of my training I'd like to change. Since then I feel like my physique has changed. I worked hard to strengthen my legs and now I feel that I'm stronger than I've ever been in my life. There was also a change mentally while I had that time out. It made me sit back and assess things and that was massively important because you've got to prepare right. Since I've made those little tweaks I've noticed a huge difference.
Did you lose any of your confidence after the incident?
To be honest, I'm a positive person. But I had two main worries and one was my ankle – I wondered if I would ever get full movement back in it. From the moment I could move it I was doing a lot of stretching with bands and I was icing my ankle daily. I didn't have the confidence to run on it and I had to use an anti-gravity treadmill for a while. The other main worry was having a fractured skull. I thought about when I took a punch again and how that would affect the fracture, but fortunately I was cleared with no worries whatsoever. As crazy as it sounds, it was sort of nice to get punched in the head again once I got that 'OK' from the doctors.
What's your advice for people with similar injuries?
Mentally, you've got to be strong. You can't feel sorry for yourself. Rehab is a massive part of recovery and finding a good physiotherapist and team is important. Stretching is something that's got to be done and done well. You also can't do too much too soon. I was housebound for a while and the moment I was allowed out I was gallivanting about the place, but you've got to be careful and smart.
Is there anything you'd like to say to your fans?
I would like to thank each and every one of them. Like I said, I'm a big believer in positive thinking and my recovery went a lot faster than anyone could have expected because of them. All the support I got was amazing. When I train I always think back to all the letters and all the things I got from social media, people saying they wanted me to come back better than ever.
Anthony Crolla will fight against Darleys Perez on Saturday 18th July for the WBA lightweight title at the Manchester Arena.
Tickets can be purchased through Matchroom Boxing www.matchroomboxing.com
Sign up for workout ideas, training advice, reviews of the latest gear and more.
Khaliha Hawkins worked as an intern for Men's Fitness UK in the summer of 2015, while studying for a bachelor's degree in journalism from Klein College of Media and Communication at Temple University. Khaliha went on to work at Glamour magazine in New York.