The Best Sweatshirts For Men: New Styles For 2020
This is where the fight back against winter begins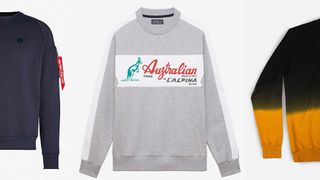 (Image credit: PR)
See that out there? That's sweater weather. Cold, dark, a little damp – perfectly British. Given that these are the conditions we live with for what feels like 52 of the 52.1 weeks of the year, we deserve to live a little when it comes to pulling on our armour against the cold. To treat ourselves for staying chirpy in this dreary climate. And we've compiled this list to do just that. From classic heritage sportswear to modern eco heroes, here are eight that should cheer you up and warm you up in equal measure.
---
Nigel Cabourn Vintage Globe
It's impossible not to like Nigel Cabourn. Search for an image of the septuagenarian British designer and prodigious collector of military garments right now and we'll bet many pennies that you'll find a photo of him with a gigantic beaming smile across his tanned face, and dressed in extremely "I wish I could pull that off" vintage and oft-oversized garms.
And you bet we'll gush embarrassingly about his clothes, too. Step into his Covent Garden store and you'll be met with solid workwear and everyday items inspired by yesteryear. This sweatshirt, based on a vintage training crewneck silhouette and with an added Cabourn logo from the archives, is a great place to start – especially in that bang-on-trend orange colourway.
---
The graphic artistry of one-time pro skateboarder Pieter "Parra" Janssen is instantly recognisable thanks to his distinctive colour scheme and the pointy-nosed characters that crop up in his line of clothing. Not that there'll be any second-guessing from passers-by as to where this came from, with his name repeatedly slapped all over and inside his renowned Flapping Flag design.
---
Ebbets Field El Paso Sun Kings
If it's vintage American sportswear you're after, Ebbets Field Flannels has you covered. Based in Seattle, the brand's designers are top dogs at researching, sourcing and creating true-to-sporting-history baseball, hockey and American football jerseys, caps, jackets and tees. Plus each piece is cut, sewn or knit from original fabrics and yarns in the US.
---
You need a classic plain grey sweatshirt. That is an indisputable fashion fact. And we've found none better than this collegiate-style one, with just enough detail – an asymmetric V-stitch at the neck, a darker tone on the hems – to set it apart.
---
Tie-dye is enjoying a moment in the sartorial spotlight, but that doesn't mean you're obliged to go full flowers-in-your-beard to enjoy a slice of this deliciously psychedelic trend. Let Chinese champion gymnast Li-Ning's brand deliver a perfect microdose of hippiedom to your arms and torso.
---
You simply cannot go wrong with bold colour blocking these days, as Puma's relaxed-fit crewneck with a neat back print proves.
---
Nike Sportswear Cotton Blend Jersey
The idea of sporting a lilac jumper might send your stomach into nervy flips, but pair this pale violet doozy with your best washed-out relaxed-fit denim and a set of fresh white sneaks, and you'll be hard pressed to find a better casual uniform in 2020.
---
Australian L'Alpina Block Australian
If you're big into premium '80s terrace wear, we won't need to tell you about Australian L'Alpina. You'll know all about how the premium Italian – not Aussie – brand made its name way back on the tennis courts of the 1950s with technically advanced materials, before being adopted by the football casuals 30 years later. And with heritage leisurewear having a real moment of late, it's little surprise that the iconic kangaroo logo is back on a deliciously retro collection. This Italian-made sweatshirt is our pick of the lot.
---
Alpha Industries Logo-Embroidered Sweat
Alpha Industries has a history firmly rooted in the bomber jacket, but it's not stopped the brand from diversifying into this menswear staple. A classic cotton sweatshirt is tweaked with the signature "remove before flight" arm tab that makes the military outerwear staple so recognisable. Boy, does it work a treat.
---
The armpit isn't the most obvious bit of real estate for some sweatshirt design, but true to their anti-establishment form, the surf 'n' skate punks at Volcom have gone and done it anyway. The two-tone diagonals and strong material panelling bring a cool, futuristic twist to a classic shape.
---
Thirty-five quid doesn't buy you much in the way of sweatshirts these days, but chuck your notes at Weekday and you'll walk away with a relaxed-fit, all-over-tie-dye top. It sticks to the trend for all things psychedelic without going overboard on the peace and love.
---
A sweatshirt that's perfect for your gloomiest and most adventurous moods, from the king of Scandi chic.
---
Completing the circle, we're right back at heritage sportswear again. This time it's Hummel steering the retro terrace-wear trend, having flicked through its near-century of German-Danish history to revisit a classic '90s sweatshirt silhouette that's sporty, comfy and colourful – a modern-day post-kickabout doozy.
Sign up for workout ideas, training advice, reviews of the latest gear and more.
Craft beer drinker, Devonian, fisherman and former content director of Coach online, Chris contributed style coverage and features between 2016 and 2019.