The Slow Boat to New York: Sailing Down the Hudson River on a Rubbish Boat
Adventurer James Bowthorpe made a boat out of rubbish and sailed it 300 miles down the Hudson River to Manhattan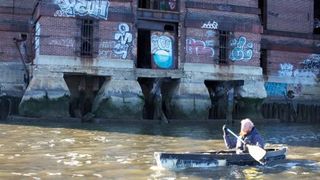 (Image credit: Unknown)
Grade-4 whitewater, temperatures of -10ºC, busy shipping lanes and a small rowing boat made out of rubbish. At the end of 2015, British adventurer James Bowthorpe rowed the length of the Hudson River in a vessel made entirely from trash found on the streets of New York City.
After assembling his boat in Manhattan, he travelled to the river's source in the Adirondack Mountains, near the Canadian border, before rowing 315 miles back to where he started, with a film crew capturing the journey for a documentary to be released later this year.
James has form when it comes to extreme adventure. In 2009, he cycled around the world in a rather rapid 175 days, and the Hudson River Project – designed to highlight sustainability and showcase the link between the city, the river that gave birth to it, and the people that live and work along its banks – came about after he completed a similar escapade on the Thames.
So, you're a keen rower?
Not really, but I've always had a connection. I grew up between a river and a canal in Somerset and had a kayak that my dad made when he was a kid. As a young teenager I would take it on trips, and I've worked on boats and built them as well.
How did you go about building this vessel?
I arrived in New York on October 25, 2015 with eight days to collect trash and build a boat. I found aluminium sheeting in skips, pieces left over from domestic building projects in East Harlem, and I got a lot of plywood from an art gallery in Chelsea, Manhattan. I built the boat outside, two streets away from one of New York's biggest building projects, Hudson Yards, in an area where people who collect scrap metal in the city go to sort through what they find. I discovered a microcosm of American society I wouldn't have seen if I'd built the boat in a workshop.
How long were you on the river?
The journey was 315 miles and it took around five weeks, starting at the source of the river at Lake Tear of the Clouds in the Adirondack Mountains. At the source the scenery is very wild and pristine, and as you get further south it flows through different industrial areas and wilder country before it ends up becoming an international shipping lane.
Was the weather challenging?
The weather varied enormously. In the mountains it was around -10ºC and snowy so very cold, we had wild rain in some sections and winds in others but heading south it was a record mild December. Even when the air is warm, though, the water can be dangerously cold so I wore a dry suit and neoprene gloves, sometimes with thermals underneath.
How did the boat fare on the river?
The first time I sat in it, it tipped over. I'd put foam in different places to help with the flotation but they were obviously the wrong places. It took a few more alterations and a couple more launching attempts, but once it was floating it was fine.
After a fairly easy and meandering start, I hit the Hudson River Gorge and the boat took a bit of a battering. I spent two days constantly capsizing, but on the final day of whitewater I'd got used to the boat and could get through the rapids without falling in.
Did you have to patch the boat up as you went along?
I was constantly making adaptions and repairs. A guy who owned a boat marina gave me some sealant for leaks and I jammed plastic bottles I found in the river into sections, so if the boat leaked it could take on quite a lot of water and stay afloat.
How many hours were you rowing?
Around eight hours a day covering an average of ten miles – six hours when the river became tidal, there's no point rowing against the tide. I'm not an athlete so after about an hour my arms were in pain and I'd stop regularly to stretch, drink water and eat.
Were there any scary moments?
The only time I really worried for my safety was when I was rowing across a bay one night. The river was around 1.5 miles wide and tidal, it was dark and I was completely disorientated. Seconds before I was about to hit it, I realised a looming shape I'd thought was the other side of the bay was a barge moored in the middle of the water. The current was trying to suck me under it and I was clinging on to the side desperately. I didn't row at night after that, I wasn't in this for the anecdotes.
What was the best thing about the expedition?
The people. From longshoremen in the port of Albany to rangers working in the Adirondack Mountains, and those who live and work in Manhattan and Staten Island, the Hudson River Project is a portrait of the river and all the people who live and work on it.
The Hudson River Project received support from Swiss watch brand Tudor, whose technology is designed to survive even the world's coldest and most remote adventures. They kitted him out with a North Flag watch (opens in new tab), designed for extreme conditions. It's waterproof to 100m, shockproof and guaranteed to keep time in icy conditions, but how did James think it measured up?
Smashability: "I knew the North Flag could handle -15ºc and getting bashed about so I didn't need to worry about breaking it. The partnership wouldn't work at all if Tudor made throwaway products."
Usefulness: "Knowing the time and being able to synchronise a team was useful, particularly in gorges where phones didn't work. My dad taught me simple navigation with a watch when I was a teenager so I used it for that too. You can use the sun and the hour hand to tell you what direction you're heading, even without landmarks."
Water Resilience: "We relied on the watch to synchronise the team for some of the more complicated shots in whitewater conditions. We've had problems with radios before where granite stops transmission, so to have a simple 'go' time was useful and foolproof."
For more information on the Hudson River Project go to jamesbowthorpe.com (opens in new tab) or visit hudsonriverproject.tumblr.com (opens in new tab)
Sign up for workout ideas, training advice, reviews of the latest gear and more.
Charlotte Thomas is a freelance journalist and health and fitness blogger at Lunges & Lycra (opens in new tab).