Tennis Training at La Manga, Alicante
Every June you wake up to the fact you'd love to play more and better tennis. This time, do it properly at La Manga in Spain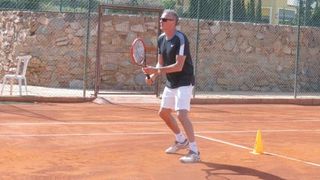 (Image credit: Unknown)
Image 1 of 4
Tennis came to me, or I went after it, relatively late in life. For my first four decades and more I only had eyes for football. I was in a committed sporting relationship: Sunday 11-a-sides, Friday seven-a-sides and sometimes a cheeky five-a-side on a Monday, just because I could.
I'm the kind of person who, when it comes to fitness, is easily bored running, but will chase a ball forever. But then I entered my forties and the injuries began to rack up until playing was something I did only sporadically between long periods of limping and hobbling and moaning.
Football finally dumped me at 47 and went off with younger men, leaving me bereft and in need of a new sporting romance. That's when tennis arrived. Previously I'd thought of tennis as part of a genteel world of Pimm's drinking that wasn't my glass of barley water. More than that, on the rare occasions I did pick up a racquet, I wasn't very good at it.
My ungainly ground strokes and slapstick serve seemed to bear roughly the same physical relation to the professional game as taking a bath does to Olympic swimming. I had no technique and no timing. And the great thing about tennis is that it's all about technique and timing, which means that unlike football, where advancing years eat away at ability, you can get better at tennis deep into middle age.
But two things are required for notable improvement: practice and coaching. A lot of people who play tennis avoid coaching because they've reached a level of adeptness that they fear will be undone by expert attention. There's something to be said for that school of thought, but not much. If Andy Murray needs a coach, chances are you do too.
However I know from experience that a few sessions over a month or two, while helpful, amount to slow progress. What's really required to make rapid progress is a sustained period of playing and coaching, and preferably somewhere the sun is shining.
RECOMMENDED: How to Be a Better Tennis Player
There are several suitable locations in Europe. Of these, perhaps the best in terms of a sporting holiday, is La Manga. Known for its three golf courses and the misbehaviour of visiting English Premier League football teams, La Manga also has a 28-court – mostly resplendent red clay – tennis centre where many professionals, including the victorious British Davis Cup team, come to practise.
A common experience for a park player is to find that during a coaching session you hit the ball so well that you'd like to have a camera crew present to record it for the sake of posterity. But come a match against that annoying friend with their scuffed shots and dodgy shorts, and all that power and precision vanishes and you return to the same old net-finding bad habits.
James Rose, director of tennis coaching at La Manga, knows all about that syndrome: "I see players experiencing the most frustration when what they have practised does not translate to the match court," he says.
The answer they emphasise at La Manga is to work on drills and then put them immediately into practice in point-playing mini-games. "We try to create dynamic sessions relating directly to match court situations," he says.
Perhaps more than any other, tennis is an intensely physical sport that's played in the mind. Not only is there the constant weighing up of your opponent – where they are, what they're doing, how they're doing it – and the self-analysis of your own choices, but there's also the psychological burden imposed by the fiendishly fickle scoring system. That backhand down the line that you'll bury with confidence at 40-0 can easily become a puny half-hearted poke at 15-40.
At La Manga they cater for all levels and they set out to create a fun but competitive spirit in small training groups, so that you get used to thinking about the right choice of shot selection under pressure. The philosophy is not to overcomplicate matters. When you watch someone like Roger Federer play, tennis can seem almost balletic. But even to think about trying to emulate his effortless movement, balance and timing, you need to remember about 15 different things at once. For most humans that results in mental and physical paralysis.
Rose and his team of coaches focus on getting the basics right – your court position, bending your knees and (this is surprisingly easy to forget) remembering to breathe. Gradually, as you get used to these fundamentals, more sophisticated advice is introduced such as, for example, making sure your elbow is pointing at the direction you hit the ball on your follow through.
Because the sessions are so upbeat, you get through an amazing amount of activity in a couple of hours. At no point did I feel that the time was lagging. And after each session I felt that I had learned something I wasn't going to forget.
Typically tennis guests will do 10 hours of group coaching in a week, plus tournaments and, if they choose, one-to-one coaching on top. If you're the kind of person who likes to feel you've expended some physical effort before slumping on a beach or next to the pool, then a tennis holiday is well worth considering. There's something deeply pleasurable about being on a clay court under a cloudless blue sky and monstering a forehand winner.
By the time I headed back to Alicante Airport, I felt a significant advance in my game and, perhaps more importantly, an expectation of much further improvement. Just as a dog's not just for Christmas, so tennis is not just for Wimbledon fortnight. Once taken up, it's a lifelong romance, and there are few better places to start or rekindle it.
Tennis at La Manga, Alicante
Weekend Warriors Package (September/October 2016) includes:
Three nights' hotel accommodation (based on two people sharing)
Daily breakfast at the Amapola restaurant
Eight hours academy (Friday, Saturday and Sunday morning)
Twin occupancy: From €485 per person per stay
Adult Academy Package (September – December 2016) includes:
Seven nights' hotel accommodation (based on two people sharing)
Daily breakfast at the Amapola Restaurant
Ten hours tennis academy (Monday – Friday)
Twin occupancy: from €699 per person per stay
Coach travelled with Monarch, which flies year round to Alicante from Birmingham, Gatwick, Luton, Leeds Bradford and Manchester with fares, including taxes, from £120 return.
Sign up for workout ideas, training advice, reviews of the latest gear and more.