The Best Endurance Races in the UK and Ireland to Sign Up for Right Now
Marathon distance not enough for you? Go the extra miles and sign up for one of these endurance race events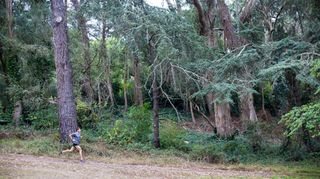 (Image credit: Unknown)
If you didn't land one of our coveted Fitbit Fifty places, don't worry – there are plenty of other awesome British endurance races you can sign up for. Whether you want to run an ultra marathon, cycle the length of the country, or tackle a multi-day race in any way you choose, we've found the best endurance events and adventure races Britain has to offer. Sign up now, start training, attempt the physical challenge of a lifetime and claim the bragging rights.
The Fellsman (29th-30th April 2017)
Slower paced, but no less hardcore than our other recommended endurance events, the Fellsman covers 100km of rugged moorland. That's not even the trickiest part. You'll also climb 3,350m and navigate a course that's often off the beaten path without the aid of Google Maps (GPS is allowed, but a map and compass are required for entry). You can run if you like, but hiking is totally acceptable and, let's face it, more realistic for those of us not born with superhuman fell-running abilities. To prepare for this unique style of racing, enter some shorter events in the preceding months to get used to the terrain, even if you intend to hike the whole way. fellsman.org.uk
RECOMMENDED: How Fast Can You Get Fit for a Big Challenge?
Fred Whitton Challenge (7th May 2017)
Named in honour of amateur road cyclist Fred Whitton, who was club secretary of the historical Lakes Road Club, this is the UK's toughest one-day sportive. Starting and finishing in Grasmere, Cumbria, the 180km course winds through the Lake District, taking in its hardest climbs on the way. You'll see people getting off and pushing for some of the steepest bits – Hardknott, we're looking at you – but if you want the satisfaction of pedalling the whole way, ensure you get at least three months' hill-climb training. If where you live is lacking in decent ascents, hit the exercise bike and crank the resistance up to muscle-melting levels for some endurance-building – and fat-burning – interval sessions. fredwhittonchallenge.co.uk
Jurassic Quarter (20th May 2017)
England has its fair share of World Heritage Sites, but only one all-natural inclusion: the Jurassic Coast, a 96-mile stretch of rock formations that's not only the UK's most fertile fossil site but is also one of its most picturesque stretches of beachfront. The JQ takes in almost half of the coast's length, following 46 miles of climbs and descents from Portland Bill Lighthouse to Old Harry Rocks. Runners can tackle the race solo, but it's a popular event and the pace gets punishing, so you can enter as a relay team of two or four if you don't think you're ready to go it alone. The starting pistol doesn't fire until May, so you've plenty of time to get some miles and practice hills under your belt. endurancelife.com
The Forces March (24th-28th May 2017)
Fancy a bit of multi-day marathon action without the hassle of roping in a support team or carrying your own tent? The Forces March, which includes more than the regulation 26.2 miles for five days straight, isn't exactly entry level, but at least your kit is transported for you and a hot meal awaits at the end of each day. The event starts in Ilfracombe, on the north Devon coast, and ends in Bulford, Wiltshire, taking in military training favourites such as Exmoor, Salisbury Plain and the Quantock Hills along the way. As there are no prizes for finishing first, most people walk the route, but even if that's your plan you should still prepare with a couple of long back-to-back training weekends to make sure you're mentally up to the grind. forcesmarch.org.uk
The Crossing (2nd-4th June 2017)
This mountain bike race – which goes through not one, but three, national parks – will remind you just how jaw-dropping the great British countryside can be. Over three days and 320km, you'll cross from the east to the west coast of England by way of the Lake District, Yorkshire Dales and North Yorkshire Moors. Don't get too distracted by the scenery, though. Some downhill sections require 100% focus, unless you fancy ending up wrapped around a tree. There's plenty of time to train for the next event, but we'd recommend including trips that combine camping and riding to get used to that aspect of the race. ratrace.com/thecrossing
Endurancelife Classic Quarter (10th June 2017)
If you're going to take on an ultra marathon, you may as well do one of the most beautiful Britain has to offer. There's nothing like the stunning Cornish coastline to take your mind off the discomfort of running 44 miles, after all. Taking you from the southernmost point of England (Lizard Point) to its westernmost tip (Land's End), the route can be done solo or in relay teams of two or four. The distance and steep climbs make this one for experienced trail runners only, but with at least six months' training any amateur runner could feasibly take it on. Complete it and your mate will have to stop gloating about his marathon. endurancelife.com
RECOMMENDED: What to Track When You're Training for an Endurance Event
Eroica Britannia (18th June 2017)
Forget double-butted steel frames and electronic gear-shift systems: you're expected to ride the Eroica (which means "heroic") on a bike made in 1987 or earlier, shifting the emphasis back to your legs and lungs. You can choose from a 30, 55 or 100-mile route around the Peak District, and there's a festival of era-appropriate music and invigorating wet-shaves waiting for you when you stumble off your steed. Even if you're a keen cyclist, it's worth practising on a vintage cycle as soon as possible: the organisers promise bone-rattling roads, and your hands might need to build up some braking endurance. eroicabritannia.co.uk
Newcastle to London 24 (19th-20th August 2017)
Newcastle to London in less than a day? It's a daunting prospect on Britain's public transport system, but doing the 315-mile trip under your own steam seems like nothing short of insanity. Not to worry, though: Ride 24 has worked out an itinerary including rest stops, breaking the route into manageable chunks and leaving you with plenty of time to take in sights such as the Angel of the North, York Minster and the London skyline (at dawn) to take your mind off how much your legs hurt. The first finishers are expected to complete the course in 21 hours, with the stragglers making it home in 26 hours or so – as long as you've got at least one 100-miler under your belt, you have a solid chance of making it home. ride24hr.com
Ride Across Britain (9th-17th September 2017)
Land's End to John O'Groats is the country's most famous endurance route for good reason, and going the length of the country on two wheels is as hard as it sounds. Thankfully, the only official event that covers the route does everything it can to make your ride as painless as possible. As well as food and first-aid support, there are bike mechanics and guides to make sure you don't make any wrong turns. The event has a 96% completion rate and the next one isn't until late 2017, so get in a few multi-day sportive events over the next year to avoid becoming part of the unfortunate 4%. rideacrossbritain.com
Robin Hood 100 (16th September 2017)
According to the organisers of this relatively new race, this 100-mile course – which does two loops through famous Sherwood Forest, as well as a picturesque trot along Chesterfield Canal – is a fast one. The course record is just over 16 hours, which makes this relatively flat route a fine pick for any merry men (and women) looking to pop their 100-mile cherries. Navigation is simple, checkpoints are plentiful and there's the UK's (possibly) oldest pub, Nottingham's Ye Olde Trip To Jerusalem, to look forward to when you're done. Get some long, slow efforts in ahead of time, if only to practise that all-important fuelling strategy. hobopace.co.uk/robin-hood-100
Questars (various dates)
When it comes to Questars, customisation really is king. Events accommodate teams of one to four people and include kayaking, trail running and mountain biking, but it's up to you which checkpoints you visit and in which order. Want to do more cycling than running? That's fine. Prefer to sack off kayaking all together? Totally up to you. The abundance of choice doesn't stop there, either. The next one you can sign up for is October 2016, but Questars organise adventure races up and down the country throughout the year, so there's no excuse not to get involved when you can. questars.co.uk
Sign up for workout ideas, training advice, reviews of the latest gear and more.
Max was the head of digital content for Men's Fitness which worked alongside Coach between 2015 and 2019.