9 Reasons We Should All Pack up and Move to Sheffield
Let us introduce you to the wonders of Henderson's Relish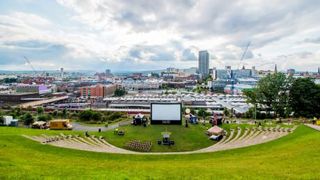 (Image credit: Unknown)
Sheffield: a city known for its steel and snooker. But there's more here than just heavy industry and an annual world championship of potting. This northern powerhouse – built across seven majestic hills and on the conflux of five rivers – has just been named the UK's best-value city by TripAdvisor. And no wonder, when moving here means you get all this brilliance for your money.
1. Village Vibes Meet Big-City Culture
It's often said Sheffield is the world's biggest village because it's so friendly. True enough, but that does the place a slight disservice – when it comes to culture, this is big city through and through. What's here? Well, take a deep breath because there's a lot to get through: there's the UK's largest theatre district outside London; Yorkshire's premier shopping centre, Meadowhall; one of Europe's largest urban glass gardens; a choice of independent cinemas; an unofficial Chinatown rammed with brilliant restaurants; an antiques quarter stacked with vintage stores; an outdoor amphitheatre overlooking the city; and a range of museums and art galleries peppering every corner and thoroughfare. Oh, and this thing below. The Cheesegrater. It's just a car park, sure, but it's a ridiculously cool car park at that.
2. The Beer Is World-Beating
When it comes to real ale, there is nowhere better on Earth. Yep, it's a massive claim. If you want to take it up with someone, go fight with the New York Times. In a 2014 feature on must-visit destinations around the globe, it declared Sheffield the "world's best beer city". Its writers were especially impressed by Kelham Island, a riverside neighbourhood where boozers and breweries hide amid the faded magnificence of one-time steel works. One pub of particular note is the Kelham Island Tavern – the only place ever named CAMRA's National Pub of the Year twice on the trot, as this guy already knows:
Twitter, you sent me to Kelham Island and I found @thekelham - what a beautiful, beautiful gem of a pub #Sheffield pic.twitter.com/OljOmgqehdApril 20, 2016
3. Football Was Born Here…
In 2011, a documentary on Al Jazeera declared there were two stadiums every football fan should make a pilgrimage to. One was Real Madrid's Bernabeu. Classic. The other was the Coach and Horses Ground – home to Sheffield FC, a team who currently play in the amateur Northern Premier League Division One South. "The Club", as they're nicknamed, are the world's oldest football side, as officially recognised by FIFA. They were founded in 1857, and were the team who established the rules – including throw-ins, corners and free-kicks – which the modern game is built on. For their 150th anniversary, in 2007, Inter Milan came to play. The guest of honour that night was a chap called Pelé.
4. …and So Was Your Favourite Band
We're just going to list some acts here: Pulp, Human League, Arctic Monkeys, Def Leppard, Joe Cocker, Heaven 17, The Long Blondes, Richard Hawley, ABC, Bring Me The Horizon, Moloko, 65daysofstatic, Reverend And The Makers… We could go on but you get the picture. Except it's not the heritage that's the exciting part. It's the right now. New bands play here every single night at a wide range of locally-owned venues like The Leadmill, Picture House Social and The Harley, meaning that Sheff is the place to be if you want to get one step ahead of your music-obsessed mates.
5. It's Sunny and It's Seedy
If you and your better half are the kind of couple who might euphemistically be described as "open-minded", then boy are you in luck. The east end suburb of Attercliffe is known to locals as Sheffield Sex City because of its range of adult entertainments. King among the late-night shops and parlours is La Chambre – the first and self-declared biggest swingers club in Britain. In this converted working men's club you'll find a party pool, Kama Sutra rooms, porn stage, infinity boudoirs, torture dungeon and, out back, a dogging garden. Or so we hear. Running it all are congenial husband and wife hosts, Barry and Marie – now in their mid-60s.

6. It's Super-Outdoorsy
Only one-third of Sheffield is classified as urban. Another third is rural. The rest – uniquely among major English cities – sits within National Park land. That's the Peak District. This paradise of walking, climbing, cycling, scrambling and rambling is literally half an hour's drive from pretty much any front door in town. Not that you need to get out there to get some greenery, as Sheffield holds another nature-tastic title: there are more trees per population than any other European city – two 2 million to be precise. That's four for every person.
7. You'll Find a Dinner-Table Game-Changer
Live outside South Yorkshire and you'll never have crossed paths with Henderson's Relish. Move here and you will never be more than a few yards from a bottle of the stuff. Every home has it in their kitchen, every restaurant on their tables, every shop on the shelves. Pubs and galleries – we're not making this up – have pictures of it on their walls. Quite why a locally-brewed version of Lea & Perrins has become a source of such civic pride remains unclear. But perhaps Arctic Monkey Matt Helders sums it up best. Asked the worst thing about living in LA, he said it was not being able to buy his Hendos. Every time he comes home, he packs four bottles to take back.
Emergency! I'm out of Henderson's relish. Anyone coming dahnsahf from oopnorf can bring any back? cc @jableySeptember 21, 2016
8. It Even Has a Beach
Ian Brown famously said Manchester had everything but a beach. Sheffield, around 65 miles inland, does. Sort of. "Eccy Beach" is what dry-humoured locals have nicknamed the Ecclesall Road, a famous two-mile stretch of bars, restaurants, indie shops, tattoo parlours and takeaways. Why the re-christening? Because it's permanently teeming with students whose general attire – shoes without socks, chinos, flip-flops, short sleeves in winter, vest tops – is what the rest of us would only wear at the seaside.
9. You'll Enjoy Being Called a 'Sweetheart' by Scary Blokes
Imagine the scene. You're in the market – brand new in 2013, btw – buying some steaks. The butcher is a big bloke, tattoos, hands like hams. "Ten pound 50, sweetheart," he says without looking up. You glance around. Is he talking…? Me…? "Ten pound 50, sweetheart," he repeats. He is, you know. The bloke who could do a passable impression of The Mountain in Game Of Thrones is literally addressing you as "sweetheart". This will happen a lot. "Duck". "Love". Even an occasional "darling". But trust us, when the initial shock wears off, you'll start to quite enjoy it.
Colin Drury has lived in Sheffield since 2010. He recently spent a year in the Middle East but couldn't handle life without Henderson's Relish.
Sign up for workout ideas, training advice, reviews of the latest gear and more.