9 Reasons We Should All Pack Up and Move to Croydon
Croydon-born comedian London Hughes makes her pitch for living in "the place where plastic bags go to die"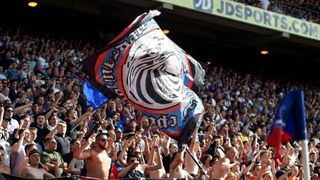 (Image credit: Unknown)
Croydon is truly the Marmite of London boroughs. I've heard it described as the heart and soul of Surrey and also as the place where plastic bags go to die. Here are nine reasons why I, London Hughes, think you should move to the sexiest part of zone six...
1. There's Imaginary Late-Night Supermarket Sweep in the 24-Hour Tesco
The Thornton Heath area – a name that sounds prettier than it looks – is home to a massive 24-hour Tesco, which means that after the club you can always stop there for a cheeky bag of Quavers and/or a chicken tikka ready meal. Or if you're like me, you can just use it to play drunken late-night Supermarket Sweep with your friends! I'm always Dale Winton.
2. Everyone Gets Free Cake at TGI's
TGI Fridays in Purley Way is a great spot for food, fun and cocktails. I also got the sack from there when I was 19 and then went on to become an award-winning comedian. To be honest I want you to visit there purely for personal reasons, just so you can look into my stupid boss's face and go, "Ha ha ha ha you sacked someone that's now doing extremely well for themselves you loser!" Sorry, I've gone off on a tangent. But anyway, if you tell your TGI waiter it's your birthday they have to (by law) sing "Happy Birthday" to you and give you free cake.
3. It's the Best Place to Yodel This Side of the Alps
Now I know everyone loves a good yodel session, but sometimes it's hard to find that correct yodel environment – you need hills, trees, woodland and wide open spaces. Well look no further, because Addington Hills meets all of your yodel needs (It's also quite a nice spot for picnic 'n' chill) with views of the whole of Croydon, London and beyond! It's the perfect spot to take a date if they're outdoorsy, but failing that you could always go there by yourself at night with a video camera and have hours of fun recreating scenes from The Blair Witch Project. The choice is yours!
4. They Have Films You Have to Read
Croydon Clocktower is the only part of Croydon that genuinely looks like it belongs in an episode of Downton Abbey. It's beautiful to look at, making it seem out of place among the old office blocks and chicken shops that surround it. Inside there's a library, a museum and a swanky cinema which only shows fancy independent films and the ones you have to read. They also put on a lot of top-notch exhibitions and events. I went there with my school once and Uri Geller bent my spoon! No, that's not a euphemism.
5. There's Amazing Shopping in Centrale Croydon
It's not quite Oxford Street but Croydon's Centrale shopping area (spelt with an "e" because it's classy) is where anyone who's anyone in Croydon goes to buy leggings. It boasts 76,180 square metres of fun, food and fashion plus it's even got a Mecca bingo. I spent most of my teenage years there being really cool and looking for boys that I could get too scared to talk to and eventually run away from. It's also a great place for celeb spotting! I once saw Joanna Lumley in Waterstones! And by Joanna Lumley I mean Chico from X Factor, and by Waterstones I mean Ladbrokes. Still managed to get an autograph though. Just like Fairfield Halls (see reason 8), Centrale is getting a big redevelopment and by 2020 it hopes to be part of the international shopping centre brand Westfield, and become Croydon Westfield. Which might be confusing, as Croydon is most definitely in the South.
6. We Sing When We're Losing
Premier League Crystal Palace FC calls Croydon home – it's not actually based in Crystal Palace but in South Norwood, and the club's Selhurst Park stadium holds 25,000 people. Those 25,000 CPFC supporters (usually upset because their team often loses) are some of the loudest football fans ever and you can usually hear their cries of "you know it's true, we're red and blue" from miles away on game day. If you want to watch a game with a bunch of well-mannered and passionately optimistic football fans and join in with famous chants such as "You only sing when you're winning" and "Glad all over" then CPFC is the place for you.
7. If it's Good Enough for Adele, it's Good Enough for You
Where's Britain's most successful performing arts school? That's right – Croydon, of all places. The BRIT School, responsible for such talents as Adele, Amy Winehouse and Leona Lewis, is Croydon's pride and joy. It's a massive performing arts complex with 1,200 students (honestly it's like Fame on acid), plus it's absolutely free to enroll! Saturday classes may set you back around nine grand a year though, but hey, what's money when your kid could potentially be the next Rizzle Kicks!
8. Broadway Meets Panto Meets London Hughes at Fairfield Halls
Slap bang in the centre of Croydon (right opposite the scary-looking underpass bit) is Fairfield Halls. It's home to two theatres and a gallery, and the likes of Stevie Wonder, The Beatles and London Hughes have all played there! Fairfield Halls love a bit of variety, from Shakespeare plays to comedy nights – there are even weird pantos starring Steve McFadden! Whatever it is you're after you're in for a treat. It's currently closed for refurbishment while Croydon council spends £30 million redeveloping it, but Fairfield Halls will be back with a bang in 2018. Hopefully I'll see you there.
9. You'd Be a Luna-tic not to Go
Luna is an extremely popular nightclub for young people, located deep in the heart of Croydon (right next door to Nando's). The likes of Rickie and Melvin from Kiss FM and CBBC's Toby Anstis have all deejayed there, and I've partied there myself. The club's music policy is a mixture of dance, R'n'B, hip hop, house and dubstep (my grandma's personal favourite) and although the type of people that go there aren't actually old enough to remember that Toby Anstis was once a children's telly presenter, it's still good fun on a Friday or Saturday night. It helps that Sambuca shots are like £1.50, so if all else fails get rat-arsed and dance your troubles away.
London Hughes is an award-winning actor/writer/presenter and stars in No Filter on YouTube. Follow her on Twitter @TheLondonHughes
Sign up for workout ideas, training advice, reviews of the latest gear and more.