Climb The Highest Mountain In North Africa – In A Weekend
Epic journeys are more accessible than you might think. All you need is a free weekend and a sense of adventure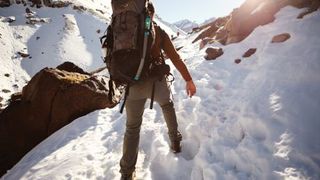 (Image credit: Glen Burrows)
When someone asks you, "Up to much this weekend?" they probably aren't expecting you to reply, "Oh, you know – just going to climb the highest mountain in north Africa." But that, thanks to Short Haul Adventure, a company specialising in trips that pack maximum action into minimum time, is a response you're now able to give. The mini-epic in question involves flying to Morocco on a Friday to climb Mount Toubkal – at 4,167m, the highest peak in north Africa – then heading back to the UK on Monday.
The idea came about when personal trainer and outdoor enthusiast Laurence Dawson wanted an adventure that fitted into an unforgiving schedule. "About six years ago I was working towards my Mountain Leader Award," says Dawson. "I couldn't afford to take much time off work, but I was keen to get a broad view of the remote mountainous areas of the British Isles, Europe and beyond. I soon discovered that I was able to explore some very remote and serene landscapes within a day's journey from my London home that I'd initially thought were beyond my reach."
RECOMMENDED: 7 Weekend Adventures Around London
Now Dawson offers the trips as standalone adventures as well as incentives to his long-term personal training clients. "Being able to offer an adventure to a client is an exciting and novel alternative to the more traditional goals of losing fat." He can do that too, if that's your main aim. "There is something very rewarding, both physically and mentally, in the act of walking from one place to another while carrying a heavy back pack."
Dawson also says the prospect of this kind of challenge has a powerful and obvious effect on his clients. "There's nothing like a deadline to get you motivated," he says. "Especially when you're travelling as part of a small group that's undertaking an arduous physical adventure." No-one wants to let the team down, after all. Least of all us when we take on the Toubkal challenge.
Head for heights
Our flight from Gatwick arrives in Marrakech, the major city just 65km from Toubkal, at 7pm. Rather than heading for the colourful chaos of the city centre, we pile into a car and drive to the small town of Imlil at the foot of the Atlas mountain range. After a tagine feast at Hotel Dar Imlil we organise our kit and get our heads down for the night.
We leave the hotel at 8am and meet a guide at the appropriately named Bureau des Guides. You can do the trip unescorted, but their local knowledge will make your trip smoother and safer. We make our way out of Imlil and on to the stony inclines of Toubkal.
The first section of the route is pretty easy and we zigzag up a hillside before crossing a dry riverbed where coarse bushes give way to mixed terrain and then barren rock. As we move onwards the incline increases and the terrain gets more challenging. I'm glad I followed Dawson's pre-trip training plan (see next page). I'm breathing harder than I would be at sea level and as we pass 2,500m I calculate that my heart rate is over 160bpm.
At about 2,600m above sea level we reach the snow line. We debate the need for crampons and decide against, because the white stuff here is nice and compacted. What is required, however, is concentration because the path is narrow and exposed. One careless footstep could result in a tumble down the mountainside. For that reason, Dawson gives me an ice axe and we go through various axe arrest positions designed to break your fall if you lose your footing.
By now the peaks rising before us are covered in a serene blanket of untouched snow, and we can see the refuge up ahead where we'll be spending the night.
The final hour of the day is the hardest, with my heart rate soaring and the temperature plummeting. It's about -8°C as we shuffle into the Mouflons refuge with the sun setting. The dorm rooms and beds are basic but clean and after a day of walking uphill, any flat comfy surface feels like luxury.
Take my breath away
Our plan is to set off for the summit at about 8am. Some groups choose to leave the refuge pre-dawn but that means you end up ascending the mountain with headtorches. You might beat the crowds but you also miss out on some of the spectacular views.
As we begin our assault on the summit the conditions are perfect and there's a beautiful soft light hitting the mountainside. Today does call for crampons, but we've left most of our kit at the refuge so we're travelling light. It's not a technical ascent but it still pays to use an ice axe to steady your progress. The trick is to hook the axe into the hillside so you use it as an improvised walking stick. In fact, so many people have walked up there before us that there are almost a series of ice steps to guide your path.
We're approaching the end of a long snow-covered scree slope that looks like it's the summit, but when we get to top of the section there's an extra zigzag climb to the top. Ordinarily that false finish would be demoralising but you're rewarded with an astonishing view of the Atlas mountains. If you had any extra breath that sight would take it away but it's now -15°C and the air is dry and thin.
The final section involves a mini-break about every ten paces. Eventually we reach the summit and, suddenly, with a celebratory bar of chocolate in hand, it feels incredibly calm and peaceful. Then the elements decide we've had it too easy and the sky begins to darken as clouds form above us.
Going down is significantly easier, and we use a running-sliding hybrid to "ski" down over the snow and scree that gets us back to the refuge in an hour. As well as eating lunch there, we do a series of mobility and stretching drills. Some brave individuals are attempting another summit but we opt for an afternoon of relaxation at the refuge before a final night in the mountains.
The following morning a sense of achievement seems to give each step on the gentle decline back to Imlil extra energy. Stepping off the plane in the UK, on the other hand, brings us back to reality. It's hard to believe that just 24 hours earlier I was in the rugged and dramatic north African wilderness.
"Been anywhere nice?" the taxi driver asks. Well…
For more information about Dawson and Short Haul Adventure, visit shorthauladventure.co.uk (opens in new tab)
Tips To Climb Any Mountain
Pace yourself
The secret is to start each day slowly and expect to get slower, particularly if your adventure is at altitude. Pause every 15 minutes or so to rehydrate and eat something sweet such as a piece of chocolate or some dates. The brain and body need glucose during a challenge like this.
Solve problems
If you're anxious about, say, a blister in the making, stop and sort it out. I still remember the mantra of my Mountain Leader instructor – "Coulda, Shoulda" – because if you don't address a problem, you'll probably end up in a world of not just pain but also frustration.
Recover faster
At the end of the day rehydrate, preferably with electrolytes, and stretch your quads, glutes, calves and feet, especially if you've been walking in stiff boots. Unpack your sleeping bag, eat as you would after a gym workout and, most importantly, try to get a good night's sleep.
Sleep soundly
Use a dry bag stuffed with a down jacket as a pillow and wear a pair of socks and a woolly hat to bed if you need to. A cold surface will conduct warmth away from your body if it's not well insulated, so if you're going camping invest in an inflatable sleeping mattress.
Live in luxury
Take a couple of "luxury" items, such as an AeroPress and some freshly ground coffee - appreciated at 3,200m on Toubkal. Other useful items include a lantern for when the generator's off and a book or journal (no batteries). But of course, the more you bring the heavier your backpack!
Sign up for workout ideas, training advice, reviews of the latest gear and more.