The 10 Best Things To Do In Seattle, Ranked
Forget everything else, these are the things you MUST do when visiting America's Pacific Northwest gem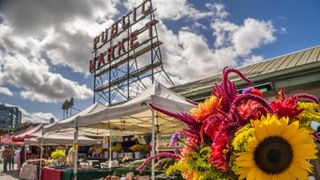 (Image credit: unknown)
If you're from the UK, the locals of Seattle are quick to tell you just how close to home you are when you arrive in their fantastic Pacific Northwest city. It's the weather, more than anything. We must've been told, "Oh, we get all four seasons, just like you" at least five times during our 72 hours in their backyard and they weren't wrong. Cold winds led into sunshine with the threat of T-shirt tan, before making way for heavy rain and then thick jumper conditions. In about 25 minutes. We couldn't have been closer to home from 4,700 miles away.
There are other similarities that make Seattle feel a little like a home from home for the travelling Brit – a multicultural food scene and a huge craft beer movement, to name but two, and it's easier to get to now that Norwegian's flying there direct from London. But c'mon, you're not really heading all that way to feel like you've just rolled out of bed, are you? You're also getting an opportunity for some bucket list wildlife encounters, a rock music heritage to explore, must-have fashion labels to stock up on… oh, it goes on, as we're about to prove. Here are our ten absolutely essential things you can do to make the most of Seattle, Washington, no matter how long you're there.
10. Beat The Jet Lag At Starbucks Roastery
True, there are more exciting coffee options in Seattle than Starbucks. Artisanal coffee is a big deal there, with wonderful independent brews awaiting you at spots like Broadcast, Victoria and Cherry Street. But for a just-off-the-plane pick-me-up, go revive yourself at the next-level Starbucks at 1124 Pike Street. This isn't your average 'Bucks – it's a massive roastery and tasting room decked out with huge copper machines and vats, manned by probably the friendliest coffee staff you'll ever meet inside a giant corporate machine. Choose any one of the rare and small-batch coffees, which are all packaged on site before getting shipped around the world, and you'll soon shake off the fug of jet lag and be ready for an afternoon of exploring. And after all, this is the city that birthed Starbucks, so you kinda have to, right?
9. Retrace Cobain's Final Footsteps At Linda's Tavern
From the outside, Linda's isn't all that special: a cowboy-themed boozehole on Pine Street that makes you wish you were drinking in the far nicer and far trendier parts of Capitol Hill. But there's a reason you're there – to pay your respects. This is the last place that Seattle's most famous son, Kurt Cobain (sorry Jimi Hendrix, but it's true), was seen alive. And for a city that really doesn't do much by way of cashing in on Nirvana nostalgia, this is the spot to pour one out for one of rock music's greatest.
8. Refuel At Peloton Bike Shop
You've probably found your favourite cycle café back home. Probably makes a mean cuppa. Probably serves carrot cake by the 90° wedge. Probably has a team of super-cool staff all too ready to help you out with your chain woes and puncture problems. But it's not Peloton on Jefferson Street. Peloton will definitely make you one of the best mugs of local coffee you'll ever taste. It'll definitely have you panicking over which post-ride Washington craft beer to choose. And it'll definitely have you wishing your local cycle café did tacos, thanks to its epic $3 Mexican bites (only served on Thursdays). Oh, and if you need some local route advice, these are your guys.
7. Spend Your Shopping Dollars At Filson
Does your fridge really need another magnet? Can your keys honestly handle another keyring? C'mon, let's get you a souvenir that you won't lose interest in after five minutes, and that will last forever. No, really, forever. As Seattle-born clothing brands go, they don't get much better than 120-year-old Filson, whose factory and flagship store is in the shadow of the Seahawks' stadium in the industrial SoDo district. It's a bit of a faff to get there, sure, but once your Uber driver finds it, you're met with the hardiest and outright best adventure gear any outdoorsman could wish for. Make full use of the free twice-weekly tours, and then drop some serious dollar on Filson pieces like the rugged twill duffle, moleskin Seattle shirt and tin cruiser, safe in the knowledge that it's coming with a lifetime guarantee. A good ten thousand times better than an airport-bought snow globe and a giant Toblerone, for sure.
6. Go In Deep On Seattle With An Underground Tour
We didn't know that Seattle is essentially a city built on top of a city, but here we are, recommending you a tour that explores the secret subterranean storefronts and sidewalks that became entombed when the city simply built on top of itself after the Great Fire of 1889. Weird huh? Bill Speidel and his world-famous Underground Tour will unlock this heavy dose of tell-all-your-friends bizarre.
5. Fill Your Instagram At Space Needle
Here's where you're bagging that all-important Seattle cityscape photo that'll rake in the biiig Insta-likes. Climb the 520ft (158.5m) for the best view in town, overlooking not just the skyline made famous by the Frasier intro but also Mt Rainier to the south, the spectacular Cascade Mountains to the east and the Olympic range to the west, and snap away without dropping your phone over the edge. Which is a real, stomach-twisting possibility. Believe us.
4. Explore The Local Nectar On A Road Dogs Tour
With such a plentiful array of craft beers being brewed in Seattle (probably owing to the fact that Washington's Yakima Valley provides 75% of the total hops the US uses in its beer-making) it might be, no, it is absolutely necessary to get a helping hand in navigating them. And that help comes in the tall, long-haired shape of Lester of Road Dog Tours and his van. Give him three hours of your time and he'll give you a trip around three of the city's greatest breweries, including the very brilliant and tiny Outlander Brewery, which has seemingly moved into a residential home, gutted it and turned it into an endearingly ramshackle booze paradise. Oh, and if you find yourself in the city in the first week of October, then allow us to feel very jealous. You're there right when the tiny window of fresh hop beer season is open – filling the schooners of the brave and the boozy.
3. Say Hi To Free Willy's Family While Orca Watching
When we jumped aboard the swift Chillkat of family-run Puget Sound Express and left for the calm waters of Port Edmundson, there's no doubt that we lucked out to find what felt like endless numbers of killer whales, bobbing out of the water, hunting and spotting us on the boat. The ocean gods were kind that day, granting us some up-close-and-personal time with J Pod, the wild whales used in the filming of Free Willy, as well as Mega, the huge alpha male responsible for two-thirds of the killer whale population in Puget Sound. Get yourself out there too, and cross your fingers for a morning as fruitful as ours. After all, the cap'n guarantees a sighting of these majestic beasts.
2. Make Some Noise At MoPop
It's unlikely, but if there is an award for Hippest Museum In The World, then surely it can be found on the mantelpiece of the Museum of Pop Culture (MoPop). Boy oh boy, are the exhibits cool. You can bet we left with about 40 photos of Kurt Cobain's guitar in the Guitar Gallery, Jimi Hendrix's jackets holed up in the Hendrix Aboard curation, and Beaker, Kermit, and Bert and Ernie hanging out in the nostalgia-riddled Jim Henson exhibition. But the very best bit? Above even all of that? The Sound Lab offers loads of soundproof rooms to just walk into, grab an instrument and make an incredible, almighty racket. Why can't all museums be like this?
1. Eat Your Way Around Pike Place Market
Photograph: Alabastro Photography
You've not done Seattle unless you've paid a visit to Pike Place Market, one of the oldest public farmers' markets in the entire USA at the ripe old age of 110. And to make sure you do it properly, Mark from Savor Seattle is your guy – larger than life, with all the historical chat and the right contacts to fill you up on samples of donuts, coffee, chocolates, tea, sandwiches and more. Meet him as early as your sleepy eyes will allow to let him guide you around before the inevitable biblical queues form.
Our must-hits? Seattle is best known for seafood, so if you can endure the longest line of the entire market (or can stomach it for breakfast), then slurp up the world-famous chowder at Pike Place Chowder. Or opt for the Anthony Bourdain-approved Dungeness Crab Benedict at Seatown Seabar and Rotisserie, which you'll eat up whilst overlooking Elliot Bay. But with 15% of the population coming from southeast Asia, Seattle's a hotbed of spicy Asian food too. Get involved in it at the hidden-away Country Dough, with one of the dreamy Sourdough Chicken Flatbreads. But whatever you do, don't leave without high-fiving the singing fishmongers of Pike Place Fish Co – if you can grab them between their famous hurling of giant salmon to one another.
Coach flew to Seattle with Norwegian. Norwegian flies four times a week direct from London Gatwick to Seattle using new Boeing 787 Dreamliner aircraft. Economy fares start from £179.90 one way and premium starts from £599.90 one way. norwegian.com/uk
Find out more about things to do in Seattle at seattle-washingtonstateuk.co.uk
Sign up for workout ideas, training advice, reviews of the latest gear and more.
Craft beer drinker, Devonian, fisherman and former content director of Coach online, Chris contributed style coverage and features between 2016 and 2019.