The Ten Best Things To Do On Washington State's Cascade Loop, Ranked
Head for the Pacific Northwest's adventure playground, and make these activities your absolute priority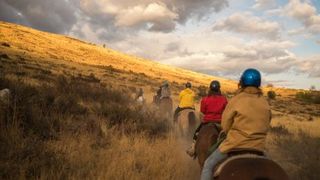 (Image credit: Unknown)
You're going to need a bigger bag.
The Cascade Loop – a three-day, 440-mile, unbelievably scenic road-trip through Washington State's Cascade Mountains that begins just 28 miles north of Seattle – is so jam-packed with adventurous possibilities that you'll be begging, borrowing and stealing luggage from your nearest and dearest to bring all your relevant gear with you.
We're talking road bike gear, mountain bike gear, camping kits, fishing rods, hiking boots, riding helmets, snowboards, drinking hat… the lot. You'll most certainly be that guy at check-in.
This absolute wonderland for the outdoor adventurer has a staggering amount of possibilities waiting for you, as we found out recently when we hopped on Norwegian's new direct flight to Seattle.
"The reason there's such variety of outdoor opportunity here is pretty simple," says Charley Voorhis, a local film producer we met along our Cascade Loop road-trip, who's based himself and his company in the heart of it to make use of the staggeringly beautiful scenery for his projects. "Where else can you get alpine wilderness and the desert within 30 miles of each other?"
After an exhilarating few days, we've boiled our trip down to just the ten key activities we'd recommend anyone try while there. Make this lot your priority for one epic trip.
10. Fuel Up At Pybus Market
If you can peel your eyes away from the stunning scenery that meets you as soon as you step off the plane at Pangborn Memorial Airport in Wenatchee (a 23-minute flight from Seattle), set your sites for an energising feed at Pybus Public Market, because boy, are you gonna need some fuel before things really kick off.
The market resides in a vast converted steel warehouse on the banks of the Columbia River, a 15-minute drive from the airport, and is home to 16 locally-owned independent traders peddling their quality wares, foodstuffs and beverages.
We plumped for the Pybus Bistro and struggled to reach the summit of its towering Market Burger. A couple of locally-brewed Bale Breaker Raging Ditch Blonde Beers sure helped the lot slide down, though.
9. Bike The Apple Capital Loop Trail
Once you've completed the spectacular ten-mile asphalt bike ride of the Apple Capital Trail Loop, which covers both the East and the West sides of the rolling Columbia River and journeys across bridges, through four riverfront parks, across ravines and takes in some seriously jaw-dropping mountain vistas, you can thank Steve Robinson, the director of Pybus Market, who pointed us towards it.
"It's great for everyone," says Robinson, who's seemingly on his bike more than he's off it. "It's not too long, it's relatively flat, and there's so much to take in." Hire yourself a bike from Arlberg Sports just outside of Pybus Market and start pedalling.
8. Camp Out At Spider Meadow
If you think the American dream is less about striking it rich and more about camping out under the stars beside a smouldering fire with wolves howling in the distance, then set your satnav for Spider Meadow and Phelps Basin.
Local backpacking enthusiast and champion rodeo girl Erin told us about this spot and we fell in love with it. "Be sure to pay for a Northwest Forest Pass, which is about $30 for the year, then begin at Lake Chelan (pictured) and take the pretty easy seven-mile hike through gorgeous mountains to get there," she told us.
And when you arrive? Snow-capped peaks, gushing rivers, forests and more than enough space to pitch your two-man tent without upsetting any fellow campers. Or even seeing any.
7. Hike The Black Bear
Terrifying by name, but flower-strewn by, er, nature, the Black Bear Trail (or the Winthrop Trail Loop as it's also known) is the local's choice when it comes to hikes. Staff at the Sun Mountain Lodge, which sits on the route, told us about this route, which comes in seven- or 11.5-mile options.
This is one to set the alarm clock early for – you'll be kicking yourself if you have to see the heart-stopping sunrise from your hotel window and not out in the wilderness.
6. Beer Up In Winthrop
Washington's Yakima Valley is responsible for a whopping 75% of all the hops that make it into American beers, so, as you'd expect, Washington is one hell of a place to grab a cold one. And you'll get exactly that at ye olde Winthrop's Old Schoolhouse Brewery.
This tiny town looks right out of a classic western, but the beer here is anything but old school. One of the brewery's modern craft Ruud Awakening IPAs later – at a poky 8% – and we were dead glad the food coming out of the kitchen looked, smelled and tasted as good as it did.
5. Mountain Bike At Squilchuck
If you like your cycling a little more white-knuckle, then get your fearless frame to Squilchuck – a haven for the adrenaline junkie on two wheels. Whether you're a first-timer, a mid-range intermediate or a maniac mountain bomber with the scars to back it up, this state park will satisfy.
Everything from a classroom area and small jumps to a skills park, dual slalom tracks, miles and miles of trails and meaty, real shut-your-eyes-and-pray launch pads await you. Just make sure you bring your brave boy pants.
4. Crash Out At Sun Mountain Lodge
Because the chances of your blow-up mattress actually staying inflated throughout the night are slim to not-a-hope-in-hell, you're going to want to find some bricks 'n' mortar accommodation to recharge your batteries.
We mentioned Sun Mountain Lodge earlier when talking up Black Bear Trail, but it's good for much more than hiking: this simultaneously rugged and refined mountaintop lodge knows why you're here, and wants to help you tick all your adventure boxes, including boating, snowshoeing and bird watching. And it makes sure there's an exquisite meal (the king salmon here was something else – really) and doughy-soft pillows waiting for you and your worn-out body when you get back.
Oh, and before you check out, make sure you ask manager Brian how he found himself in the remote northwest of the USA all the way from northern England. Quite the tale, that.
3. Unwind With Wine At Tsillan Cellars
All that changing tundra and all those mountain gradients make the Cascades the perfect place to make a huge variety of wines. You're spoiled for choice as to where you dip into the fine wine culture, but you can't do any better than paying the charismatic Dr Bob a visit at the award-winning Tsillan Cellars.
His passion project has manifested itself as a big, beautiful Italian-style tasting room and vineyards as far as the eye can see, all right on the shores of Lake Chelan. Sustained by the glacial waters of the North Cascades and refusing to sell its fantastic tipples – of which our pick of the bunch was the Sempre Amore blend – anywhere else but on-site, this is where to get your one-of-a-kind souvenir.
2. Take A Tour On Horseback
Even if the very thought of sitting atop a gigantic four-legged beast has you breaking out into nervous giggling, we urge you to try it. Red, with a smile that'd make even the most phobia-ridden rider feel at ease, of Sun Mountain Lodge Horse Riding can turn the most stubbornly anti-horse rider into an equestrian convert in just one hour – as she did with us, with a hack on one of her many perfectly suited steeds.
Dawson was the unlucky horse tasked with bringing us around to Red's way of thinking and he did a mighty fine job of it. A slow walk past lakes, through scrub, up and down hills, and with the distraction of the most Instagrammable scenery we've ever set foot in, let alone ridden though, made this exorcism of fear one for the scrapbook.
1. Fish For Methow Monsters
And so to the one activity that embodies what it means to be on the Cascade Loop. It's one that involves majestic natural surrounds, encounters with wildlife, sweating, challenging yourself to acquire new skills and escaping into the wilderness – everything we came to the Pacific Northwest to do.
Get in touch with Leaf at Methow Fishing Adventures and the man will bring you up-close and personal with some of the fine specimens sitting in the rivers of Cascades. We jumped into his wagon beside his pooch Blue to seek out the famous steelhead trout, the distinctive cutthroat trout, and the menacing bull trout in the local waters.
Our morning saw us land a small cutthroat and a very pretty 2lb (0.9kg) steelhead, battle it out for 20 minutes with a 5lb (2.25kg) bull trout, and come this close to hooking and meeting the nemesis of Leaf's season – a "massive" cutthroat that he dubbed Moby and has evaded his hook so far this year.
Your heart will be pounding, your eyes will be sucking all the scenery in, your palms will be sweaty and your legs exhausted from hours of standing in the heavy flow of the river. And you'll love every second of it.
Coach flew to Seattle with Norwegian. Norwegian flies four times a week direct from London Gatwick to Seattle using new Boeing 787 Dreamliner aircraft. Economy fares start from £179.90 one way and premium starts from £599.90 one way. norwegian.com/uk
Sign up for workout ideas, training advice, reviews of the latest gear and more.
Craft beer drinker, Devonian, fisherman and former content director of Coach online, Chris contributed style coverage and features between 2016 and 2019.