Cycle Touring: The Great Escape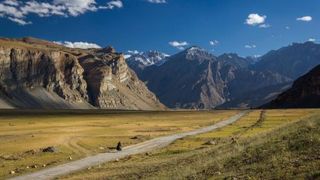 (Image credit: Unknown)
Joshua Cunningham spent a year cycling from the western tip of Europe to the eastern edge of Asia, dealing with tough routes, changes in climate and baffling local bureaucracy – but a bike adventure can go anywhere and be of any distance. In this extract from his new book, he tells of his extraordinary journey and explains how anyone can have an equally amazing bike experience
Adventure cycling, cycle touring, bikepacking, bike travel, bike tripping, bike bivvying… there's an ever-increasing list of sub-genres that people like to use when talking about travelling by bike. There are plenty of nuances differentiating a touring cyclist from a cycle tourist, but we are all essentially people on bikes, with bags attached, pedalling from one point to another, and that's what matters.
Whether your trip is a multi-year, circumnavigational epic, a summertime jaunt spread across a couple of weeks or months, or a one-night wander spent enjoying the local roads or trails, ultimately it's all the same. It's about evoking a sense of freedom, experiencing the rawness of life, meeting new people, exploring places you otherwise wouldn't, and getting to know them in a way that most travellers only dream of.
As a teenager I spent consecutive summer holidays doing just this, initiating myself into the world of cycle touring by exploring portions of Europe with friends. A motley crew of spotty pipsqueaks, riding decrepit mountain bikes and wearing gargantuan hiking rucksacks crammed with any camping equipment we could get our hands on, we blindly rode one day to the next via whatever places and people came our way. These were a set of experiences that would form the basis for a near-unquenchable thirst for cycling adventure, and I was completely unaware of it at the time. The cycle touring seed had been planted.
It wouldn't be until a number of years had passed that my friends and I found ourselves in the midst of another cycling adventure – except this time our rendezvous point was in Dushanbe, the capital of Tajikistan in central Asia. It was June 2015, a year I spent cycling from the UK to Hong Kong, on a journey that would take me through 26 countries and across 22,000km of the Eurasian landmass in an almost unbroken trail of pedalling.
Absolute Beginners
Bike touring began in its earliest form during the second half of the 19th century, not long after the velocipede (as it was known) had been invented. Members of newly fashionable bicycle clubs began venturing out on multi-day excursions, between cities and into the countryside, on their rickety, uncomfortable contraptions. These pioneers of adventure cycling carried a few essentials in rolled-up packs attached to their handlebars, or in suitcases strapped on top of a primitive rack.
Before long the velocipedes evolved into penny-farthings, whose oversized front wheels afforded a far greater travelling speed, and the gentle excursions developed into intercontinental forays as cyclists began to explore Europe, America and Australia by bike. It was inevitable that an around-the-world journey would be next, and it was a Brit, Thomas Stevens, who was the first to accomplish it after setting out across the USA in 1884. Initially planning just a cross-country stint from San Francisco to Boston, Stevens struck up a sponsorship deal upon finishing his 100-day adventure and set about planning its continuation. Two years later, he ended his journey in Japan, having cycled over 20,000km (12,400 miles) across Europe, the Middle East, India and the Far East aboard a penny-farthing.
Today bicycle touring, from transcontinental hauls to brief bikepacking blitzes, is enjoying a popularity beyond that of even just a few years ago, let alone the time of trailblazers like Stevens. We live in an age when advances in technology and ease of international travel are making the world an ever smaller place and, as a result, more and more people are taking to their bikes to see it for themselves. These modern adventurers come from road-cycling or mountain-biking backgrounds, or backgrounds that involve no cycling whatsoever, but all are unified by the prospect of combining cycling and travel. They want to recapture the mystique of our planet, attempt to fill in the gaps that the automated transport experience leaves out, and discover the secrets that bicycle travel unlocks.
"It is by riding a bicycle that you learn the contours of a country best, since you have to sweat up the hills and coast down them," wrote Ernest Hemingway, himself a keen cyclist. "Thus you remember them as they actually are, while in a motor car only a high hill impresses you, and you have no such accurate remembrance of the country you have driven through as you gain by riding a bicycle."
The impression Hemingway gives is of a physical incline in the road underneath him, but a country's contours are myriad. Two wheels will indeed grant you a self-earned passage through some of the most spectacular landscapes the world has to offer, and they also provide a portal into the varied experience of life on Earth. In realising that, the nuances between a cyclist on a tour and a tourist on a cycle become clear, and the multifaceted nature of an adventure cycling journey can be enjoyed to its full.
Eastern Promise
My ride from London to Hong Kong was designed around a route that I hoped would give me as colourful an experience as possible. I chose the Eurasian landmass, with its size, history, and diversity of both human and physical geography. Over the course of a year, and of 22,000km passing under my wheels, the forests of Europe, the deserts of central Asia, the mountains of the Himalayas, the tropics of southeast Asia, and the mega-cities of the Far East would prove it a worthy choice.
Europe, with its temperate forests, was the perfect place to start as a beginner. Temperate zones form a broad, loosely defined segment of the planet stretching roughly between the latitudes that separate the tropics from the poles. They can, despite the name, provide highly changeable environments for bike touring, from harsh winters to hot summers, and with much of Europe, as well as parts of the US, the Far East and the southern hemisphere falling under this umbrella, it's where many cyclists are introduced to bike touring. With the varied experiences the temperate zones offer, there are few better places for it.
Depending on the location and time of year, you are as likely to find yourself riding through snowstorms in sub-zero temperatures as cruising beneath a glowing sun with a warm breeze in the air and the spine-tingling anticipation of a night under the stars. Having left the UK during a snowy January, and then ridden through the Mediterranean area and across Turkey and the Caucasus when spring was just beginning to emerge, I had experienced the full spectrum of conditions.
Winter Wonderland
Barely a week into my year-long trip, while cycling through Belgium in the snow and plummeting overnight temperatures of a European winter, I had sought out a barn as a potential refuge in the darkness.
"Bonjour, madame, c'est possible...?" I began hesitantly, staging a pantomime of sleeping and pointing, as the elderly owner stood silently in the doorway of the adjoining house, with the warm glow of a farmhouse kitchen radiating behind her.
"Oui," she said eventually, looking me up and down, evidently bemused by my snow-blasted, bedraggled appearance. Her assent sent a wave of relief through me, and while I didn't know it at the time, it was the sort of unconditional kindness that I would find myself gratefully receiving time and again throughout my journey.
After unzipping the tent the following morning, I discovered to my dismay that beyond the gloom of the barn, which had obviously long ceased functioning as a farm building, it was still snowing. A good few inches had fallen overnight, making me even more grateful for the roof above my tent. Although the prospect of pulling on my clothes, frozen stiff after being left hanging outside the tent overnight, was unappealing, the winter wonderland outside was enough to whet my appetite for the day ahead. I had been away for less than a week, but already the adventure had engulfed me.
Before I had set off on my journey, it was these experiences that I craved, but while I was saving up and dreaming they had sometimes seemed as though they would forever belong to other people. I had spent years reading the blogs of cycle tourists as they embarked on adventures around the world, eagerly waiting for updates and reading their stories from far-flung places. I'd also been a little intimidated by the prospect of making the leap in search of these adventures, which I've found is normal.
Leaving on an adventure – especially a big one – is always the most difficult part. Once you have set off, however, there is very little difference between an overnight tour and a transcontinental one. Each passing day becomes merely an extension of a sequence of experiences that quickly erode previous worries. Will I be safe? Will I be fit enough? What if my campsite is illegal? Will I be able to find food and water when I need it?
As time begins to pass in a whirlwind of new sensations, there is little time to dwell on anything. Each new addition to the experience bank builds on the foundations of those before it, and makes the next a little less alien. That barn in Belgium became a key part of those foundations – its dilapidated shell redefined as an integral part of my adventure-cycling apprenticeship.
Spring Into Life
After weeks of enduring the cold, through the snowy peaks of the Alps, the wild forests of the Balkan peninsula, and the high plateau of inland Turkey, I finally arrived in the Caucasus – and with me, the spring.
Camping, at long last, became a genuine pleasure. The warm hues and long shadows that filtered through the tent in the mornings signalled the start of a day to be enjoyed, rather than endured, and my newfound riding partner Rob and I took our time brewing coffee and eating breakfast in whatever patch of countryside had taken our fancy the previous evening.
During the day the kilometres breezed by, and the late-afternoon sun, which faded so subtly into dusk that we were often left scrambling for a campsite before the light disappeared, was accompanied by the sights and sounds of people enjoying the first days of spring: sat out in front of their houses, socialising with their neighbours, collecting water, tending crops and telling their children to stop pestering the foreigners who had suddenly appeared.
We rode on. "Azerbaijan border – Good luck!" read the sign above the road, as we approached the country's northern border with Georgia, nestled at the foot of the Caucasus mountains. The capital, Baku, has visa-issuing embassies for both Uzbekistan and Tajikistan, as well as a port from which a voyage across the Caspian Sea to Kazakhstan could apparently – after some stressful negotiating and logistics – be made. In short, the country held the key to unlocking our onward route, clearing up all bureaucracy until China. So while noting the sign with a smile, we nonetheless felt that there was some truth in it.
At some point between the border and Baku, the green pastures of the Georgian spring gave way to parched scrublands. The yellow soil we found ourselves pitching camp on was held together with meagre scraps of vegetation, and the sun shone with an intensity we had not yet encountered. Thermal layers were replaced with sweat and sun cream, while the eternal hunger that went along with keeping warm was replaced with the eternal thirst that went with keeping cool. The deserts of Kazakhstan, just the other side of the Caspian Sea, felt perceptibly close, and having experienced both its wintry extreme and easy-going, cycle-friendly warmth of the temperate region, we were leaving it behind for good.
The changing of the seasons and varied geography of Europe had provided a perfect introductory experience for cycle touring. Now it was up to the deserts, mountains and tropics of the Eurasian landmass to take us deeper into the extremes.
Get the book: This is an extract from Escape By Bike: Adventure Cycling, Bikepacking And Touring Off-Road by Joshua Cunningham (£19.95, Thames & Hudson), available now. Buy on Amazon (opens in new tab)
How To Prepare And Train
You never forget how to ride a bike, right? Right. And there's nothing stopping anybody from jumping on their bike and setting off on an adventure the day after they decide they want to do it.
It doesn't matter whether you ride ten miles or 100 miles a day on tour, because the experiences will be largely similar, and it won't take long for your body to adapt and accept an increasing daily mileage. This is the beauty of cycle touring.
If you do have time to prepare, invest some in riding the bike you intend to take on tour. Now is the time to iron out any niggles with your position, making sure you're comfortable and that the bike is in good working order. If you're planning a longer tour, with overnight stops, then go for a practice run in your local area: ride out of town after work, pick up some food on the way, practise finding a camp spot, and introduce yourself to sleeping wild.
It can feel a little daunting and odd at first, but it doesn't take long to become a pro, and once you're used to it, it becomes an experience to revel in.
What You Need
Bike
While any old bike will do the job, one that's designed for the job will make life much easier. Look for 700c wheels with wide (and therefore comfortable) 32mm tires, a steel frame for strength and comfort, and rivets in the frame to attach pannier racks.
Luggage
If you want the room for a few luxuries like spare clothes, then use panniers (either two on the back, or four spread across the front and back). If you want to stay light and agile, then use minimalist bikepacking bags, which attach directly to your bike and force you to travel light.
Overnight gear
If you plan on sleeping out in the wild, then you'll need a sleeping bag and mat (inflatable ones are great for providing extra insulation). For the minimalist approach, combine them with a simple bivvy bag, but for more warmth and comfort you're better off with a tent.
Spare kit
The bare minimum you'll need for mechanical issues is a puncture repair kit, a set of Allen keys and a chain breaker. Spare tubes, chain and cables would be wise inclusions for the long-distance tourer too.
Sign up for workout ideas, training advice, reviews of the latest gear and more.