The Best Suitcases Of 2019
Get your belongings safely from A to B, inattentive baggage handlers notwithstanding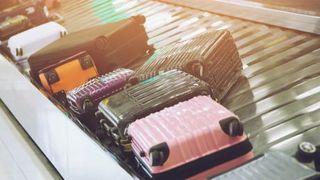 (Image credit: unknown)
Whether you're jetting off to the other side of the world or spending a weekend in Bognor, you're going to need to bring some clothes with you – it's just not practical to wash your clothes every night, or even every other night. And unless you're going to be trekking on foot through inhospitable areas, a suitcase rather than a backpack is your best bet for transporting your belongings safely and easily.
Ideally your suitcases will have a long lifespan, so it's worth spending some time thinking about exactly what kind of travel you'll be doing to get a model that will suit your needs. We've done a lot of that thinking for you – no need to thank us – with answers to some common questions and some top suitcase picks as well. All that's left to say is bon voyage, don't forget your toothbrush and send us a postcard.
Suitcase FAQs
What size suitcase do I need?
You'll know whether you pack light or heavy, but the real question is what size can you use for carry-on if you're flying? Unfortunately there's no standard across all airlines. The best advice we can give is to check the size requirements of airlines you travel with regularly and make sure the suitcase you choose is compatible.
Is a hard shell or soft-sided suitcase better?
You may have once been warned you off hard-shell cases because the extra weight will eat into your baggage allowance. Thank them for their advice, then ignore them, because lighter materials are used these days. Otherwise, it's down to how breakable and how valuable you think your possessions are. Both will protect the contents but a hard case will undoubtedly be better.
Are two or four wheels better?
Two-wheeled suitcases are easy to pull along behind you, but they can fall over easily when you let go of the handle. Four-wheelers are far sturdier when left unsupported, and they are generally easier to steer through tight aisles and crowds of people.
Does the interior matter?
When swiping through Tinder it's important to remember that it's what's on the inside that counts – and the same applies to suitcases, particularly since what's inside tends to vary greatly. Some suitcases come with inside pockets, while some can be separated into two or three sections. If your preferred suitcase lacks any organisation, you can always remedy that with a set of packing cubes, such as these affordable ones from Amazon.
---
The Best Suitcases To Buy
Samsonite S'Cure DLX 4 Wheel Spinner
Best All-Round Suitcase
The four-wheeled S'Cure suitcase is an excellent choice for both portability and protection. A waterproof seal keeps the elements out, while three separate locks – one a combination lock for added security – ensures everything is kept in.
Inside, you'll discover the S'Cure is packed with pockets, compartments and dividers to keep everything in order. At 4.1kg, it isn't the most lightweight of suitcases, but the Flowlite outer material and aluminium handle help keep it the right side of unwieldy. If you want a case that will accompany you on many a trip over many a year, this will do the trick.

Buy on Amazon | £219 (currently reduced to £173)
---
IT Luggage World's Lightest
Best Lightweight Suitcase
Worried about your weight allowance? Or just fed up with heaving heavy luggage around? If so, this 2.2kg four-wheeled model should help lighten the load. At 74cm long, it offers a lot of interior space and comes with a comfortable pull-along handle that's the full width of the case. It isn't as sturdy as heavier cases, but you needn't fret about durability thanks to the ten-year warranty.
Buy on Amazon | £59.95
---
See related
Osprey Rolling Transporter
Best Rugged Suitcase
Essentially a duffel bag on wheels, the Rolling Transporter is one of the most versatile cases we've found. It's especially well suited to travellers who don't have the space to store a full-sized suitcase at home.
The Transporter is available in 40-litre, 90-litre and 120-litre models, and the design revolves around one huge compartment that's accessible by a zippable flap which covers the entire top of the case. You'll find smaller pockets on either side of the flap, too. It's made of a tough, water-resistant fabric that's also surprisingly flexible.
What we like most about this suitcase, though, is the way its extendable handle makes it so easy to move back and forth. The grab-handles make lifting it straightforward too, and the rigid base assures this two-wheeler will stand upright – plus it's lightweight enough to be an excellent choice for almost any kind of traveller.
Buy on Amazon | From £128.57
---
American Tourister Air Force 1
Easiest To Spot On The Baggage Carousel
Want something that will stand out? Choose the flame red, sunny yellow or gradient pink colourway. You won't be sacrificing substance for style, though – this is a hard-shell case that's astonishingly light, especially considering how rugged it feels.
The interior is split into two main sections, a zipped compartment and an open area with elastic straps. And even when stuffed to the gills, the four-wheel design makes it a dream to manoeuvre.
Buy on Amazon | From £82.32
---
Samsonite X'Blade Travel Duffle
Best For Heavy Packers
Another duffel/suitcase hybrid, Samsonite's X'Blade is smart enough to look the part if you're travelling on business, but is also suitable for extended travel thanks to the whopping 150-litre capacity – significantly more than all other cases in our list.
Size aside, it's also versatile, boasting several handles including a multi-stage telescopic wheel handle that you can adjust to suit your height. On the inside, the X'Blade is predictably roomy, with assorted pockets. They include a wet pocket, a show pocket and large zipped exterior pockets, which will help you keep your items in good order. Its frameless design also means that despite the gargantuan capacity, you can store it without it taking up too much space.
Buy on Amazon | £138.25
---
Osprey Sojourn 80
Most Versatile Suitcase
If you can't make up your mind between a backpack and a suitcase, settle on this hybrid item of luggage. With wheels and a pull-up handle, it can be used as a pull-along suitcase, or whacked on your back once you release the hidden straps.
This two-in-one design isn't without its drawbacks, the main one being the weight that comes with the handle and frame. At a hefty 4kg, if you anticipate carrying it on your shoulders a lot you might be better off with a bona fide backpack.
Buy on Amazon | £220 (black model currently reduced to £181.09 plus £16.25 delivery)
Sign up for workout ideas, training advice, reviews of the latest gear and more.