The 30 Year Sweater Guy on Setting Up Your Own Business
Meet 25-year-old entrepreneur Tom Cridland, who built an international fashion brand in two years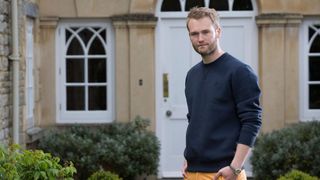 (Image credit: Unknown)
We've all had our very own million-pound ideas. Usually, these brainwaves come just as you're about to fall asleep at 11pm, in bed, where you decide it's such a good idea that there's no point in getting up and writing it down, because you'll definitely remember it the next day. And then you don't, and it's back to work you go instead of spending the day yacht shopping or mansion building.
One man that's reaping the rewards of acting on his idea is Tom Cridland. Seeing an opportunity to make, market and sell his own line of highly durable clothes back in 2014 has led him, a very short two years later, to dress A-list celebrities such as Leonardo DiCaprio, Daniel Craig and Ben Stiller, gain international press recognition for his 30 Year Sweatshirts, and open his first shop on London's prestigious King's Road.
We caught up with the 25-year-old to discover where it all went so right for this one-man fashion brand.
Your journey began with a £6,000 government start-up loan in 2014. What were you doing before that?
Before starting the Tom Cridland brand, I did a degree in modern languages at Bristol University, and from there I applied for loads of graduate schemes. I worked in an accountancy firm for a few months, but soon realised that line of business wasn't for me. I decided that I wanted to focus all my efforts on developing my brand.
Why a fashion line?
Basically, it stemmed from just never being able to find the perfect pair of trousers. I also found that when I eventually did find garments I liked, two years later I'd have to look all over again for something similar because of the wear and tear. Constantly replacing staple items became a chore, and I was keen to do something about it. I guess the brainwave was, "This is such a staple garment that it should be easier for people to find".
But a fashion line, with no previous experience?
Well, when I was 18 a friend and I decided to design T-shirts at school. In seven days we sold enough T-shirts to donate £3,000 to Médecins Sans Frontières.
Your most famous product is the 30 Year Sweatshirt. Why has that been such a hit?
I learned that many big fashion brands produce their clothing to systematically fall apart, creating a cycle of consumption and waste. I believe that a customer should return to a designer to buy a new product, not to replace a product that's been poorly made. I wanted to create something more durable, something that really stood the test of time.
You've stated you'd repair any of your 30 Year Sweatshirts for no fee. Have you had any back yet in a bizarre condition?
We've actually only received one return for repair so far! No bizarre conditions as of yet…
What's been the most unexpected challenge you've faced in your line of work? Something you never expected would be an issue in the fashion industry?
As the only full-time employee, I've found myself to be extremely overworked at times, so I looked to outsource some of my PR work. Thing is, that barely lasted more than a few weeks as traditional PR agency fees to promote my business proved to be a big financial strain. I found the best way to overcome this challenge was simple: to build my own PR agency.
You've seen your garments on some mega famous people – which individual are you most proud of dressing?
Nigel Olsson [Elton John's drummer] is definitely the individual I'm most proud of dressing. I was delighted when he made Tom Cridland an official sponsor of Elton John's concerts. He's been so helpful and has given me such a boost in confidence along the way. I'm proud to say we've created some customised Nigel Olsson Navy trousers and stage jackets just for him.
What's the best piece of business advice you've been given from someone you respect?
My dad is my business mentor, and the person whose advice I take on board the most. I couldn't single out just one thing he's said as I speak to him pretty much every day.
What was the last book, film or TV show that inspired you to do something amazing?
I'll Be Me, a documentary about the country musician Glen Campbell. It's heartbreaking, but at the same time such a celebration of talent, music and family. It was truly inspiring and his song I'm Not Gonna Miss You is one of the most beautiful songs of all time.
What advice would you give to someone looking to start up a new business?
Never stop persevering. There will be times when you think you're not getting anywhere, but your efforts will, all of a sudden, pay off. I would also advise not to be scared of approaching anyone, from celebrities to press and everyone in between. People are generally very willing to help.
What's the end goal for you? Or the moment when you can sit back and say, "That's it, I've done it!"
I don't think I'll ever find myself saying "I've done it" – there will always be more designs and concepts I want to focus on and bring to market. That said, when I start to see people valuing their clothing more, keeping them for longer and, if they want to get rid of them, donating them to charity shops rather than binning them, I'll really feel like I've achieved something big.
Tom Cridland is now open at 340 King's Road, London SW3 5UR
Sign up for workout ideas, training advice, reviews of the latest gear and more.
Craft beer drinker, Devonian, fisherman and former content director of Coach online, Chris contributed style coverage and features between 2016 and 2019.