What Shoes Should You Wear to a Job Interview, a First Date or to Meet the Parents?
We asked David Morris, shoe buyer for Mr Porter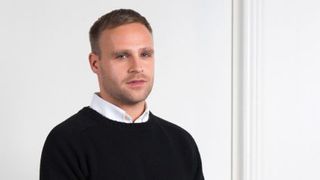 (Image credit: unknown)
Image 1 of 7
Is it true that you can always tell a man's character by his shoes?
I read a stat that it takes seven seconds to create your first impression on someone, and shoes play a big part in that. For a job interview you should wear a leather Derby with a suit no matter what.
Edward Green leather Dover Derby shoes, £950, buy on mrporter.com
And for a first date?
A low-key, premium pair of sneakers like Maison Margiela or Balenciaga.
Maison Margiela leather replica sneakers, £375, buy on mrporter.com
To meet the parents?
A pair of brown brogues.
What is the best way to buy a shoe?
I try to stick to a "one in one out" policy, but that's hard. Obviously you have to take fit and comfort into account, if the shoe is not comfortable you won't wear it. But the most important thing is buying for the occasion.
What's a common mistake men make when buying shoes?
Buying for the price. They will buy what they think they can afford and might wear it for 12 months. But if they would look at a hand-made shoe from Tricker's or Church's or Edward Green – it's an investment, a shoe for life. People might be put off by the price tag, but it's important to understand the upper will last forever. They are worth every penny.
A lot is made these days of the technical elements of footwear…
Some sneakers could be perceived as gimmicky and marketing-led, but I think people see through that. About four years ago, Adidas launched Boost technology. Initially it was running technology, but it has translated into the lifestyle market because of the aesthetics and the comfort. Nike is king of innovation. It launched Flyknit, a woven upper that moulds itself to your foot. It was born from sports performance technology, but people now wear it every day for the comfort factor. Some may see it as a gimmick, but they are two stand-out things that are highly technical and really functional. They sell out as soon as we upload them, in a matter of minutes.
RECOMMENDED: The New Good-Looking, PB-Busting Adidas UltraBoost Uncaged Running Shoe
What shoe is kinder to the average foot?
A definite trend for Winter '16 is "sensible" shoes, with that rounder toe, and they're more suited to the general population, whereas a tight, pointed-toe shoe will not suit everyone.
Do you look after your shoes?
I try to rotate them, and not wear the same pair two days on the run. It can be tricky though, especially if you have your favourites.
Consumer research shows that the average man owns nine pairs of shoes…
Nine seems quite conservative to me…
And could all nine be sneakers or should men own a variety?
Common Projects leather Achilles retro sneakers, £265, buy on mrporter.com
They might own a clean white sneaker, a more sophisticated sneaker, a black Oxford, a classic Chelsea boot, a classic plain-toed Derby, a driving shoe – Tod's is the go-to brand – and a slip-on penny loafer, JM Weston is the most iconic. Then you will need a work boot, and a sandal, they are the overarching categories that men should own or consider owning.
John Lobb suede Lawry Chelsea boots, £1,120, buy on mrporter.com
Have you always been obsessed with shoes?
I've had a love of shoes as far back as I can remember. I played a lot of football throughout my childhood until I was 17. This was when all boots were black and white, so there wasn't that much difference visually. I would always look at who wore what and what different shoes could do. I was signed at Man City, things didn't work out, but I still play and that's where my passion for footwear came from.
Can you trace your life story in terms of football boots?
When I was nine the Puma King was the boot to have, then Umbro introduced the Speciali, which had this wishbone on the sole, which made the sole really flexible. I begged my parents for that boot for so long that they agreed to buy it for me for Christmas. They were made out of kangaroo leather, and were £80, quite expensive back then. When I was 11 or 12, Adidas introduced the Predator – Beckham, Zidane, any global footballer wore Adidas Predators. I think I have owned every single pair of Predators.
Do you still have them?
I wish I did, they'd be worth a lot of money now.
How have your footwear tastes evolved over time?
My appreciation of hard shoes has grown tenfold since I started going to factories and seeing the true craftsmanship that goes into them.
Finally, what is a big shoe no-no for you?
I would never wear a brown shoe with a black suit.
Sign up for workout ideas, training advice, reviews of the latest gear and more.
Bridget was a freelance journalist who contributed features to the print edition of Coach in 2016.