Tough Mudder Founder Will Dean On Building An Empire
The godfather of obstacle course racing on getting Tough Mudder off the ground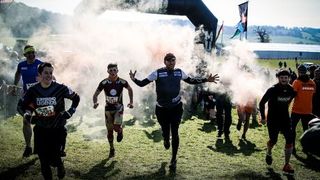 (Image credit: Unknown)
Where there's sweat, there's brass. Health and fitness is big business, so Coach has interviewed clever entrepreneurs to find out how they found new ways to meet the public's demand.
Will Dean, 35, is the founder and CEO of hardcore obstacle course series Tough Mudder. Since launching in 2010, more than 2.5 million people have participated in events.
Tough Mudder employs 150 staff who will produce 120 events in 11 countries with 500,000 people taking part this year. Will was born in Nottinghamshire and divides his time between London and New York with his wife.
What is Tough Mudder?
It's not a race or a competition. It's a challenge about teamwork, fun, camaraderie and overcoming your fears over 10-to-12 miles. The obstacles are physically challenging and mentally intimidating with the wow factor. It's not a classic sport; there are no rules and it changes every year.
Where did the idea come from?
I did marathons and triathlons, but I found it boring. My moment of genius was realising when people take part in an event, it's about personal accomplishment. It's known that it makes you happier to spend £5 on others than on yourself. This is the macro version, helping others through the mud and over obstacles. We're not curing cancer but we're making a positive difference in lives.
What was the gap that you saw that Tough Mudder could fill?
If two of you run a marathon, one's quicker, one's slower and that's two independent experiences. People want to feel part of something – the institutions of our parents' generations are declining, as are sports clubs, rugby, football, cricket clubs, political parties, trade unions and church memberships. Experience is the new luxury. Lots of us have a standard of living where our basic material needs are met, but most of us have possessions we don't use which are worthless. But you have memories you cherish, especially shared memories. It's proven that people who spend money on experiences are happier than people who spend money on material goods.
How hard was it to get off the ground?
My professors at Harvard said there's no way you'll get 500 people to your first event because it's untimed, and there are no winners. I drove my 15-year-old VW Jetta around, looking for a venue. I got lost, it was cold, getting dark, and when I got to the motor track, I realised immediately it was too small. A lady came out of a Portakabin office and said, "You went to Harvard Business School and this is the best thing you can think of to do with your life?" I said yes. She said with genuine concern: "Your parents must be very worried." It was a low moment.
Eventually I found a ski hill in Allentown, Pennsylvania for the first event. A month after we opened the website, we'd sold two tickets. It was just me, my co-founder and two unpaid and glum interns. It was stressful. Then ticket sales took off…
What's it like being an entrepreneur?
It takes courage – ploughing limited funds into no guaranteed income, the odds are against you. If you go into it for financial reward, you'll be bitterly disappointed. It's lonely. When there's a problem, all the executives look at you.
What have you learnt from your customers?
If you stop listening to them, you're dead. There's a famous '50s focus group, where women tested a vacuum cleaner. They all agreed it was wonderful and they'd buy it for $50. They were told they could buy it for $25, and only half took it. People will tell you what they think you want to hear. We survey customers after events, and we get great customer feedback.
Were you surprised by the success of Tough Mudder?
We knew we were on to something. But after the first one, we were exhausted. We underestimated how complicated it would be. We had to work out how to go from managing one event to 12 to 30 to 50 events.
What do you wish you'd known back then?
When you do things at scale with 2.5 million people, you have to assume that someone will do things differently than you intended. The Funky Monkey is monkey bars over water, but people will climb them and try and walk across. Why? I'm no longer surprised.
The level of engagement from customers blows my mind; 5,000 have Tough Mudder tattoos. In 2014, the T-shirts weren't ready in time. You can't just buy half a million T-shirts, so we had none for an event. People went crazy, we had to call security. As a business you have a responsibility trying to engage with that strength of feeling.
What's the future of this aspect of the industry?
We've added events in Asia, and launched the Tough Mudder Half, and the 24-hour Toughest Mudder. Our Virgin Active partnership is going well, so we can do more in the training area.
What's your favourite obstacle?
The King of the Swingers. You have to catch a trapeze bar and swing 12ft to high-five a bell, before hitting the water. You look at the bar and think you won't catch it, but always do.
Tough Mudder Half London South, September 17; Tough Mudder London South, September 24-25. Visit toughmudder.co.uk
Sign up for workout ideas, training advice, reviews of the latest gear and more.