Update Your Dream Jobs List: Columbia's Recruiting Directors Of Toughness
Columbia clothing want two new Directors Of Toughness, but there's a catch: it promises to be the experience of a lifetime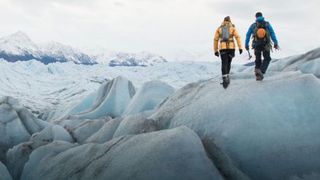 (Image credit: Unknown)
What's been the most challenging job interview you've had? Perhaps you were asked something that caught you off-guard. Maybe there was one that simply went on forever, thereby sapping your will to live, let alone your ability to think on your feet. And who can forget the time you had to win them back after you'd started with a hug, rather than a textbook handshake? Rookie mistake.
But it's unlikely you'll have encountered a job interview quite like the one Columbia clothing is offering.
That's because the US sportswear brand is recruiting for two new Directors Of Toughness (and no, that's not corporate talk for "security guard"), with the positions open to UK residents for the first time.
And Director Of Toughness is no misleading job title: they're looking for someone who will put Columbia's performance products to the test in the most extreme environments on the planet, before telling the world. We're not just talking about a light jog around your local park followed by a blog. Rather, Columbia products are tested in the most gruelling conditions that Mother Nature can muster. That's because this is clothing that's #testedtough.
For the recruitment process, a limited number of specially selected applicants will be sent to one of the most remote parts of the UK making this, as Columbia claims, "the toughest interview to get to" (rather than, say, a journey by Tube and a bus).
Instead of sorting through thousands of applications, Columbia will let the toughness of the environment find their new Directors Of Toughness. Panting and wheezing after 10 minutes? Sorry. Better luck next time. This is where CV stands for both Curriculum Vitae and Cardio Vascular.
You might be sent on an extreme hiking trail, to a secret fishing hole, or up a gut-busting summit to see if you've got what it takes to join the team. "The Directors Of Toughness have become integral employees, not only testing our products but also sharing compelling stories," says Richelle Luther, Columbia's senior vice-president and chief human resources officer.
Only two people will be hired (on a nine-month contract, which includes both salary and benefits) for what promises to be the experience of a lifetime. After all, if you end up being one of the chosen two, your new job will see you spelunking, climbing glaciers, taking photographs, travelling the world and, of course, putting Columbia to the test, all to the eye-wateringly high standards of the company's "Tough Mother", Gert Boyle. That's because once you start working at Columbia, the extreme life is something you'll experience every day. Small wonder the role has been described as "the greatest job on the planet".
So whether you're a passionate adventurer, an active type seeking a fresh challenge or a fan of the great outdoors who's desperate to escape the daily grind of the office, the chance to become a Director Of Toughness is probably the calling you've been waiting for.
To apply and find out more, please visit: columbia.com/toughjob; #testedtough
Sign up for workout ideas, training advice, reviews of the latest gear and more.
Coach is a health and fitness title. This byline is used for posting sponsored content, book extracts and the like. It is also used as a placeholder for articles published a long time ago when the original author is unclear. You can find out more about this publication and find the contact details of the editorial team on the About Us page.