Leo Houlding's Climbing Tips
Fresh from conquering The Prophet, we ask the UK's top climber Leo Houlding how he trains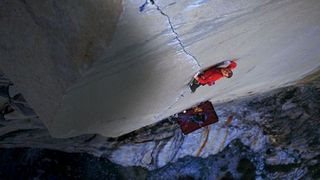 (Image credit: Unknown)
Top British climber Leo Houlding has just made his triumphant return from the project he's been working on for almost a decade. The Prophet, on Yosemite National Park's infamously difficult monolith El Capitan, is the first route up the rock to be established by a British climber, and one of the toughest – including a stomach-churning leap known as the Devil's Dyno. We spoke to him about how he stays in peak condition.
You've just nailed the Prophet. Just how tough was it?
I've been trying the route for nine years, I've spent more than 60 days on that piece of the rock. When we did the free ascent it took six days, but four of those were spent in a godawful storm. So there were only two climbing days. We sat on a portaledge that flooded in full storm conditions, for more than 80 hours without moving, in a 4ft by 6ft tent, completely soaked and cold, borderline hypothermic, and then we had to dry everything out for a day and a half and go and perform at our absolute peak.
What was the hardest part in terms of climbing technique?
The really difficult bit is this feature called the A1 Beauty: it's a beautiful, 35m crack up a totally flat wall. There's nothing for your hands, nothing for your feet – just this minute crack to jam your fingertips in. And at that point you're more than twice as high as Canary Wharf.
Do you train on indoor walls much?
Well, I'm a professional so I get to chase the summer around the world, which means I tend not to train inside that much. But if you live in the city, in the winter it's not easy to train in the field. There's a lot of crossover between styles of climbing, though, so if you want to do big wall climbing you can get some of the benefits by training indoors. Even on a high cliff it comes down to the individual moves, which you can do by bouldering.
What's a typical training session on a wall like for you?
If I'm on a lead wall [one on which you clip your rope in as you ascend], the classic thing I do to train for endurance on the big cliffs is start on a route that's graded relatively easy for me like a 6a, then do a 6a-plus, then a 6b, then go all the way up to an 8a-plus, then I'm usually pretty tired so I might fall off that, then I'll go all the way up and back down. That's about 28 pitches if you go all the way up and back down again, which should take a couple of hours.
Do pull-ups help your climbing?
Although you need a basic level of strength, I wouldn't recommend loads of pull-ups, especially if you're a beginner. It's much more important to focus on technique. One of the reasons women often make good climbers is that they usually don't have that upper-body strength, so they have to focus on technique. Also, a base level of fitness is important, so you can go on the cross-trainer or on a bike. I tend to get out on my mountain bike for fitness.
---
Houlding has a banging new film out that covers his battle with The Prophet. Here's the shocking trailer for it. It'll make you say 'holy' then some other ruder words.

Sign up for workout ideas, training advice, reviews of the latest gear and more.
From 2008 to 2018, Joel worked for Men's Fitness, which predated, and then shared a website with, Coach. Though he spent years running the hills of Bath, he's since ditched his trainers for a succession of Converse high-tops, since they're better suited to his love of pulling vans, lifting cars, and hefting logs in a succession of strongman competitions.