The Best Places to Go Rock Climbing in London
Experienced climber Maja Wis gives us the low-down on climbing in London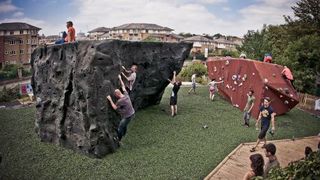 (Image credit: Unknown)
While London doesn't have any mountains to conquer, climbers are still spoilt for choice when it comes to indoor walls, with over 20 climbing centres across the capital. Whether you're a beginner or regular climber, there's a good chance you'll be able to do it in a convenient location on your side of town. But what if you're looking for something specific? We asked Maja Wis, who's been climbing for nearly a decade and has tried almost all of London's walls, to recommend the best spot for rope climbs, bouldering and having the wall to yourself. And, of course, what the café's like.
RECOMMENDED: Where to Start Rock Climbing Outdoors
Best for Climbing with Ropes: The Castle
You'll find more than 450 top-rope and lead climb routes (you need your own ropes for the latter), ranging from 4 to 8a, in this north London centre. The centre spans several floors and includes some bouldering, a campus board and a gym. If you're just starting out, though, it may not be the one to commit to: "It's got the most expensive membership, and since I prefer bouldering, it feels like I'm never using all it has to offer when I climb there," Wis says.
Planning to spend all day climbing? There's no need to leave the premises to eat. "The Castle also has a cute café serving food from their garden," Wis says, "which is definitely worth mentioning." The café is closed at the moment, but in the meantime, they've built an outdoor café serving delicious stone-baked pizzas. castle-climbing.co.uk
Best for Bouldering: Mile End Climbing Wall
"Mile End is definitely in my top two [along with The Arch, below]," Wis says. "It always has the best atmosphere. I really like how friendly people are – you can strike up a conversation with a random stranger." The centre also has some of the highest walls without roped protection in London, as well as the Monkey Room where you can boulder across the ceiling, which is why Mile End is Wis's top choice for bouldering in London. The centre also includes decent training areas such as the Board Room for more advanced climbers to take on more technical routes.
"The Board Room is definitely not for beginners because it's really easy to get an injury if you don't know what you're doing or if your fingers are not strong enough," Wis says. The room has a 50° wall and Beastmaker equipment – cunningly designed wooden climbing kit perfect for practising – to play on, giving a challenge to even the most experienced boulderers. Mile End also has some of the cheapest prices: adult entry is just £7.50. mileendwall.org.uk
Best All-Rounder: The Arch
"The Arch is definitely the best for variety," Wis says. "Under one membership, you get to climb three walls: Building1, The Biscuit Factory and The Arch North." The newest of the three walls is The Arch North, which is divided into ten areas, mostly made up of overhanging climbs. There's also an extensive slab wall, a horizontal roof and barrel wall feature, two large standalone boulder islands and some of the most impressive strength training facilities you'll find anywhere, including a 45° training board, gym rings and fingerboards (for training grip and technique) as well as gym equipment. archclimbingwall.com
Best Place to Improve: Westway
If you're looking for a challenge, take a trip to Westway in White City. Westway has 350 climbing routes and 110 roped lines, graded from F3 to F8a, as well as up to 100 bouldering problems, changed every four weeks, up to V10. It has one of the overhanging wooden walls with rungs known as a campus board, as well as gymnastic rings, lapis balls – spherical climbing holds designed to improve your bouldering skills – and Beastmaker fingerboards, which makes it a great centre for variety as well as strength and conditioning. A lot of London climbers say the grading at Westway is tougher than the other indoor centres, giving you fewer easy wins and forcing you to push yourself harder for longer. If you're committed to improving your climbing, Westway's your best bet. sports.westway.org/climbing
Best for Beginners: VauxWall
VauxWall is a bouldering-only climbing centre (so expect low ceilings), with over 250 routes to choose from. The venue's stand-out feature is the grading system, which uses easily distinguishable colours and patterns so you won't get lost reaching for a V5 hold when you're looking for V1. "Vauxhall is convenient if you work in central London and can avoid the crowded times," Wis says. "Unfortunately it's a bit small, so it gets overcrowded really quickly, and the sets are either super easy or very hard. I found little in the V4 area."
If you do live or work nearby and are just starting out, it's ideal. "It's good for beginners," Wis says, "as there are quite a few easy problems and it has the lowest walls of all the centres. It's a good place to introduce bouldering to a beginner who is a bit unsure about heights." vauxwallclimbing.co.uk
Best for Having it All to Yourself: The Reach
The Reach has 80 top-rope routes up to 11m and 50 lead climbs, all ranging from grades 4 to 8a. "The Reach in Woolwich is good for ropes and has a fantastic café," says Wis. "I thought the bouldering was very uneven though – there were low-grade problems that were more difficult than they were supposed to be and higher-grade problems I could walk up."
Sure, getting to an industrial estate next to the Thames Barrier in Woolwich takes time if you don't live nearby – but that does mean it doesn't get as busy as the other climbing centres, and you won't have to queue for routes as you might at a lot of the other London centres. thereach.org.uk
RECOMMENDED: Rock Climbing in Yosemite
Sign up for workout ideas, training advice, reviews of the latest gear and more.
Pennie is the founder of fitness magazine Oh My Quad and has a decade's experience working as a freelance journalist for various magazines on- and offline. She is also a personal trainer based in North London and the GoodGym Barnet trainer, so spends a lot of time running around and picking things up.