The Perfect Partnership: Why It's Worth Cycling in a Team
Get more from your ride this summer with the help of Team Ford EcoBoost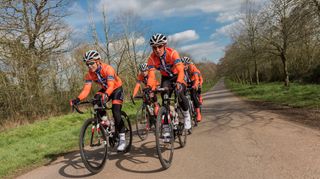 (Image credit: Unknown)
Formed only last year, two-time National Road Series champion Nikki Juniper and her 10 fellow female riders are embarking on their first season of competitive races. Coach found a quiet moment in their ever-busy schedule to get some pro tips for our ride, and the secrets to a perfect partnership.
How did you build the team?
Nikki Juniper: Everyone was hand-picked but we didn't just want the strongest riders in the UK. It was important to have a good mix of experience and younger development riders so that we could form a cohesive team and build for the future. I also wanted to ride with girls I could relate to as we would be spending a lot of time together.
Does everyone bring something unique?
Mel Brand: We have complementary strengths: sprinters, climbers, rouleurs [an all-rounder]. And everyone brings something different to the social dynamic of the group.
How much time do you spend with each other over a season?
Julie Erskine: During the really busy times – we've just had seven races in 11 days – we all stay in one place. We eat together, train together and race together – we can have fun off the bike, but then be a professional unit on the road and really understand how each other ride.
What are the advantages of riding with someone else?
Sophie Fennell: You gain a lot from training with other riders, especially on the road because it allows you to watch and understand how they ride. You can pick up new techniques, new skills; it pushes and motivates both of you.
What can a casual rider learn from the pros like yourself?
Charline Joiner: Make rest and recovery part of your routine. It's vital after any form of exercise to allow the muscles to recover, grow and become stronger. Also, concentrate on fuelling and hydration pre-and post-workout. Well-balanced meals will have a good source of carbohydrates, vegetables and protein. There's no point in training every day and going home to eat sausage rolls, crisps and chocolate. This won't get you the results you're after or help your body recover.
When one member is struggling, how do the team pull together?
Charlotte Broughton: This year, at the Tour Series in Redditch, Worcestershire, I found myself out of the pack, at the back hanging on for dear life when Charline, my team-mate, started to yell encouragement at me to get on her wheel and she towed me back into the peloton. I'm happy to say it worked. I found it very motivating! Maybe it's her Scottish accent but I found it very motivating!
What are the benefits of your partnership with Ford?
Nikki Juniper: Without Ford UK this team would never have got off the ground. We have and continue to receive superb support from them, not least our own small fleet of vehicles to get the team and our considerable kit to and from races. Their backing ensures we can concentrate on the job in hand, primarily, building a team for the future.
Finally, what's the best piece of advice you've ever received?
Mel Brand: You might be feeling the pain and think you're about to blow, but if you're hurting everyone else is as well.
A Partnership To Go Further
The team are supported by a fleet of three Ford EcoSports, a Mondeo Vignale estate with its powerful 240hp 2.0-litre EcoBoost engine, and a Ford Transit Custom, getting them, their kit and their bikes, to races all over the country and the continent. Naturally, the vehicles are a distinctive blue, white and orange to match the team's distinguished kit.
Sign up for workout ideas, training advice, reviews of the latest gear and more.
Coach is a health and fitness title. This byline is used for posting sponsored content, book extracts and the like. It is also used as a placeholder for articles published a long time ago when the original author is unclear. You can find out more about this publication and find the contact details of the editorial team on the About Us page.