Why I Ride: "It's My Therapy"
Get out on your bike and get inspired with Team Ford EcoBoost's Nikki Juniper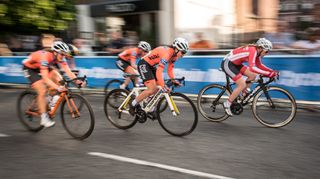 (Image credit: Unknown)
Nikki Juniper has covered countless miles on her bike and pushed herself to go above and beyond in hundreds of races, including the National Circuit Race Championships, which she won last year. Now she's taken on a new challenge: creating her own domestic race team.
Team Ford EcoBoost consists of nine female riders hand-picked by Nikki for their different talents, and supported by Ford UK. With a mission to inspire through their love, joy and passion of all things cycling, Nikki shared with Coach her own inspiring story...
My earliest memory of cycling is learning to ride with my twin brother and dad. It was at King George's park in Brentford.
I think one of us rode into a tree that day... but I can't remember which one of us now.
Before I had my own Raleigh mountain bike, I'd use my older sister's Chopper.
My current race bike is a Giant TCR and it's amazing to ride. There is no comparison to that Raleigh I had 27 years ago. Saying that, my work bike is a three-speed fold-up with a basket on the front and I love it.
Freedom! If you really boiled it down to just one thing, that's the best reason to cycle.
I'm from a very active family. My mum was a keen athlete when she was younger and my dad a good squash player. We had a very supportive upbringing, encouraged to try anything and everything.
I was a hockey player until I was 19 when I dislocated my knee badly resulting in three major operations. I took up triathlons and Ironman after that.
You get tired of the 4am wake-up calls to train for swimming, so I switched to only cycling.
I never use anger to help me conquer hills - that just creates tension. I ride because it makes me happy; it's my therapy.
You have to respect a hill or a mountain otherwise it becomes a chore.
Every cyclist should read Nicole Cooke's autobiography. It taught me to never give up and fight those who stand in the way of your dreams. It doesn't matter what people think of you, or if they notice you, you do it for yourself.
My greatest achievement on a bike? Winning the National Circuit Race Championships last year.
Friendship, a good work ethic and being a team player. Those were the key strengths and attributes I looked for when building the Ford Ecoboost team.
Ford took a massive leap in supporting a women's cycling team, they trusted us to deliver and hopefully we've done that. I know I couldn't be prouder with what we have achieved as a team.
The best piece of life advice I've ever received? Don't stress over the uncontrollable. The sun is still going to rise tomorrow.
A Partnership To Go Further
Nikki's team are supported by a fleet of three Ford EcoSports, a Mondeo Vignale estate with its powerful 240hp 2.0-litre EcoBoost engine, and a Ford Transit Custom, getting them, their kit and their bikes, to races all over the country and the continent. The vehicles are a distinctive blue, white and orange to match the team's very distinctive kit.
Sign up for workout ideas, training advice, reviews of the latest gear and more.
Joe Barnes was the editor of Men's Fitness and the Coach website from 2015 to 2016.