The Worst Bike Theft Story We've Ever Heard
But there is a happy ending. Plus, tips for avoiding having your bike stolen from cycling insurers Bikmo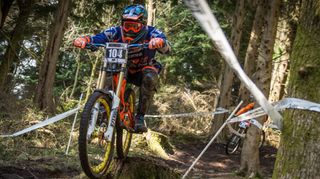 (Image credit: Unknown)
As dedicated mountain biker Peter Wogan stood over a 6m drop in Gloucestershire's Forest of Dean, planning his adrenaline-pumping two-wheeled descent, little did he know that in the coming seconds he'd be bombing all the way to the bottom without so much as a tap of the brakes. More importantly, he'd be doing it without his bike underneath him.
"I came to the steep drop and decided to stand and plan my descent as I didn't want to risk a crash, especially as I was riding alone," says Peter. "While I was standing there, my trusty steed by my side, a man approached from the rear and asked if I was planning to tackle the drop. I told him I was and continued to scope out the descent. Suddenly, I felt the man push me and I found myself rolling down the slope, winding myself and taking a painful whack to my hip."
After checking for injuries, Peter brushed himself off and ran straight back to the top of the drop the see if he could catch up with the opportunist thief pedalling off on his limited edition MTB. No such luck. Peter began the long hobble back to his car.
"When I got back to by car and finally got a phone signal, I was advised to return home and await an ambulance to check me over. I was physically OK, aside from some minor bruising, but the knowledge that my custom-build bike was no longer in my possession, and probably never would be, was sinking in."
Anyone who has ever been through the ordeal of a bike theft will know the process of claiming back some sort of recompense through your insurance provider can be a long, tiring and boring one. Unless, that is, your insurance provider happens to be run by like-minded bike enthusiasts who know exactly what your loss means to you.
"The only upside to all this is that Bikmo has been amazing," says Peter. "As requested, I provided receipts and photographic evidence of all my bike parts. Keith, a member of the team, even contacted me to tell me I'd missed bits so I wasn't short changed. We all have this assumption that insurance companies just want to take our money and dodge paying out, but that couldn't be further from the truth with Bikmo. It has barely been a week and my claim has been approved. The money is whizzing through hyperspace to me as we speak."
Bikmo is helmed by people who understand why losing your bike means so much. People like Keith. Not only is he the head of customer experience at Bikmo, he is also a former national champion cyclist. Keith and his colleagues can tell a flat-bar road bike and a hardtail MTB apart. Hell, they probably rode one to work.
Bikmo not only covers your bike, but also you and your kit on all two-wheeled activities, be it racing, commuting or riding through Europe on that dream cycling getaway. They also offer some pretty great multi-bike savings, ideal for anyone who likes to hop into the saddle of a different bike each day. What's more, Bikmo allows you to upload all your different bikes and receipts to an online profile, so they're ready if ever you need to make a claim. That means you can spend less time sorting out your claim and get back in the saddle faster.
Getting a quote takes just 30 seconds, so spare half a minute to see what kind of cover your pedal-powered pride and joy can enjoy. And once you're done, check out these top dos and don'ts from Bikmo on how to prevent your bike being stolen in the first place:
Do find a well-lit, busy location to leave your bike, ideally with CCTV coverage.
Don't secure your bike to wire fencing or weak railings that can be easily cut.
Do check out the condition of other bikes in the area. If there are frames with parts missing, or individual wheels locked to racks, be assured it's a hotspot for thieves.
Don't secure your bike to anything that it can be easily lifted off, such as a post or barrier.
Don't use your main lock on the wheels. They're the easiest parts of a bike to release from whatever they're secured to.
Do always have the main lock on the frame. You can always use other forms of locking to secure the wheels.
Don't leave your bike unlocked.
Do try to leave as little space as possible between the lock and the bike, so thieves are unable to position tools to break the bike free.
For more information on Bikmo and to get a quote, visit bikmo.com
Bikmo is providing insurance for participants in the Fitbit Fifty, a team run and ride from London to Edinburgh and back again in 50 hours.
Sign up for workout ideas, training advice, reviews of the latest gear and more.
Craft beer drinker, Devonian, fisherman and former content director of Coach online, Chris contributed style coverage and features between 2016 and 2019.