3 ways to keep her interested
MF's resident relationship expert Kezia Noble dispenses some inside knowledge on how to keep her interested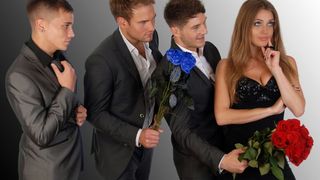 (Image credit: unknown)
Kezia Noble (pictured) is a leading female dating coach for men and author of The Noble Art of Seducing Women. She was nice enough to share some of her knowledge for the good of men everywhere.
It used to be called the 7-year itch, but these days, it's more a case of the 7-month itch. Here are 3 highly effective ways of keeping that initial attraction going while your relationship is evolving.
1. Shake up your timetable and avoid being predictable. If you find yourself phoning her the exact same time everyday, change this and even allow yourself to be unreachable for a day and delay getting back to her instantly. This might sound like a very small alteration, but it can produce significant results. It leaves a little air of mystery about you, and provides the right amount of 'concern' that stops her from taking your text messages and calls for granted. You need to remain that man who is in demand, and who has his own life and distractions, this is partly the reason why she was attracted to you in the first place.
2. Sounds obvious, but change the times and places you have sex with each other. A lot of relationship experts say that you need to add 'sex toys' and gimmicks to spice things up between the sheets. However, a lot of people are just not turned on by hand cuffs and dildos, so unless you're both into it, don't do it. Simply changing the locations, positions and times that you have sex can add an incredibly sexy sense of spontaneity to the relationship.
3. Live out new experiences together. By doing something new together, whether it's a sport, a hobby, classes or a holiday, you will learn to connect with each other in a new way, and as a result you both get the chance to see each other with fresh eyes. You might discover a more playful side to your partner, or a serious side, or discover a talent in her that you totally overlooked, and the same goes for her too. When you both begin to see each other in a new light, not on a drastic level, but just enough to create that sensation you got when you were first getting to know each other, you can really turn up your relationships thermostat.
See more dating advice from Kezia Noble here.
Sign up for workout ideas, training advice, reviews of the latest gear and more.