6 Tips from the Ronaldo Documentary to Help You Get Ripped
No time to get in shape? Struggling to keep up healthy habits? Too tired to work out? Let the world's most powerful footballer help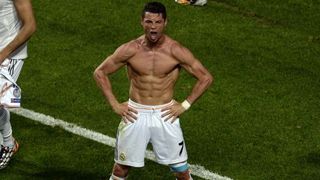 (Image credit: Unknown)
Not since the upturned-collar days of Eric Cantona had Manchester United seen a player with such self-assurance. When he signed from Sporting Lisbon in 2003, the 18-year-old Cristiano Ronaldo told his team-mates that he was going to be the best player in the world. Fast-forward 12 years and three Ballons d'Ors later, the prophecy has been fulfilled. But as everyone knows, there's more to success than just talent, and in the case of this once-scrawny winger it's the hard work he put in at the gym that allowed him to become the powerful, goal-scoring machine we see today.
RECOMMENDED: Cristiano Ronaldo Interview – "I Actually Need My Haters"
Here are the six things we learned from this week's Ronaldo documentary that can help us get into shape like CR7 himself.
1. Sleep Like a Champ
A good night's kip is essential for anyone, not least a man who is at the top of his trade. Watching the sun emerge as his automatic blinds rise, Ronaldo prepares for another day. He specifically says he goes to bed early to allow his muscles and mind to fully recover, which means you probably should too (assuming you want to be good at what you do).
2. Mix It Up
Watching Ronaldo casually stroll towards his underwater aqua bike, we see another string to his workout bow. Granted, most of us won't have the luxury of a heated indoor swimming pool with a submerged spin bike, but we can still apply his logic to our own workouts: mix it up. Avoid getting stuck in a gym rut with some variety: go for a swim, do some yoga, try a parkour class. Keeping exercise interesting not only targets all areas of your body, it helps you to stay motivated.
3. Get a Training Partner
The "press-up with your son on your back" is probably an exercise most of us aren't familiar with. In one of the more heart-warming scenes, the Real Madrid hero's son acts as both support and added weight, helping his famous father dig that bit deeper. Working out alongside someone can be pretty stimulating as the friendly competiveness will help you stay motivated.
4. Eat Cleanly
Maintaining such fine Ronaldo-esque fettle requires more than just lifting weights and smashing cardio. He attributes much of his physical success to a healthy diet. Fuelling your body with correct food is just as important as exercise, if not more important. A high intake of clean proteins (such as chicken, fish and lean steak), complex carbohydrates (such as sweet potato), and plenty of fruits and vegetables will help give you energy for both work and the gym.
5. Work Out Whenever You Get the Chance
If a man who shoots weekly adverts, signs hundreds of autographs and jets around the world to collect awards all the time can find time to work out, so can you. If you can't be bothered with the gym after a long day, why not work out in your room? A two-metre-square area of floor space is plenty for a good core workout. Make this a routine which will eventually become a habit.

6. Take It Easy
To say friends and family are extremely important to Ronaldo is a massive understatement. Rarely do many moments pass in the film without his loved ones nearby; affectionate embraces with his son are a constant feature, alongside joking with his older brother and the fatherly bond he has with agent Jorge Mendes, all of which bring normality to an otherwise frenzied schedule. Training and keeping healthy is important, but relaxing and enjoying life will keep you fresh mentally and physically, so spend your free time wisely and with those who matter.
Sign up for workout ideas, training advice, reviews of the latest gear and more.