9 Reasons We Should All Pack Up and Move to Bradford
London? Over it. Manchester? Pah. Go where the big chain pubs daren't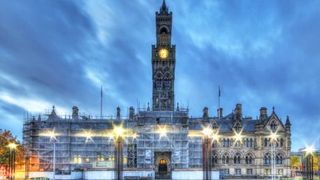 (Image credit: Unknown)
Manchester has had its chance to convince you there's nowhere better in the UK. Now, it's Bradford's turn to recruit you of its charms…
1. It's a Big, Silly Melting Pot of People
Over half a million people live in Bradford, and many of them have roots all over the world. The result is a city full of mad stories and colourful characters – many with bizarre hybrid Yorkshire/foreign accents. Bradford hasn't always got the integration thing right, but a lot of hard work's been done over the last decade or so to make it a very tolerant and welcoming city. So assuming you're not a racist thicko, you'll fit right in.
2. You'll Be Supping in the Real Ale Capital of the UK
Big pub chains don't like Bradford – they've given the place a wide berth in recent years. As a result, amazing indie boozers are absolutely thriving, especially in the part of town around the old John Street Market. The Record Café's beer cellar is maintained like Walter White's lab, so the pints there are always impeccable. Over the road, people flock from all across Yorkshire to the now legendary Sparrow Bier Café. And the burgeoning Bradford Brewery have revived one of the city's long-redundant industrial buildings into a Bohemian boozy paradise.
3. Politics Aren't Boring Here
Bradford's always been quite politically "fruity" (it supported Oliver Cromwell's mad king-slaying cause, and Alastair Campbell cut his considerably bitey teeth 'round these parts) and that makes it a very exciting, sometimes unpredictable place to call home. More recent political popcorn moments came courtesy of George Galloway, former MP for Bradford West, who got into a well-publicised beef with the Bradford Brewery during his 2015 election campaign. Galloway lost his seat, but the brewery has been hosting monthly Politics in the Pub debates ever since as a result of the locals' insatiable passion for public affairs.
4. Bradford's Buildings Will Knock Your Socks off
In fact, once upon a time, your socks will have probably been made in those buildings. The city's rich wool heritage left behind an insane amount of breathtaking gothic architecture – from the grand City Hall to the countless anonymous warehouses in the Little Germany district. Many of them are now big lofty apartments that you can literally buy for about 50 grand a pop.
5. Yes, You Can Actually Afford Houses Here
Sorry Manchester, but Bradford's about to pour gravy over your affordability boasts, as you can afford to buy a sturdy stone-built Victorian villa for about £150,000 this side of the Pennines. The elephant in the room is that Bradford has an appalling reputation nationally – but don't believe a word of it. Most of this poppycock comes from "surveys" released by utility companies for a bit of cheap PR. And it often tends to be taken at face value by media outlets that can't afford proper journalism anymore.
6. Bradford's Great Outdoors Is, er, Great
If you're into running, cycling, climbing and all that jazz, you'll love living in this city. If you look at the place from a distance, Bradford's caramel-coloured buildings look like they've been dumped in a bowl of green countryside. The city limits flirt with the world-famous Ilkley Moor, as well as the brooding moors above Haworth where the Brontës wrote their hearts out. Great Bradfordian JB Priestley once said, "However poor you are in Bradford, you need never be walled in, bricked up, as folk must be in London". Truer today than it ever was.
7. It's also an Art-Lover's Paradise
Priestley and the Brontës weren't the only creative types inspired by their home city – it was also where chain-smoking genius David Hockney started his illustrious art career and although he's now mostly resident in London and Los Angeles, you can see one of the biggest collections of his work in the magnificent Salts Mill back in Bradford. All for free, of course. And if you're a fan of pop music drowned out by the screams of teenagers, there's a good chance you'll bump into Zayn Malik at one of his beloved Bradford City's games.
8. Good Curry is Always on the Menu
Bradford's been voted the Curry Capital of the UK a record five times now, so you're never far from some fine Kashmir cooking in West Yorkshire. This is good, authentic food too, not like that muck they dish out to tourists on London's Brick Lane. Try MyLahore (opens in new tab) in Great Horton or, for a more traditional experience, Omar Khan's (opens in new tab) – but whether you're after a posh banquet or a 4am formica table feast, you'll be well looked after in Bradford.
9. It's Got Posh Neighbours
There's a traditional inter-city rivalry with Bradford's bigger, flashier brother, Leeds, but whatever some die-hard dour Bradfordians might say, it's great to have it next door. It means you can shop your socks off and enjoy Leeds's mighty fine dining scene, but you're never more than 20 minutes away from central Bradford's fine pubs and friendlier charms.
RECOMMENDED: 5 Reasons why Yorkshire is the Best Place for a Man to Run
Sign up for workout ideas, training advice, the latest gear and more.