9 Reasons We Should All Pack Up and Move to Sunderland
Their roundabout is better than your roundabout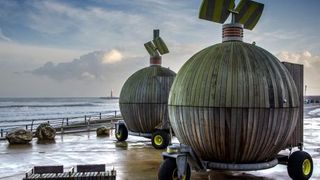 (Image credit: Unknown)
Recently declared one of the four best places to live in the UK, Sunderland is a hidden treasure. It's long been in the shadow of Newcastle but trust us, it has bags more character and no gangs of barcode-shirted lunks wandering around shouting about the Toon Army. That, and you're five minutes from the coast. Here's nine reasons why you should up sticks and head for Wearside.
1. Life's a Beach
Not many people know this, but the city is right by the sea, a veritable Mackem Riviera with a couple of miles of award-winning coastline for you to sunbathe on during the north east's small window of actual summer. The rest of time, it's ideal for grabbing a tea from the RokerPod Cafe (opens in new tab) (pictured) and taking a picturesque walk while getting some sea air in your lungs, or tackling the waves with all manner of aquatic activities. Do wrap up warm though – hypothermia is no fun.
2. The Scran Is Fantastic
Scran. SCRAN. You know… food. A decade or so ago, you'd struggle to find much to scoff other than pizza, pasta or the standard kebab and Greggs range in Mackemland. These days, though, mainly thanks to an influx of students and others from foreign lands, there's cuisine from right around the world, as well as a healthy carvery selection (gravy is still Northern fuel). Thankfully, the locals are discerning when it comes to their grub, so the standard is high.
3. You Can Afford a House – Maybe Two Houses!
Sunderland is one of the few cities left in the UK where getting on the property ladder isn't an unachievable dream – £150,000 will comfortably get you a three-bedroomed house with a garden close to the city centre. In truth, you could find yourself becoming a homeowner for half of that outlay, as long as you don't mind roughing it a little bit. Never mind the property ladder, down in London £75k would just about get you… well, a ladder.
4. It's the Cultural Oasis That You Never Knew About
Whether it's mass-appeal stuff such as stadium gigs by Rihanna, Coldplay and Beyoncé, or artier stuff like Grayson Perry premiering his "Vanity Of Small Differences" collection of tapestries, there's always something going on in a place that's bidding to be the 2021 City of Culture. For such a small city, there's a healthy leftfield music scene, based around the Pop Recs Ltd record shop and venue that's been set up by Frankie & The Heartstrings.
5. You Can Join Big Sam's Red and White Army
For the past few seasons, Sunderland have churned out some of the most dire football the Premier League has ever witnessed. The kind of stuff that would even stink out a condemned sewage farm. But the tide might be about to turn. A recent win against Manchester United and some canny buys in the January transfer window have seen an upturn in fortunes. Start supporting the Black Cats now and you might just be signing up for a magic carpet ride to mid-table glory.
6. All Environments Are on Your Doorstep
Jump in a car and head out of town and within 30 minutes you'll find yourself in either rolling countryside, big city bustle, retail heaven or that aforementioned coastline. There's even skiing, albeit on a dry ski slope. For megalomaniac thrills, climb to the top of Penshaw Hill, stand in the middle of the 170-year-old monument that was inspired by the Temple of Hephaestus in Athens, and look out across the landscape as though you're some kind of god. We defy you not to roar.
7. The Children Are the Scientific Future
Not only was lightbulb inventor Joseph Swan born in Sunderland, but it's also the birthplace of Dominic Wilcox, pioneer of GPS shoes. Wilcox recently headed up a project where the city's schoolkids were tasked with coming up with some modern inventions. They included Glasswards (specs that allow the wearer to see behind them), the Paint Splatta Baby Sleeper (a special pouch for when you want your baby to sleep while affixed to a wall), and best of all, a hook that easily removes Pringles from the bottom of the tube. 2050 ideas from 2016 minds.
8. The Red Arrows Come Round Once a Year
Every July, the Sunderland Air Show – one of Europe's largest aviation festivals – fills the skies of Wearside with all manner of magnificent flying machines. Besides the Red Arrows, there's Battle of Britain planes as well as a whole host of stunt pilots and airborne daredevils. Plus, as most of it goes on above the sea, the chances of you dying from a propellor in your eyeball are satisfyingly low.
9. It's Got a Roundabout Named After a Flea Circus Legend
Motorists who approach the outskirts of Sunderland will find themselves confronted with Testo's Roundabout, but why is it named thus? Well, there used to be a petrol station and caravan dealership there called Testo's and even though it's long since been flattened, the name remains. Best of all, it was owned by Alfred Testo, arguably the UK's leading flea circus ringmaster of all time. Does your city have a road system with a better back story than that? Doubtful.
Andy Dawson is a born-and-bred Mackem lifer. His angry new book Get In The Sea (opens in new tab) is out 25th February, based on the sweary, brilliant Twitter account (opens in new tab) and Facebook (opens in new tab) (opens in new tab)page (opens in new tab) of the same name. It's about things that need to get in the sea.
(Main photograph by David Allan: 07934 368 132)
Sign up for workout ideas, training advice, reviews of the latest gear and more.
Andy Dawson is a writer and journalist, and author of Get in the Sea (opens in new tab), out 25th February 2016.