Sports Journalist David Walsh: Lance Armstrong "Was Intoxicated by Power"
The sports writer and doping whistleblower on his lonely pursuit of the cheating cyclist Lance Armstrong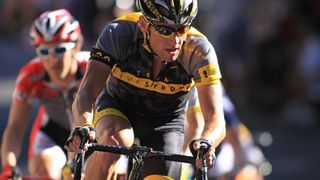 (Image credit: Unknown)
When you were being steamrollered by Lance Armstrong's ferocious PR machine for accusing him of doping, did many people stand by you?
A few did, definitely. Nobody ever acts alone and if you're in a situation like that you certainly need people who believe in you. My sports editor at the Sunday Times, Alex Butler, for one – when I told him what I'd found out about Lance Armstrong, he accepted that what I was saying was almost certainly true and he allowed me to write essentially the same story throughout Armstrong's Tour de France winning years, which was always a slightly different spin on "the guy is a cheat".
Was that a huge risk?
Definitely, because he was a sports editor and he knew that we were writing a story that was probably going to lead to a courtroom, and it did. It had the potential to cost the newspaper a serious amount of money, and it did cost them about £1 million at a time when newspapers weren't making a lot. But still, nobody at the Sunday Times ever said to me, "You know you've cost us a lot of money here, this isn't good for business". I didn't get one iota of that. What I got was the managing editor Richard Caseby saying, "I'm really sorry that we couldn't have taken on Armstrong legally, and gone all the way".
Were you particularly surprised by how anyone reacted to you when Armstrong was still proclaiming his innocence?
Absolutely. The people I really remember are the ones who expressed support for me at a time when it wasn't fashionable to. James Cracknell, the rower, came up to me and told me that the work I was doing around Lance Armstrong was fantastic and to keep going with it – that meant so much to me because at that time, it was very rare for anyone to say that. A lot of people simply couldn't believe that he would take drugs.
Was there anyone else on a similar crusade who you admire?
My colleague Paul Kimmage who was also at the Sunday Times was a huge inspiration. He had been a professional cyclist himself – he'd seen the damage doping had done and was a really committed anti-doping crusader. And a French guy called Christophe Bassons, he was on the 1999 Tour and he called it as it was – he said doping was still a big part of the sport and you couldn't finish in the top ten without it.
And what happened to him?
Everyone turned on him, Armstrong in particular – why would Armstrong attack an anti-doping guy if he was clean? – but he stuck to his guns and he took people on during the time when Armstrong thought he was untouchable.
Who do you admire from the current sporting arena?
I'm a big fan of Andy Murray, I think he's been outspoken on the doping question, and he's always wanted tennis to be better than it is in relation to anti-doping. As a tennis player and a human being, I have a huge amount of respect for him. He's lived his life and played his tennis in a really admirable way.
Is that common among sportsmen?
Not always. Pros in sport have to be hugely self-interested, they channel their entire energy into one sphere of activity and wonder, "How can I get better at doing this one thing?" and it means cutting people out and being single-minded. But there are people who can handle being the best without losing their humanity.
So why was Lance Armstrong the way he was?
Because he was intoxicated by power. When everyone is telling you you're a great guy, when everyone is saying yes to your every request, when George W Bush wants to go with you on a trail ride, when you have Bono texting you, when your social life is being acted out with Hollywood's finest, some two-bit journalist from Ireland isn't going to bother you – you think you can crush him. Lance never wanted to just beat his opponents, he wanted to crush them to dust.
Was it all worth it?
It was totally worth it. People always ask me how tough it was when I was chasing Armstrong and having to deal with his camp who would attack me, badmouth me – he used to call me a little fucking troll, the worst journalist he'd ever come across – but it never bothered me. I enjoyed it. It was the time of my journalistic life and I've never felt more alive. There was no sense of, "Oh, this guy is scaring me". I loved it.
The Program, the film about David Walsh's role in exposing Lance Armstrong starring Chris O'Dowd, is out now on Blu-ray and DVD. Buy on Amazon (opens in new tab)
COMPETITION: Win a Trek Emonda S4 Carbon Road Racing Bike Worth £1,000
Sign up for workout ideas, training advice, reviews of the latest gear and more.