How to Survive the Geneva Motor Show Like a Veteran
Auto Express's Steve Fowler is attending his 23rd Geneva show – here's what he learnt from the other 22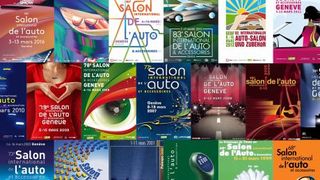 (Image credit: Unknown)
Plan your day. Geneva might not be the monstrous motor show Frankfurt is, but if you're constantly going from Audi in Hall One to Mercedes in Hall Six, your Fitbit will go into overload. So plan your route around the show.
Don't rely on WiFi. Want to be blogging your way around the show? Stick to your own data plan rather than rely on show-wide WiFi. If there is some, it'll be as reliable as a 1980s Fiat.
It's all in the shoes. New shoes equal a new injury. Wear your most comfortable, reliable pair – you'll be on your feet most of the day.
Stay cool. It might be sub-zero outside, but it will be tropical inside. So light clothing is best – check your coat at the door.
Grab a (free) lunch and lots of water. There's so much happening it can be easy to forget to eat and drink (yes, really). You'll soon start wilting by mid-afternoon if you forget. SEAT's paella comes highly recommended.
Don't follow the herd. Crowds at press conferences don't see much and just hear the corporate message. Those who follow along afterwards can get up close and personal with the stars of the show and get a real story.
Watch where you're walking. Motor show stands are a notorious trip hazard, waiting to catch someone falling over on the newly laid carpet. Make sure it's not you.
Don't forget Hall Seven. It's a great route back to the airport and you'll find the latest, full-size car washes in there!
If you're filming, take a friend. If only to prevent people walking across your shot – you could be waiting for hours otherwise
Take a battery charger. Think your mobile battery will last the day? Think again. A charger is an essential part of your motor show kit.
Don't bother with the freebies. There aren't as many as there used to be, they're yet another thing to carry around and they're never worth as much as you hope on eBay.
See how many times you can hear a designer referring to their latest model "previewing a new design language". You'll hit double figures easily.
Avoid the corporate spin. Everyone will be throwing incredible stats around. So do your research beforehand to get your own take on things.
Grab a contact before you go. Want to get some information on a stand? Take the mobile number of someone who'll be there and call when you're there – finding them among the crowds will be difficult and quite often they'll be hiding somewhere and not front of house.
Go back on day two. Many of the crowds have gone and the stands have often changed ready for the onslaught of the general public.
Get in early before the crowds. You may even see some of the show stars before the covers go on.
Steve Fowler is editor-in-chief of Auto Express and Carbuyer, and editorial director of Dennis Motoring. You can follow at this year's Geneva on Twitter: @SteveFowler (opens in new tab)
Sign up for workout ideas, training advice, reviews of the latest gear and more.
Coach is a health and fitness title. This byline is used for posting sponsored content, book extracts and the like. It is also used as a placeholder for articles published a long time ago when the original author is unclear. You can find out more about this publication and find the contact details of the editorial team on the About Us page.