9 Reasons We Should All Pack Up and Move to Nottingham
It's got the most underground pub in the country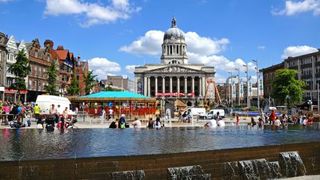 (Image credit: Unknown)
Nottingham was once named one of the worst cities to live in England (opens in new tab) by people who clearly don't know their arse from their elbow (clue: your arse is that thing you're talking out of). There are actually 2.6 million reasons to move to the unofficial capital of the East Midlands, but for the sake of space, we've narrowed it down to just nine.
1. There's 688 Years of Sporting Heritage
Collectively, Nottinghamshire's biggest sporting clubs have close to seven centuries of history – and it's all trophy-bagging glory (well, mostly). In just a two mile radius of the Trent Bridge crossing you'll find two of the world's oldest footie clubs, international and county cricket and – at the National Ice Centre (opens in new tab) – grown men in skates bashing each other with curved sticks while happy families bay for blood. What's not to love?
2. It's the Place to Go if You Want to Get Rich Off Your Kids
Hole in your pension plan? You're going to need some ridiculously talented kids to pay for that luxury retirement pad, so bring up your sprogs in Notts. Of late, the county has produced a double-decker load of bona fide stars, thanks in large part to local charity The Television Workshop (opens in new tab). To name but a few talents Notts has nurtured: actors Toby Kebbell (Newark) and Samantha Morton (Clifton), BBC DJ MistaJam (Arnold), and singer-songwriter Jake Bugg (Clifton). It's clearly something in the water (readers in Derby: you can have a bottle for a quid).
3. The Culture is Quality
Londoners will bang on about how many art galleries and cinemas there are in the capital, but the sad truth is most Big Smoke-dwellers spend their days trapped in trendy coffee shops bemoaning the mortgage on their half-a-million-pound shoebox. In Nottingham, we know it's about quality not quantity. Broadway (opens in new tab) is one of the best independent cinemas on the planet (so says Quentin Tarantino) and with the Nottingham Contemporary (opens in new tab) gallery we now can look the likes of Liverpool and Manchester square in the eye, until they get weirded out.
4. There are Seven Women to Every Man
Mention Nottingham to any single man and you may see a spark of excitement in those sad, lonely eyes. That's because of the enduring stat that there are seven times more women than men in the town – a "fact" which is of course complete rubbish. Historians think it dates back to the world wars when women briefly flooded to the city to work in munitions factories. Still, why let the truth get in the way of a statistic that has helped make Notts the destination for stag dos and randy men?
5. Donkey Kong Has Its Own Museum
And not just the barrel-chucking beast but Tetris, Time Crisis, Ninja Turtles, Track & Field – in fact all the greatest gaming classics can be seen at The National Videogame Arcade (opens in new tab). While visitors to London can muse over the beauty of the Elgin Marbles (which are nicked), we'll be in Notts smashing end-of-level baddies.
6. A Brewery Runs this Town
While moving to somewhere just because the beer is good is probably a sign of a whole host of issues you need to address, in the short term, just sit back and lap up the glorious local brews. Best of a high-quality lot, in our opinion, is Castle Rock (opens in new tab), the award-winning brewery which runs a growing number of pubs in the city (12 and counting). Visit its newest offering the Embankment, originally home to one of the first Boots pharmacies, now peddling our favourite medicine of all: sweet delicious booze.
7. We Know What Bockles and Mard-Ons Mean
For outsiders, copying the Nottingham way of speaking is harder than doing a croggy with a cob in your hand. It's not so much an accent you need to learn but a whole new language. You are not irritable because the weather's poor, you're well mardy coz it's bleedy code. No matter how hard you try, you'll never get it. Actually, this probably shouldn't go on the list. Moving on…
8. You'll Become More Rebellious
On the surface Nottingham people may look calm and collected (and, yes, dashingly handsome, thanks for noticing), but underneath there's a rebellious rule-breaking streak that goes deep. The evidence: our most famous son was a thief who rocked green tights, we burned down our castle in an anti-poverty protest in 1831, we count celebrated rebel writers Lord Byron, Alan Sillitoe and DH Lawrence among our number, and we regularly stick it to the man by ignoring "no exit" signs and opening crisp bags upside down.
9. Nottingham's Well Underground
Nottingham is full of caves. They're all man-made because that's the sort of thing we like to do with our weekends. And one's a pub (opens in new tab) – the oldest in Britain. If that doesn't make you want to move here, we don't want you.
Coach loves inspiring people to do something, but where should you do these things? We're traversing the country to find out. Where should we go next? Tweet @coachmag (opens in new tab) and let us know.
Pack up and move to…
Sign up for workout ideas, training advice, reviews of the latest gear and more.
Joe Barnes was the editor of Men's Fitness and the Coach website from 2015 to 2016.