Shazad Latif: "There's a lot of wisdom in martial arts"
The Penny Dreadful actor on looking east for the secret to wellbeing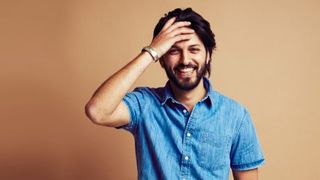 (Image credit: Unknown)
Best known as the world's most frustrating hipster – Clem Fandango – on the hilarious Toast Of London, Shazad Latif has now bagged the red-hot role of Mr Hyde in the horror-hall-of-fame TV series Penny Dreadful. But does he find keeping fit a monstrous task or a walk in the park?
Did you have to do any training to prepare for the new season of Penny Dreadful?
There wasn't really any for this actually – not in a physical sense, anyway. I'm sure when we develop the character of Hyde more and more, there will be a bit more physical stuff, though.
How would you rate your fitness on a scale of one to 10?
At the moment I'm on about a seven, but normally I like to be about an eight or nine.
What do you do, fitness-wise?
I do Shaolin martial arts at a temple that is literally four minutes away from my house. I used to do it a lot when I was younger because I was obsessed with Bruce Lee movies, and now I'm slowly getting back into it. The first stages are conditioning and cardio, getting your body ready for what you're going to do – it's stretching, simple stuff, but it's very intense, you come out dripping.
RECOMMENDED: Types of Martial Arts to Get You Fit
How important is health and fitness to you?
Very, very, important – it's weird in the Western world, this separation of mind and body, but everywhere else, like in the East, it's this joint thing. It's important to stay fit, because then the mind follows it. As a kid I did karate. There's a lot of wisdom in martial arts, and it doesn't get used enough, I think.
What do you do to motivate yourself?
I find when you're doing stuff like football and table tennis, that stuff's easy because you don't really think of it as exercise, you're with your friends and you're having fun. Getting out in the winter is quite a tough one, it's hard to keep it up but you just have to do it, especially in acting.
How unique is your fitness fingerprint?
They say when you're in work, you have to stay fit, but when you're out of work you have to stay even fitter. It's about keeping the discipline when you're not doing it, that's the hard thing. As an actor you're using your body, but it's important to keep the mind healthy as well.
Latif will star in the new season of Penny Dreadful on Sky Atlantic from May 3
Sign up for workout ideas, training advice, reviews of the latest gear and more.
Gary Ogden wrote for the print edition of Coach between 2015 and 2016, writing features, interviewing celebrities and covering entertainment. He has also written for ShortList.