Rapper Tinchy Stryder on Why the Music Industry is Like One Big Leg Day
"Without the legs you don't have a strong foundation for the top part"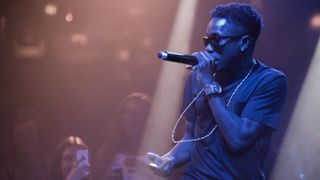 (Image credit: Unknown)
What's your most impressive personal best?
One time I had to do a six-week, six-pack challenge; I started gyming and doing circuits where you'd do five pull-ups, five squats with weights and five press-ups, then repeat it non-stop for five minutes. So that killed me. I was also told that food was just as important as working out – that was my problem because I couldn't eat before 11am before, so breakfast always got missed. I've kind of fixed up a bit more though.
RECOMMENDED: Get a Six-Pack in Four Weeks
What food would you not give up for a million quid?
My favourite thing is my mum's food – we're Ghanaian so there's a lot of plantain, jollof rice, fried fish and stew. When it comes to restaurants, I can keep eating Nando's forever. I can't stop.
Which excuse for not going to the gym/working out are you most ashamed of?
I'm always saying, "Oh I had a late night in the studio – I got back at 4am, so I can't come to the gym at nine in the morning", but that's probably one of my lamest excuses. Sometimes I can actually do it, but I just use it as an excuse. Although these days I'm much better.
How many press-ups can you do in a row?
I can do around 50 – my PT was telling me that I could do a lot, but that's maybe because I'm not going low enough…
What's the longest you've gone without alcohol in the name of good health?
We talking seconds, minutes, hours or what? I only drink on birthdays or when I'm performing, but I perform quite a bit so… The longest I've gone without it is about a month, when I was on I'm A Celebrity… Get Me Out Of Here. I wasn't supposed to drink during that six-pack challenge either, but I might have had a drink or two during it – I wasn't going to let my rider go to waste.
Is there any gym equipment you can't live without?
My PT gave me one of those stretchy elastic band things. I do it before I go to the gym – it's a cool way of stretching.
What's the worst type of gym behaviour?
I don't really get when people go to the gym for seasons, like "Oh, summer's coming, so let me get the summer body!"
One of your tracks is called Leg Day, but what do you think about "leg day"?
Without the legs you don't have a strong foundation for the top part. I named the single Leg Day because the music industry is like a marathon that never ends, so you've got to keep running it.
Have you ever ordered healthily in a restaurant but then scoffed someone else's chips?
One thing I sometimes do is when I'm at the counter I might order just an extra bit, then when it comes be like, "Who ordered that? Nobody? OK, I'll eat it then…"
Tinchy Stryder's new album 360º / The Cloud 9 LP is out now. Buy on iTunes
Sign up for workout ideas, training advice, reviews of the latest gear and more.
Gary Ogden wrote for the print edition of Coach between 2015 and 2016, writing features, interviewing celebrities and covering entertainment. He has also written for ShortList.