Daniel Sloss's 9 Reasons to Pack Up and Move to Edinburgh
Let the comic guide you to hot spots, cheap drinks and places to laugh at your friends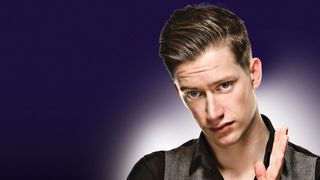 (Image credit: Unknown)
"Isn't it really cold up there?" "Don't they just eat deep-fried chocolate bars?" "Wait, isn't that where Trainspotting is set?" Behold, a bunch of reasons not to move to Edinburgh – all of which are primarily given by people who've never set foot in Scotland's historic capital. And it shows, because they're really missing out.
But don't take our word for it. Instead, take the often scathing, always hilarious (and, in this instance, edited to avoid needlessly insulting vegans) word of comedian and proud Edinburgh dweller Daniel Sloss. Not only is it his hometown, but he's also a mainstay of the city's internationally renowned comedy festival. Allow him to present his nine reasons why we should all up sticks and invest in a new life north of Hadrian's Wall.
1. It's Not All Super-Strength Lager
"Panda and Sons is this really cool speakeasy bar on Queen Street. From the outside, it looks like an old-fashioned barbershop. You walk down some stairs and are confronted with a bookcase– you have to pull on the right book in order for the bookshelf to open and reveal the entrance to the bar downstairs. I mean, beer's great in Edinburgh – Caledonian Brewery is worth a visit – but this is proper Harry Potter stuff. I ordered something once and it came in a glass vial and was smoking like a potion. It tasted great and I went home with a girl that night. No idea if the two are related, but at the moment it's one for one."
2. You Can Eat Chicken Wings and Fire Nerf Guns at the Same Time
"Do you like chicken wings? Get yourself to Wings. It's a restaurant just off the Royal Mile which does, I think, a billion different types of chicken wings. Some are incredible, some are gross, some are weird and amazing… there are that many to choose from. That, mixed with the fact that the restaurant is stocked wall to wall with Nerf guns, Star Wars toys and loads of other games that you can play with while you stuff your face, means it's one of the best places to hang out with friends."
3. Even the Mass Graves Are Lovely
"Everyone knows The Meadows. It's the big bit of grass where art students have crappy barbecues during the summer. One of the great ways to ruin everyone's day there is by going round and reminding them all that it's a mass grave. Literally. When the plague ravaged its way through Edinburgh killing half the population, the authorities just threw all the bodies into a pit and threw some soil over the top. Four hundred years later it's really comfortable grass that hippies throw Frisbees at each other on."
4. Footballf Exists
"No, that's not a misspelling. Most people will call it FootGolf. But that's not a funny pun, like mine is. Footballf: it's fun to say and fun to do. It's basically an 18-hole golf course where the holes are a bit bigger, instead of a golf ball it's a football and instead of clubs it's your foot. It's a fun day with your friends punting a ball down a field realising just how crap at football you really are. I played this the other day and nothing brings people closer than laughing at your one stupid friend who refuses to take the drop shot and insists on taking their shot from inside the pond that they toe-poked it into on their first drive."
5. You'll Laugh Harder than You've Ever Laughed Before
"The Stand is genuinely one of the top five comedy clubs in the world. And I'd know – I've performed comedy all over the place. It's a proper underground fire hazard of a comedy club that every comedian in the UK loves because of the staff and the audience. Even if you go down on a random day, don't be surprised to see Dylan Moran, Frankie Boyle, Kevin Bridges and countless other stalwart comedians trying out their new stuff. It's the club where I did my first ever gig and the one I hang out in the most because the drinks are cheap, the company is good and the laughs come thick and fast."
6. The Edinburgh Festival Is a Bit Slow at Kicking out Dickheads
"The EICC is my absolute favourite venue for the Edinburgh Festival. It's not one of the Big Four venues – the Assembly, Underbelly, Pleasance and Gilded Balloon – even though it actually is the biggest venue. I've been performing there for the past five years and will continue to do so until they realise I'm a dickhead. It's a bit out of the way, but that means the drinks are cheaper, the staff are nicer and the quality of comedian is higher. Here are some of the comedians that have played the EICC during the Edinburgh Festival: Jimeoin, Jason Byrne, Rhod Gilbert, Sarah Millican, Jimmy Carr, Limmy, Ed Byrne and countless others. And me. It's an amazingly beautiful building with the most comfortable chairs in the Edinburgh Festival and is well worth a jaunt to during August."
7. You'll Never Eat Lunch at Your Desk Again
"The Caffeine Drip is my top place for lunch. It's a little South African café just south of Dean Bridge. They do the world's greatest bagels (yes, that's most middle-class thing I've ever said) and it has incredible coffee. Go in, join the free WiFi and have the lovely staff recommend anything to you from their incredible menu. They also have a make-your-own milkshake where you pick all the ingredients. It's the most delicious way of becoming a fat bastard that I've ever encountered. Skittles, Oreo and Milky Way – does that work? Fuck no. But I can't stop drinking it and goddammit, you can't make me."
8. There's an Assault Course in the Clouds
"A little-known fact about Edinburgh is that it has the largest indoor climbing centre in Europe, the EICA. It's literally built on the side of a cliff face. I'm not good at measurements, but I'm almost certain one of the walls is 17 miles high. If you're not into heights you can just do bouldering, like me. That's picking needlessly challenging ways to climb to the top of a 15ft rock. And if you fall, you land on a crash mat. It's proper brilliant fun. If you are a fan of heights, do the sky assault course. It's 150ft [45m] up in the air, they strap you in, and you have to climb over, under and through all these weird obstacles way above everyone else climbing hundreds of feet below you. You won't fall, but when you're up there, it sure doesn't feel like that."
9. Getting Locked up Can Be Fun!
"I honestly thought this was the lamest idea in the world. You know those games where they lock you in a room and give you an hour to get out of it? Escape The Room is that. And it's way funner than you'd think. It quickly becomes the most intense way to find out which one of your friends you'd happily spend the zombie apocalypse with. The games change constantly and after a couple of drinks you'll find yourself screaming in your best friend's face because they once again failed to go through all the Mission: Impossible lasers that are the last hurdle between you and that big-ass diamond you need to get. I've never failed one, so I can't say for certain, but I'm almost sure that if you don't get out, they just leave you there to die. Edinburgh is like that."
Sloss's Edinburgh Fringe show Daniel Sloss: So?, runs 4th-28th August at EICC (venue 150). Buy tickets.
Sign up for workout ideas, training advice, reviews of the latest gear and more.
Craft beer drinker, Devonian, fisherman and former content director of Coach online, Chris contributed style coverage and features between 2016 and 2019.