Newscaster Jon Snow can Hold a Plank for Three Minutes
The journalist and newscaster on trying to beat Alastair Campbell's plank time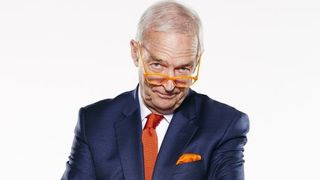 (Image credit: Unknown)
It's highly likely that whenever you catch Jon Snow on television, he's behind a desk. However, that betrays the physical work that goes on behind the scenes – a strict fitness regime has been in place for years. So how does he stay in shape when he's sitting down most of the time?
How would you rate your fitness on a scale of one to 10?
I'd say I'm fitter now than I've ever been. I've always ridden my bicycle, but turning 60 was a wake-up call to look after myself more, so for the past eight years I've been doing intensive training twice a week with a trainer. So using my own personal scale, I'd have to say a 10.
How important is health and fitness to you?
It's so important. I'm a big advocate for healthy living and I'm always trying to get friends involved. I was in a taxi earlier today and was speaking to the driver about it and how good it makes you feel to get fit and strong.
What do you do, fitness wise?
I cycle to and from work each day, which is about 20 miles. I do some distance cycling as well – I did a 10-day ride the length and breadth of Italy, which was about 1,000 miles, and from London to Paris. Then my trainer comes round twice a week and we do planks, press-ups, boxing and weights.
What's the highlight of your fitness week?
My plank. I can do it for three minutes. I used to only do it for two, but Alastair Campbell – who is a great friend of mine – told me last week that he holds his plank for three minutes, so my competitive streak kicked in and now I've upped it. I think I might be able to go for four minutes next time.
What will you never do again?
My trainer says I need to kick my croissant habit, but I know I'll never stop. Nothing beats a warm croissant.
How is your fitness fingerprint unique to you and your career?
I must confess, I don't do anything fitness-related if I'm away for work. I'm not one of those people who uses exercise as a stress relief – I feel fine without it, although I wouldn't want my trainer reading that. However, when I'm on holiday I do a great deal of yoga and I really enjoy that. But either way, if I say I'm going to do something, I just do it. Working out is just my routine now, so I never have to motivate myself to do it. It's just habit.
Jon is supporting Stand Up To Cancer, a joint national fundraising campaign from Cancer Research UK and Channel 4 to accelerate new cancer treatments and save more lives. To get involved this October and help beat cancer sooner, visit standuptocancer.org.uk
Sign up for workout ideas, training advice, reviews of the latest gear and more.
Gary Ogden wrote for the print edition of Coach between 2015 and 2016, writing features, interviewing celebrities and covering entertainment. He has also written for ShortList.