Daniel Radcliffe: From Wizardry to Riding Corpses
On those who helped him transition from child actor to serious thespian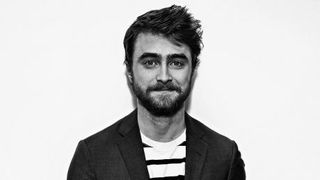 (Image credit: Unknown)
Swiss Army Man and Imperium are not exactly "safe" roles. What made you go out of your comfort zone?
When I read Swiss Army Man, even though it's about a guy riding a dead body across the waves like a jet ski powered by farts, it didn't just sound funny, it also sounded epic. With Imperium, it's obviously something very different, but more subtle. You read scripts about somebody undercover, and they set up the character as being smart and overcoming obstacles using his brain, and most of them give up on that around page 70 and just give him a gun. OK, he's Jason Bourne now, he's had two judo lessons during a montage so he can totally kill these people now. This script didn't do that – he was outwitting them, not out-shooting them.
How on earth were you pitched a film as insane as Swiss Army Man?
I was recommended by Paul Dano [Little Miss Sunshine, Looper] – we were in a bizarre situation where we both worked with each other's girlfriends. They sent the script to my agent and I just loved it. The logline was something like: "A suicidal man teaches his dead best friend that life is worth living…"
Who has been instrumental in encouraging you to take more challenging roles?
Definitely my mum and dad, and also – not that I think they're aware of it – the media did by constantly asking me questions like "Hey, are you going to get typecast? Have you peaked?" There's a part of you that goes, "No! I'm going to see how long I can go against that stereotype." One person I would say was incredibly encouraging was Alan Rickman. He came and saw every piece of theatre that I ever did – on one occasion he cut short his holiday in Canada to come and see me on Broadway. Another person who it would be remiss of me not to mention would be Ken Branagh – it was him that got me to do Equus [the play where Radcliffe appeared completely naked].
Who is your best critic? Whose opinion do you care the most about?
I'm quite comfortable now with my own taste in things and I think I've got a very good sense of what things I could do well. Also, my dad used to be a literary agent so I always talk to him about scripts, but I've really got better at trusting my own opinion on things.
You mention your parents a lot – how did they deal with the rude moments in Swiss Army Man?
My mum and dad came and saw me do Equus when I was 17! They were both actors so there's an understanding that sometimes you do really weird movies. There was no embarrassment about showing them Swiss Army Man at all – maybe they're just weird too. That's one of the reasons I have the taste I do in scripts, because they had a wide and eclectic taste in music, books, plays and films so I think that it rubbed off on me.
Which celebrity would people be surprised to find out is always out to help people?
The actor who played Filch in Harry Potter, David Bradley, is just some sort of saint. He used to bring bus tours of kids out and take them around the set. Also, Adam Driver [Star Wars: The Force Awakens] – he has this amazing foundation which goes and performs plays for veterans. I know actors have a reputation for being terrible and narcissistic, but there are some who do amazing, genuinely fantastic things.
Who do you want to work with that you haven't already?
Well, I have actually now worked with Michael Caine, which for a long time would be the person I'd have given as my answer. I was totally star-struck when I heard him in the corridor before I met him, I was like, "Oh shit, I'm about to meet Michael Caine – what do I do? What do I say?" He couldn't have been kinder. Everyone always talks about him as being an example of how you can be in this industry for a really long time and still be just a lovely, kind human being. And he's not in the least bit jaded – you see actors half his age wandering around set with an attitude, but he'll be there at 4am on some freezing cold docks and just cracking jokes and telling stories, it's fantastic.
Imperium is in cinemas from September 23 and Swiss Army Man is in cinemas from September 30
Imperium Preview
Watching Harry Potter back in the day, you'd never think that you'd ever see Daniel Radcliffe play a neo-Nazi skinhead. You also may never have believed that he could play a convincing FBI agent; but in Imperium he manages to do both, and do them well. That's because he plays a convincing FBI agent who goes undercover as a believable neo-Nazi skinhead. Whereas Radcliffe's youthful looks and diminutive figure worked against a believable adult casting in a film such as The Woman In Black, here they do work – and are even addressed – he's come on leaps and bounds as an actor since his breakout role.
Based on true events, the film follows a rookie agent on his first undercover operation, as he infiltrates and befriends a group of racists as they plot to do something very nasty indeed. The tension throughout the film is close to unbearable, and every single actor works towards making it a believable, and thoroughly frightening tale, with Radcliffe bearing the brunt of the screen time (and owning it). However, if you find people chewing gum with their mouths hanging open annoying, then Toni Collette's character will drive you insane.
In cinemas September 23
Sign up for workout ideas, training advice, reviews of the latest gear and more.
Gary Ogden wrote for the print edition of Coach between 2015 and 2016, writing features, interviewing celebrities and covering entertainment. He has also written for ShortList.