The Goo Goo Dolls' John Rzeznik on How Fitness Helps Him on Stage
But the music comes first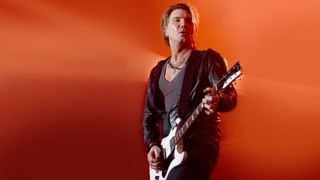 (Image credit: Unknown)
John Rzeznik has been in the music business since the '80s, and with 12 million album sales under his belt, he's still relentlessly touring and putting out new music. So how does he stay on top of his fitness with his suitcase lifestyle?
How would you rate your fitness on a scale of one to 10?
I'd say I'm probably a six. My ideal is 20lb lighter, to get my body fat to 12%. That would be fantastic. It takes a lot of work – you get a little bit older and you have to be so vigilant about your diet, I can't eat anything!
What do you do, fitness-wise?
I'm just coming out of a period where I sat in a recording studio for six months, eating garbage, so I gained 20lb. Now I'm in the process of losing it, which isn't as fun as gaining it. I'm doing 45 minutes of sprints five days a week, or I'll do steady-state cardio for an hour then weight training four days a week. At this point in my life it's not so much about getting yoked, it's just about fitting in my pants…
How do you exercise on the road?
I have a thing called the Peloton cycle – it's a really crazy hi-tech thing with a Wi-Fi connection so you can connect to all these different classes. It's like spinning, and beforehand I was like: "I'm a guy, I'm not doing a spinning class," but oh my God! It's the hardest exercise I've ever done. It's almost too hard.
What will you never do again?
In the States, these bootcamps are really popular, and CrossFit, but it just makes no sense to me. You're going to hurt yourself and then you're not going to be motivated to continue. I can't do those crazy group activities where a trainer is screaming in your face – that doesn't work on me.
How is your fitness fingerprint unique to you and your career?
I'm travelling all the time. Even if I have nothing but a really shit hotel gym to work out in, as long as I'm doing it, it keeps me in the right frame of mind – it's mostly mental. There's a certain amount of confidence that you have to have when you're on stage, so if you look good or feel good about the shape that you're in, then you'll do better. But also it's very important to spend more time in the room writing – it's more important to have the music and everything in line first, then you can worry about being fit. There are a lot of pop stars that are more concerned about their image and their body than they are about what they're putting into the world…
The Goo Goo Dolls' latest album, Boxes, is out now. The band go on their UK tour from October 6. Visit googoodolls.com/tour for ticket information.
Sign up for workout ideas, training advice, reviews of the latest gear and more.
Gary Ogden wrote for the print edition of Coach between 2015 and 2016, writing features, interviewing celebrities and covering entertainment. He has also written for ShortList.